There used to be a time when moms would never let us skip breakfast. But with growing competition and tied-up routines, we tend to miss a good healthy breakfast. But with the current lifestyle, it is highly recommended to keep a high quantity of protein in your breakfast since it maintains glucose levels and keeps you full for longer. Indian breakfasts like Poha, idly, and upma are high in carbs and lack protein. But nothing to worry about, these Indian breakfast recipes can be altered to make them high in protein.
Before I delineate my hand-picked veg recipes for a sumptuous breakfast, let me quickly state the benefits of a high protein breakfast.
Benefits of High Protein Breakfast
As the name goes, breakfast is the first meal after an overnight sleep, to break the fasting cycle. Often labelled as the most important meal of the day, breakfast elevates our energy levels, restoring glycogen in the blood. Research has surfaced that those who regularly consume a healthy protein-rich breakfast, have reduced tendencies to develop type 2 diabetes and heart diseases.
Intaking the right proportion of high-protein breakfast keeps me going throughout the day, without experiencing fatigue. Including foods that are high in protein ensures muscle health that in turn contributes to overall weight loss by burning calories and regularising hormone flows.
Non-Vegetarians consume multiple types of protein. But for vegetarians like me, the options are restricted. Therefore, in this article, I provide you with multiple vegetarian breakfast options that are tasty and rich in protein and amino acids.
High Protein Breakfast Recipes for Vegetarians
Here comes the list. Each recipe in this list is easy to make, affordable, and has high protein levels.
1. Tofu/ Paneer Bhurji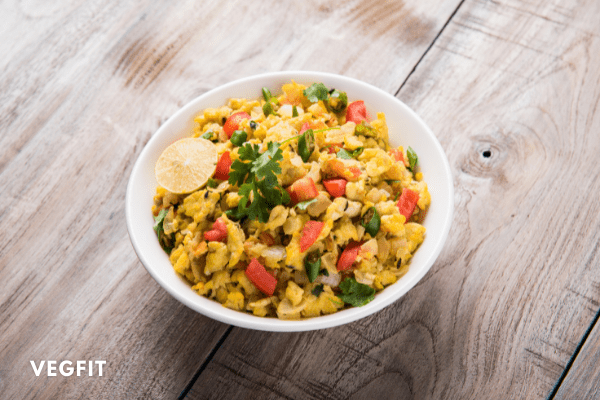 I love paneer. But sometimes I use tofu too, as it replaces the creamy texture of paneer keeping the lip-smacking taste intact.
Ingredients:
Tofu/ Paneer
Minced onion
Garlic and Ginger
Chopped green capsicum 
Tomato puree
Coriander powder
Cumin powder
Turmeric
Chopped coriander leaves
Olive oil / Ghee
Lime Juice
Salt to taste
Recipe:
Heat oil in a pan, then, add the onion, lowering the gas flame. Saute them till light brown.
Now, add garlic and ginger. Fry them for a minute, and then add green capsicum, coriander, and cumin powder, with turmeric. Stir the mixture continuously and add tomato puree. Note, the puree should become dark in colour and a tad bit thick.
Now get the flame in medium heat. Crumble the Tofu/ Paneer, add it to the pan, and cook it for 5 mins.
Add the salt at this point. Turn the gas off.
Bhurji is done. Garnish with coriander leaves and lemon juice, in little amounts.
2. Daliya Paneer Upma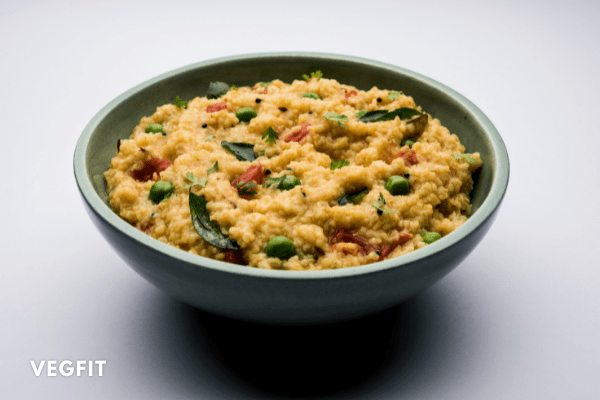 The recipe is made of wheat, paneer, lentils, and lots of vegetables. This low-key, high-protein vegetarian breakfast staple is trusted by many in-and-out fitness industry people.
Ingredients used for this recipe are —
Oil 
Cumin seeds / Mustard seeds 
Curry leaves 
Daliya 
Paneer 
Vegetables of your choice like carrot, french beans, Green Peas, Cauliflower, tomatoes 
Ginger 
green chillies 
turmeric powder 
Dried red chilli  
Recipe—
Heat oil in a Kadai, and then add the mustard seeds, cumin, a few curry leaves, dry red chilli, and whole cashew nuts. Keep on sauteing in medium flame, till the spices start to flutter.
Now, add paneer cubes. Fry them till they catch light brown colour and smash them coarsely. Keep them aside.
Add ginger and green chilli, into the oil tempered with spices. Saute well.
Now add chopped carrot, beans, peas, cauliflower, and tomato. Also, add turmeric and salt as per taste.
Cook covered, for 5 mins. Use medium heat.
Now add the daliya, and roast it on low flame for five minutes
Add boiling water to it
Cover with a lid, and cook for 2 mins, on high flame.
Add the paneer. Check salt, and adjust accordingly. Add coriander. Give it a mix. Cook it for another 1-2 mins.
Serve hot, with pickle.
Being a full-time working professional, preparing daily breakfast is challenging for me. However, this upma saves my time and leaves my taste buds feeling satiated.

3. Paneer Stuffed Moong Dal Cheela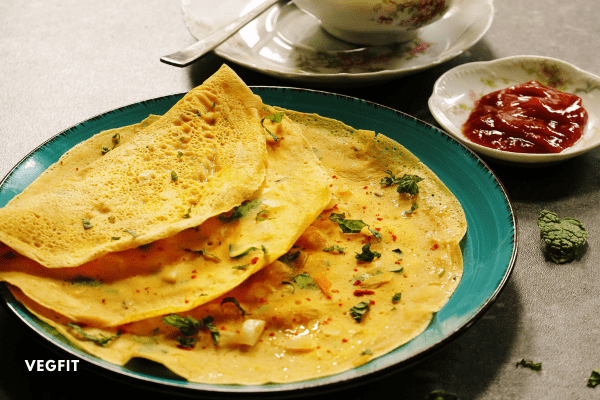 High on protein, Moong Dal Cheela with paneer shreds stuffing doesn't only work as a veg-breakfast option, but it can easily become the show stopper of a house party menu.
To prepare cheelas, one should procure—
Yellow Moong Dal (Split)
Whole Urad Dal
Finely Chopped Ginger and Garlic
Green chillies minced
Cumin seeds
Turmeric powder
Chat masala
Coriander leaves
Ghee
Salt
For Filling one needs—
Grated Paneer
Chopped onions
Chopped tomatoes
Recipe—
Soak the moong and the urad dal for at least 6 hrs. to overnight
Grind the soaked lentils along with green chillies into a smooth paste, having pan-cake like consistency
Combine all the filling ingredients; Keep it aside.
Add the spices and salt.
Heat a Tawa. Keep the flame in medium
Drizzle oil
Pour a ladle full of batter
Spread the batter in a circular motion, starting from the centre to the outside
Sprinkle some more oil
The sides should turn light brown, with the upper surface steaming to show the chilla is done.
Now remove it from heat. At the centre place, a spoon full of paneer filling.
Roll it over. Cut the roll from the middle, into two parts.
The Recipe is effortless. Serve it with tomato or Dhania Pudina chutney, which complements the high protein resources with vitamins and minerals.
4. Oats Poha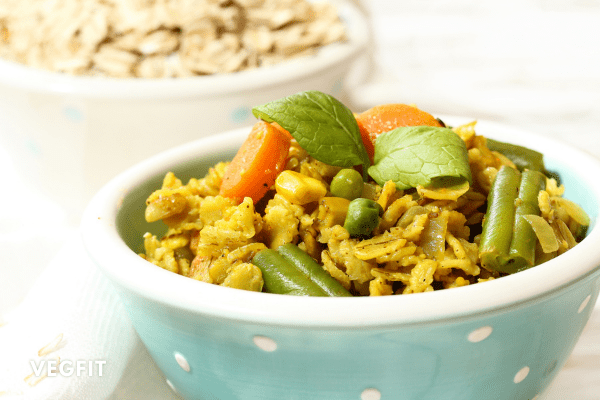 For me, breakfast has to be savoury without compromising its nutrient values. Cooked under 15 minutes, oats-poha is a high-protein one-pot breakfast recipe, for busy professionals like me who believe in a healthy lifestyle.
The recipe needs —
Oats 
Chopped onion 
Chopped Carrot
Chopped beans
Green peas
Chopped tomatoes
Curry leaves
Mustard seeds
Coriander Powder
Red Chili Powder
Turmeric
Oil
Salt
Recipe—
Sprinkle water on oats, light-handedly so that they do not become saggy.
Now heat oil in a pan. Add Mustard seeds and curry leaves
The sound of crackles should come. At this point add chopped carrot, beans and peas.
Add Onion and tomato
Wait and saute for 2 mins. Until the veggies become tender.
Add spices, toss thoroughly
Now, add the Oats, followed by salt.
Voila! You are done. Serve Hot…
Now let's explore the Breakfast options, using Whey Protein.

Whey Protein Breakfast Options
Whey protein is a highly recommended vegetarian high-protein nutrition source that has earned a good name among fitness professionals. It is the extracted protein of whey, which is separated from milk during cheese production. The two major benefits of whey protein are that it is easy to digest and gets absorbed in the gut quickly.
5. Whey Protein Shake with Fruits, Nuts, and Seeds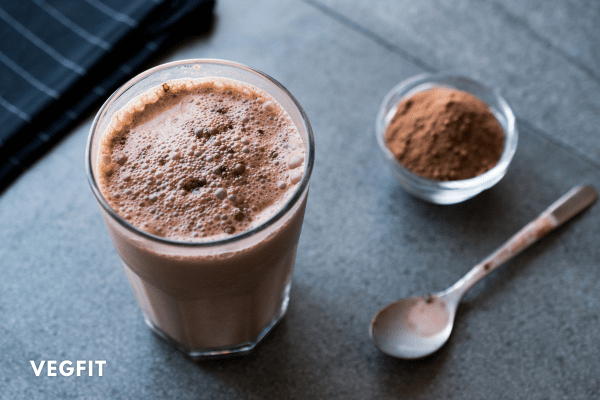 I receive a lot of requests to post something on how whey protein can be consumed. Well, here comes the answer to one of your most asked questions.
Ingredients—
1 scoop of protein powder 
unsweetened non-dairy milk( I use almond milk) 
Chopped fruits( strawberry, Mango, apple, Grapes, etc.)
Chopped almond and Pistachio
Chia/Flax/Pumpkin seeds
Preparation—
Add the Whey Protein to the milk and blend it till smooth.
Add Chia Seeds
Top it off with the diced fresh fruits and dry nuts.
Yes, that's it! Your protein smoothie is ready in two minutes.
6. Greek Yogurt Parfait with Whey Protein (For additional Protein)
Loaded with the goodness of high Protein, Greek yoghurt Parfait soothes my sweet tooth, too. You need Ingredients—
Greek Yogurt 
Vanilla whey protein (Optional, can skip if you don't prefer whey protein)
Vanilla extract
Fresh Fruits (apple, grapes, watermelon, pomegranate)
a pinch of cinnamon
Recipe—
Whisk Greek yoghurt with protein powder, cinnamon, and vanilla extract.
In your serving bowl put a layer of the yoghurt mixture and a layer of chopped fresh fruits, in alternative orders.
The recipe is one of the best vegetarian breakfasts that take care of your high-protein needs.
Healthy Vegetarian Salads for Breakfast
Who doesn't like salads? Well, they can very well become your Breakfast ideas.
7. Chatpata Indian salads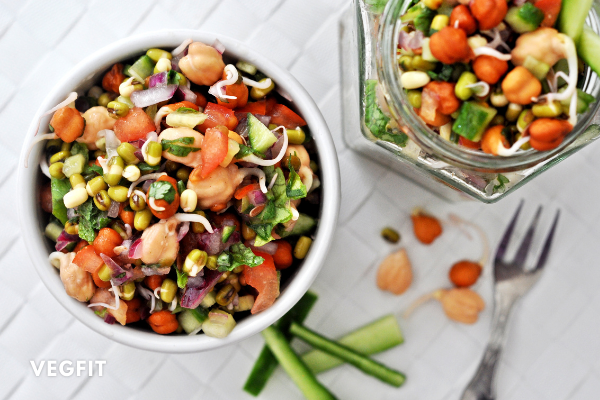 If you explore it closely, you'll find Indian authentic cuisine is varied and full of nutrition. For example, Indian plain salad.
To make it you need these ingredients—
Only three to four varieties of sprouted lentils (You can have them raw or lightly boiled)
Lemon juice
Chopped cucumbers,
Chopped onions,
Cashew and peanuts
Oil
The Recipe—
In a bowl take all the sprouted lentils
Add chopped onions and cucumbers
Add peanut and cashew
Drizzle oil
Sprinkle lemon juice
Add salt to take
Well, one pro-tip: add a dash of garam or chat masala to let your taste buds tantalize for the rest of the day.
8. Chickpeas Salad Bowl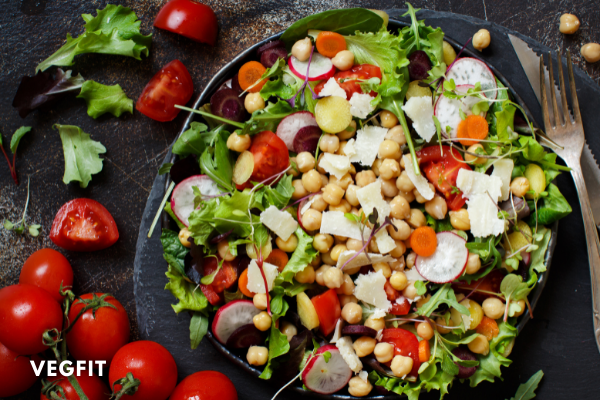 For me, Chickpeas salad is a volcano of flavours that aptly gives me high-protein breakfast nourishment. A proper vegetarian option, this recipe needs ingredients, viz.,
Cucumbers, 
Diced tomatoes, 
Chopped bell peppers, 
Avocado slices
Chickpeas. 
Olive oil
Chat masala
Cumin powder 
paprika
Recipe—
Soak the chickpeas for 2 hrs.
Boil them in a pot
In a bowl mix the chickpeas, with chopped veggies and avocado
Drizzle olive oil
Add Chat masala, cumin powder, and Paprika
Well, You are good to go! The recipe takes only 10 mins.
9. Continental Recipes
Now let us explore the globe, to see what it has to offer as high-protein breakfast options—
Bread Sticks with Hummus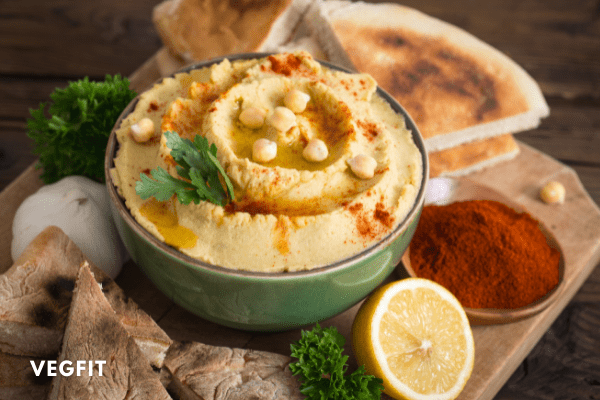 Lip-smacking in one word! The colourful hummus platter, surely claims a place in your high protein foodgasm goal.
Hummus Recipe
Boiled chickpeas
White sesame seeds
Lemon juice
Olive oil
Black pepper and salt
Grind all the above ingredients together. Add olive oil on top for smooth structure.
Serve Hummus With –
Vegetables (I use Cherry tomatoes, roasted bell peppers, cucumbers, roasted cauliflower etc.)
Carbohydrates ( I use bread Sticks, crisps and rice cakes)
Dips
Recipe—
Create sections in a snack platter, put your hummus, vegetables in them, place dip serving bowls, and arrange the breadsticks, rice cakes, etc. That's it!
Well, gorge on being guiltless. It is a balanced high-protein diet with the right share of carbs, vitamins, and minerals.
10. Banana Peanut Butter Toast (with Chia seeds and Cocoa)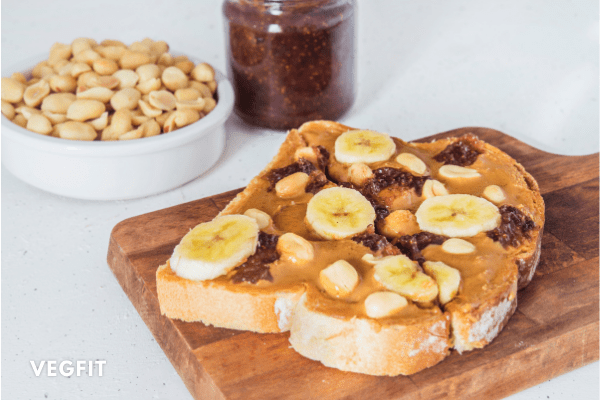 High in protein banana peanut butter toast has become an addictive vegetarian breakfast option, for me.
Ingredients you need—
Bread slices
Pea-Nut butter
Banana Slices
Chia seeds
Cocoa powder
Recipe—
Toast the bread
Apply peanut butter in it
Place the banana slices atop
Sprinkle a dash of cocoa powder
Add chia seeds
The recipe has 16.8gms of protein per serving.
11. Overnight Chia Pudding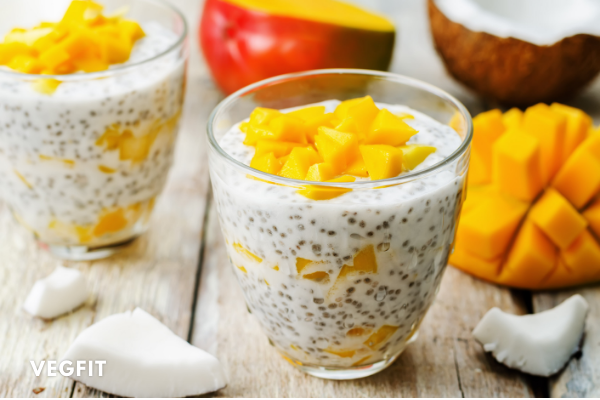 If you are someone who likes a dessert for breakfast, pudding is the way to go. The recipe for making this chia pudding is so simple that it can never go wrong and will leave you satiated if you are on a weight loss diet plan.
It takes only three ingredients:
Chia Seed, 
Milk (almond/ coconut or cashew milk)
Sweetener( Honey or Maple syrup) or Replace sweeteners with seasonal fruits like mango, apple, papaya, pineapple berries etc.
Recipe—
In a bowl add chia seeds along with milk. Stir it very well for 5-10 mins., break the seed clumps.
Add the sweetener.
Set it inside the fridge for at least 2 to 3 hrs or overnight. It should become thick and firm.
Top it off with loads of fresh fruit
Hola, the pudding is done! Now savour with heavy bites.
If you enjoyed the above High Protein Indian Breakfast Recipe for Vegetarians, you would also like – Cheapest high protein vegetarian food sources.