This corner is a collection of 10 nutritious, palatable, and easy to make Oats recipes. I often get asked if oats are good for weight loss. Well, the answer to this is, Yes they are. Oats are good for the Indian diet.
Oats is a type of whole wheat that has an enormous amount of health benefits. There are many different varieties of oats. A couple of recipes need a specific type of oats to be prepared. However, you can prepare almost anything with the variety of oats that is available to you.
This article is created for all those working professionals who do not get time out to prepare something fancy to maintain their health. However, by just exploring your kitchen you will get plenty of options in your hand which are healthy dishes and easy to make as well. These recipes are your answer to what dishes you can make using oats. One can eat them anytime, either in breakfast or in evening snacks. I can guarantee you that these recipes are great for accelerating one's weight loss journey,
Let's get started—
Varieties Of Oats in India & their Cooking Time?
Varieties of oats
Properties
Cooking time for Oats
Steel Cut oats

Coarse in texture.
Nutrition Level same as whole grain oats.
Around 30 minutes
Scottish Oatmeal
Grounded variety of whole grain oats.
The best variety to make porridge and stews.
The best variety to make oat soups.
Takes 15-20 minutes to get cooked.
Whole oat groats
These are the oats that have gone through skin removal in the outer layer.
Best variety for salads.
They need to be soaked before getting cooked. Soaking time 50 to 60 minutesRolled oatsThese are similar to Indian Poha or chewda.
Cooks easily and takes minimal time.
They come in a lot of Organic variety.
Takes 20 to 30 minutes for getting cooked
Eating Oats In A Healthy Way
These recipes ( can be made from oats) are nothing fancy, takes moderate time to get prepared, highly affordable, and packed with nutrients…
1. Oats Idli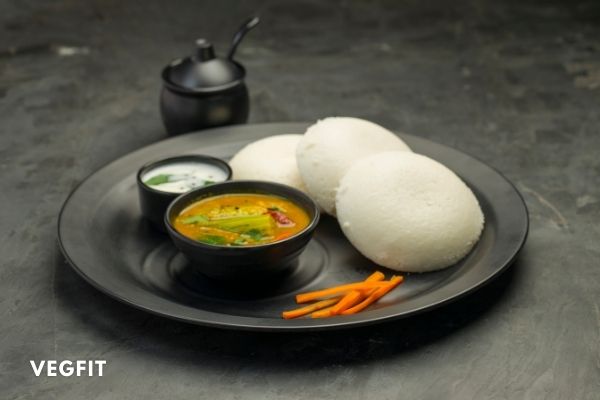 I often get asked these questions that what type of healthy breakfasts can be made from Oats. Well, this recipe single-handedly is a solution to all your queries.
Traditionally Originating in South India, Idli has become a staple for all of us in this country. Like traditional rice flour Idli, Oats Idli doesn't need any fermentation.
Ingredients
Oats 1 cup
2 Tbsp oil
7-8 cashews
1/4 th Tsp mustard seed
1/4 teaspoon cumin seed
1 1/2 Tsp Urad Dal
1 inch grated ginger
Few curry leaves
1/2 cup semolina
Salt as per taste

Method
Add 1 cup oats to your blender and grind
Make a coarse powder of it.
Add the oil to the pan. Fry cashew nuts until golden brown
Add the mustard and cumin seeds with Urad Dal. Saute until golden. You can use a pinch of asafoetida to it.
Add a green chilli finely chopped.
Add the ginger
Add the curry leaves
Saute for a minute or two in medium flame.
Add ½ cup semolina.
Saute well, till the semolina turns golden yellowish
Add the powder oats. Mix it well with semolina in low heat.
A tantalising smell will come. Then add salt. Allow it to get cooled.
We are done with the ready to cook idli mixture. Store it in a tight jar. It is good to use for the next 10 days.
Making Oats Idli Batter
Add 1 cup water and 1/4th cup curd to the cold
Mix well and set aside for 10 minutes now you grease the Idli plate with oil.
You can place fried cashews optionally into each mould
Into the cavity of each mould you place one full spoon of batter.
The batter must be of medium consistency.
Add a bit of lemon juice.
Add finely grated vegetables to the batter
Fill in the steamer with 1.5 to two cups of water. Turn the gas burner into full. Let the water come into a bubbling boil.
Then add one teaspoon of fruit salt to the batter ( Just use Eno)
Now right away put the mixture for steaming.
Steam till the idlis rise.
Let them cool down a bit and cut them off the steel mould.
Make your chutney, and your oats idli recipe is ready.
2. Oats Besan Chilla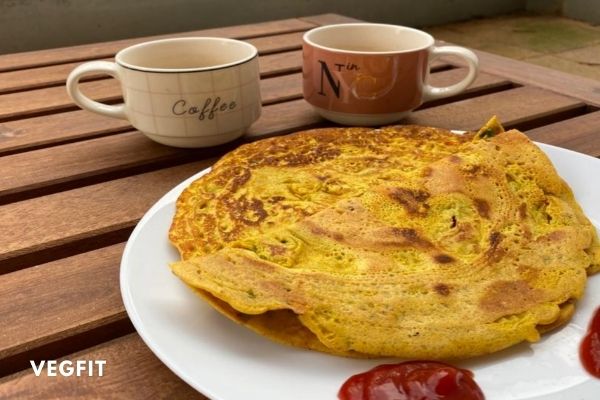 Ingredients
Oats 2.5 cups
1 cup besan
½ cup finely grated spinach
½ Cup onion
¼ th Cup green chilli
1 cilantro
2 tbsp red chilli powder
1 tsp turmeric powder
1/4 teaspoon Garam Masala
water as per your choice
oil needed for roasting
Method
Take all the ingredients for making the chiller —oats, besan, and everything else in a bowl. Add water slowly
The consistency of the batter should be lump-free, thick enough yet easily pourable
Preheat the dosa pan on medium heat, coat it with oil, and put a little amount of batter, spread it evenly, and make a thick pancake
Drizzle some oil on the top cook till golden spots appear at the bottom, cover with the lid to speed up cooking, and flip the chilla from the other side.
If it is perfectly done transfer it to serving dishes
3. Oats Egg Omelette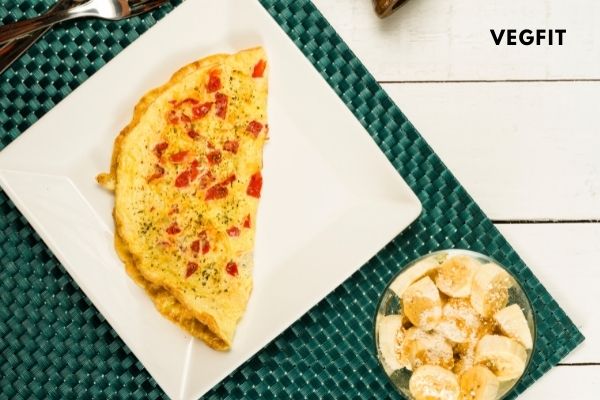 Ingredients
2 eggs
1/4th cup of oatmeal powder
3 to 4 tablespoon of vegan milk
salt as per your taste
1 Pinch of turmeric
1 pinch of oregano or any other Italian Herb
¼ th tbsp of pepper powder
2 tbsp oil
2 tbsp grated onion
2 tbsp grated carrot
2 tbsp grated capsicum
1 tomato de-seeded and diced
2 green chillies
Coriander leaves few
Method
Incorporate flour, turmeric, salt, pepper and oregano in a bowl
Pour milk little by little and make a batter
Add the eggs and beat them till the mixture is light and fluffy
Turn the heat up
Put the oil and pour a full ladle of egg mixture
When the liquid mixture takes the form of an omelette, flip it and turn aside to cook
Serve hot or warm
4. Oats Uttapam
Ingredients
½ cup quick-cooking oats
½ cup rolled oats
¼ th cup ( each) semolina and Besan
Mixed vegetables— carrot, tomato, zucchini etc
Water
1 tablespoon lemon juice
Baking Soda
½ tbsp Oil
Method
Mix the two types of oats together. Now grind this whole mixture into a lump-free fine powder.
Place the ground oats flour in a mixing bowl and add the semolina and besan.
Add a pinch of salt or as per taste.
Add on ⅔ cup water.
Incorporate everything very well and make a smooth lump-free mix. Now cover the bowl with cling film and let the batter sit for 20 minutes.
Cut and chop the veggies and mix them all up
After 20 minutes, when the batter has thickened add another ¼ th cup water for having a medium consistency.
Now mix 1 tablespoon lemon juice or ¼ cup curd instead.
Then add 2 to 3 pinches of baking soda. Mix again very well.
Heat a pan on medium flame. Drizzle oil and smear it all over.
Pour the batter on the pan. Spread it evenly to get a circle.
Now top it off with chopped mixed-vegetables
Sprinkle little oil on the centre and at the corners of the oats uttapam.
Cook till the base has turned golden brown.
Then gently lift the oats uttapam and fold it from both sides
5. Oatmeal With Dry Fruits Recipe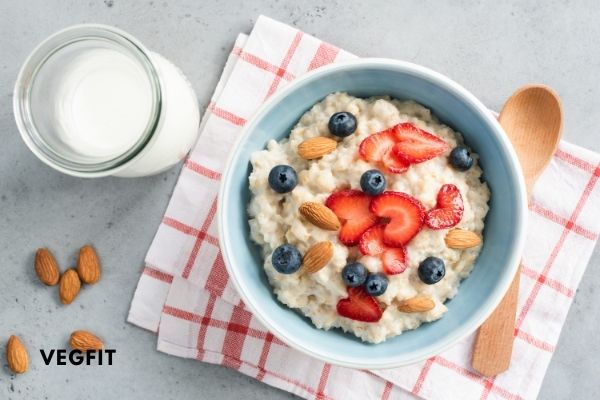 Ingredients
½ th Cup oatmeal
¾ th cup almond milk
1 banana sliced
Mixed Dried Fruits( Almond, Dates, pistachio, walnut etc)
Method
Add oats and milk to a pot. Cook until the milk comes to a boil and has an edible consistency.
Add the banana, top it off with dried fruits
You're sorted!
6. Oats Smoothie ( My Favourite Healthy Breakfast Recipe)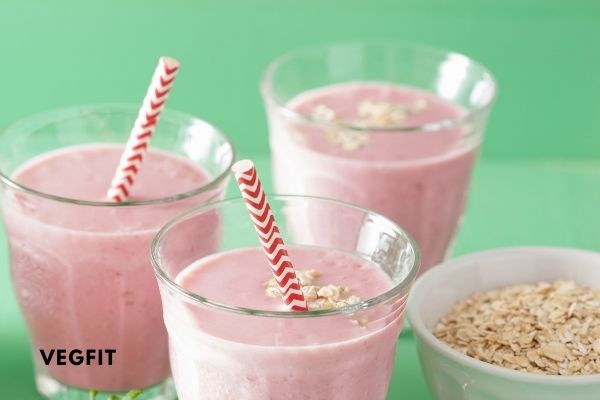 Ingredients
2 tbsp Organic oats
1 cup Orange juice
I tbsp lemon juice
Water
Method
Soak the oats in 1 cup of lukewarm water overnight and add in this mix 1 tbsp lime juice
Now add the soaked oats with orange juice to the blender
Put it in a jar, top of with chia seed
You're done.
7. Oats Roti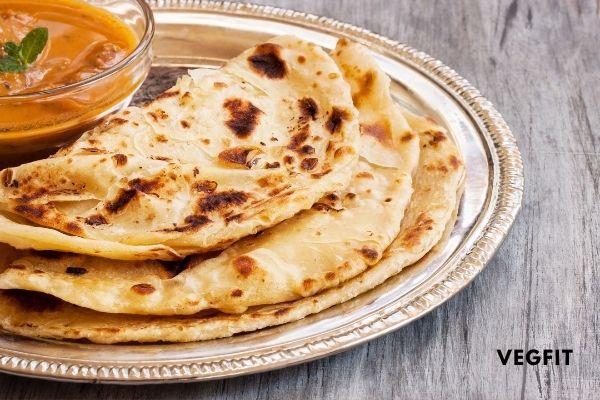 Ingredients
1 cup whole wheat
½ cup rolled oats
¼ th cup chopped onions
2 tbsp finely chopped coriander
½ tsp grated green chilli
6 tsp peanut oil
Method
Combine wheat flour, oats and all other veggies. Add a pinch of salt, and a little amount of oil. Knead well.
Cover with a lid and keep aside for 10 to 20 minutes
Divide small portions of it, and roll into roti.
Heat a pan and cook each
Your diet-friendly oats roti is very well done!
8. Curd Oats Recipe
Ingredients
3 tbsp instant quicker oats
1 cup water
1 Green chilli
1-inch ginger
Salt to taste
Tempering Masalas
1 tsp oil
1 tsp channa dal
Pinch of asafoetida
Method
Cook the instant oats in boiling water
Beat curd till silky
Add the curd with all other ingredients to the oats.
Voila! Another of your recipe is done.
9. Oats Banana And Greek Yoghurt Smoothie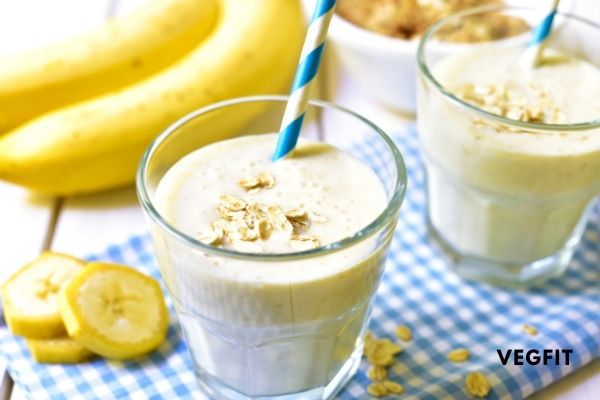 Ingredients
1 frozen banana
1 orange peeled and juiced
½ cup plain yoghurt
½ tsp vanilla extract
½ cup unsweetened soy milk
Honey maple syrup
Method
Blend everything leaving the maple syrup. When it reaches the consistency of a smoothie, top it off with honey or maple syrup.
10. Oats Upma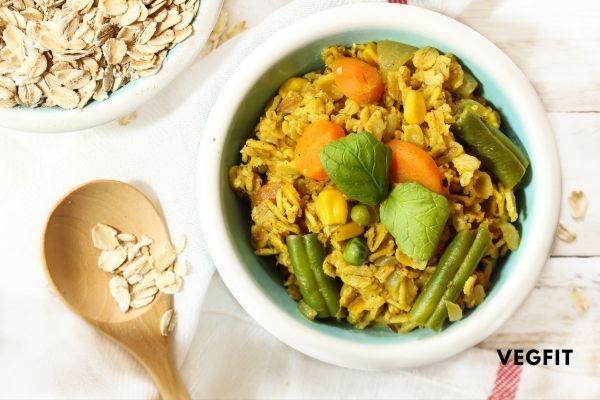 Ingredients
1 cup rolled oats
1 tbsp oil
1 tsp mustard seeds
½ tsp urad dal
10 cashews
2 chillies
1-inch ginger
Few curry leaves
½ onion chopped
½ cup carrot chopped
½ cup beans chopped
½ cup peas
¼ capsicum
¼ cauliflower florets
½ tsp turmeric
¾ tbsp salt
1 cup water
2 tbsp coriander
2 tbsp coconut
1 tbsp lime juice
Method
Heat oil in a kadhai
add the mustard and jeera seeds. Now add the curry leaves and cashews.
Saute till the cashews are a little brownish.
Now, add the turmeric powder, urad dal, a pinch of asafoetida. Add the ginger, chilli, onions one by one, and saute for 6 minutes.
Add the carrots, beans, peas, cauliflower florets.
Add 1 cup water and simmer for 7 minutes.
Add the rolled oats. Adjust salt. Cook covered for 10 minutes or till the oats absorb all the water.
Now add the coconut, coriander, and lime juice.
You are sorted with breakfast
Hurry up!