In medical terms, we define PCOS as a condition, in which your ovaries become enlarged with small cysts on the outer surface of it. Researchers are still trying to understand what causes PCOS. But, as of now, we know that it is caused by a number of genetic and environmental factors. Many women having PCOS have insulin resistance. This means the body can't use insulin well, and the levels of this hormone go up. The same also is a cause of higher androgen levels.
In India, more than 1 million cases of PCOS are reported in the time scale of a year. The disorder is mainly common among women of reproductive age. Prolonged or infrequent menstrual periods or producing excess male hormones( androgen) in the female body are signs of PCOS. Obesity tends to make these symptoms even worse.
PCOS even have problems with insulin secretion.
The Role Of Diet In Regulating PCOS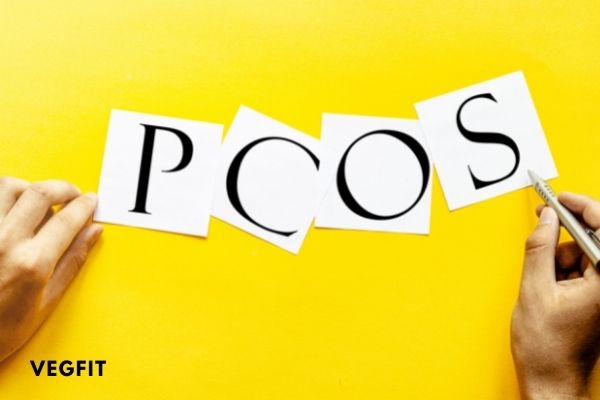 Women suffering from PCOS should consciously stay away from foods that can spike up insulin levels in the body. As 70% of the women having PCOS suffer from insulin resistance, fatty and sugary foods can create insulin surges in their body causing blood sugar levels to go high. Insulin resistance hampers controlled sugar release in the blood. Hormonal imbalance caused by PCOS results in causing undesirable changes in the body's metabolic rate. Some researchers have come up with established ideas about how a suitable diet plan can help lessen the impact of PCOS. For further information, you can check here- https://www.researchgate.net/publication/5751025_Diet_and_nutrition_in_polycystic_ovary_syndrome_PCOS_Pointers_for_nutritional_management
Anyways, broadly speaking any PCOS focused diet chart comes up by catering to the foremost two needs of the patients—
Regulating insulin production in the body to manage insulin levels and insulin effectivity
Managing weight via keeping it a weight loss diet, so that obesity doesn't occur

Important Diet Regimes Concerning PCOS
The followings are the major types of diets one can follow to curb PCOS—
| | | |
| --- | --- | --- |
| Diet Type | Diet properties | Food Options |
| Low Glycemic Index(GI) diet | Helps the body to digest food more slowly which stops insulin levels from shooting up. | Carbohydrates like Whole grains Starchy vegetables like Capsicum, Broccoli, Tomatoes, lettuce Nuts like cashews, peanuts Legumes like Chickpeas, beans Dairy Products like whole/ full-Fat milk, plain yoghurt |
| Anti-Inflammatory Diet | Reduces fatigue, and inflammation symptoms | Berries Fatty fish, like tuna, sardines, salmon that are lean protein sources. Leafy Greens Olive OilThe DASH ( Dietary Approaches to Stop Hypertension) DietRecommended to hypertensive adults Reduces risk of heart disease Cuts down chances of PCOS Fish like Tuna, Sardin, Salmon Fruits like pomegranate seeds, apples, bananas, Strawberries, peers, Vegetables like cucumber, broccoli, carrots, celery, Peppers, Brussel Sprouts, Whole grains like granola, Quinoa, Brown Rice, Rolled oats Absolutely no to high saturated fats and sugar when following this diet |
Foods To Avoid If You Have PCOS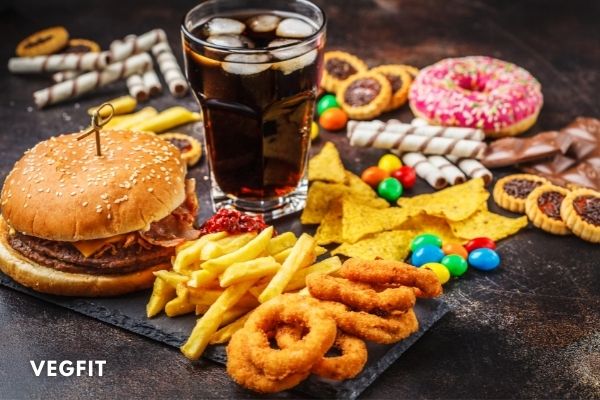 Women suffering from PCOS should consciously stay away from foods that can spike up insulin levels in the body. As 70% of the women having PCOS suffer from insulin resistance, fatty and sugary foods can boost the blood sugar levels in their body causing blood sugar levels to go high. The followings are a total no for PCOS patients—
Sugary drinks
Fried foods
Processed meats
Excess red meat
Solid fats, like margarine, lard etc
Refined carbs like pasta, pastries, candy, simple sugars etc.
10 Breakfast Recipes For PCOS Patients
A PCOS diet is curated to reduce inflammation, improve gut health, and better manage the body's blood sugar levels. All, these 10 recipes are extremely beneficial to cut down the direness of PCOS to a considerable level, by giving your body a boost of nutrients. To control insulin resistance of the body, none of these recipes uses too much sugar.
1. Ragi Upma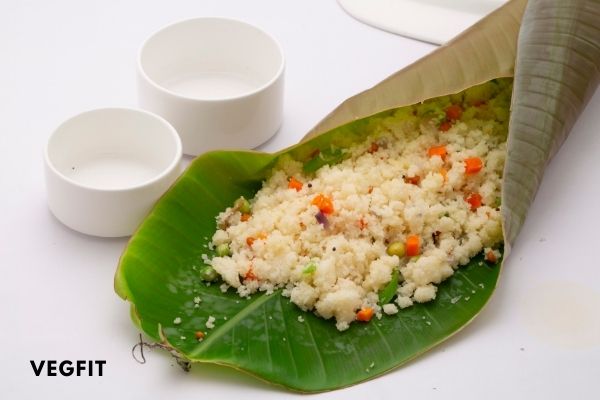 Ingredients
1 cup ragi( red millet flour)
½ cup semolina
2 tsp oil
1 tsp mustard seeds
Few curry leaves
4 green chillies chopped
½ cup finely chopped carrots
½ cup onion
¼ cup coriander leaves chopped
Salt as per taste
A pinch of asafoetida
Method
Dry roast Ragi flour, and semolina in a non-stick kadhai for 2 to 3 minutes in high flame. It will turn slightly brown in colour. Keep on stirring continuously.
Heat oil in a non-stick pan. Add the mustard seeds.
When the seeds crackle, add asafoetida, onions, curry leaves, green chillies. Saute 1 minute on medium flame.
Add carrots and saute for another minute.
Now add the semolina-ragi mixture, followed by 4 cups of warm water. Keep stirring on slow flame for 2-3 minutes—till the water evaporates.
Add the coriander leaves, and keep them aside for 2 minutes.
Serve immediately!
Include this in your PCOS curbing diet chart. the same also is weight-loss diet plan friendly recipe. You can replace ragi flour with regular wheat flour, or brown rice flour and follow the same process for an alternative.
2. Quinoa Upma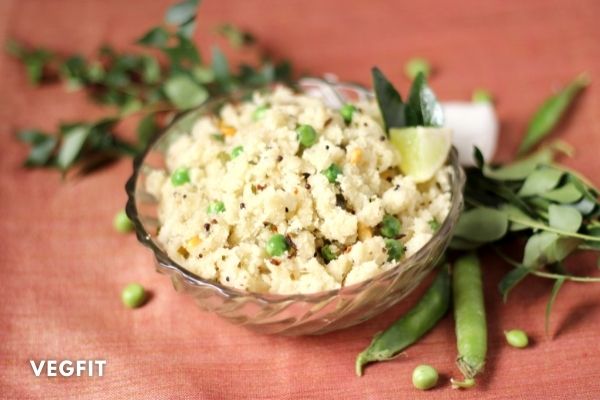 Ingredients
½ cup quinoa
2 tsp oil( You can use coconut oil)
½ tsp mustard seeds
¼ tsp asafoetida
1 green chilli chopped
½ tsp ginger
3 curry leaves
2 tbsp raw peanuts
12 cup chopped onion
½ cup green peas
¼ cup chopped carrot
¼ cup chopped coriander
1 tsp lime juice
¼ tsp chilli powder
Pomegranate seeds to garnish
Method
Heat oil in a non-stick pan
Add the mustard seeds, curry leaves, asafoetida and saute a few seconds
Add the chillies and ginger and saute for a minute.
Add the peanuts and saute for 2 mins, or till the peanuts are brownish in colour.
Add the Onions, then the green peas, followed by carrot and saute on a medium flame for a total of 2 mins
Add the quinoa, and keep flame in a medium saute for 1 min
Now add the chilli powder, salt and 3 cups of warm water. Cover the pan with a lid. Cook for 25 minutes on slow to medium flame. Stir occasionally.
Now top it off with lime juice, coriander leaves, and pomegranate seeds.
Your healthy diet quinoa Upma is done, that is a great source of protein. Make sure you have incorporated it twice a week in your diet chart.
3. Oats Idli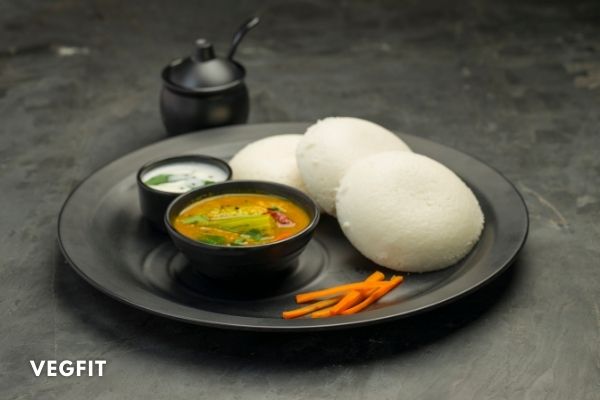 Ingredients
1 cup quick-cooking oats
¼ th cup urad dal
2 tbsp Dahi/ curd
1 tbsp green chilli paste
1 tsp ginger paste
Fruit salt
Salt to taste
Method
Blend the urad dal and oats into a blender till smooth. Add 1 cup water to this to make it of pouring consistency.
Now add the ginger, green chilli paste, curd and fruit salt to the batter.
Cover and keep it aside for 1 hour.
Ow add fruit salt, and 1 tbsp water to the batter.
Grease Idli stand with oil. Pour a spoonful of idli batter into it.
Steam for 10-12 minutes.
Serve this healthy diet immediately with sambhar.
4. Zucchini-Carrot Pan Cake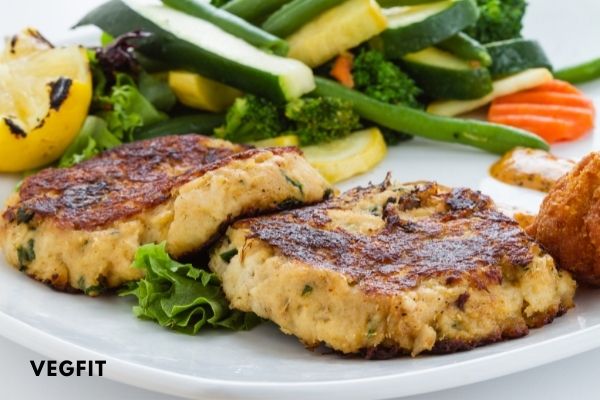 Ingredients
¾ th cup thickly grated zucchini
¼ th cup grated carrot
½ cup rice flour
¼ th cup besan
2 tbsp chopped coriander
1 tsp chopped green chillies
1 tbsp oil
Method
Combine all the ingredients in a deep bowl, add half a cup of water
Heat oil on a griddle, pour this batter, give them the shape of pancakes. It will be thick and roughly 4 metres in diameter.
Flip the pancakes cook in little oil. And make sure they are cooked from both sides.
Serve with chutney! you can anyway top of your chutney with flax seeds, pumpkin seeds, or sesame seeds to make it more healthy.
5) Oats Apple Smoothie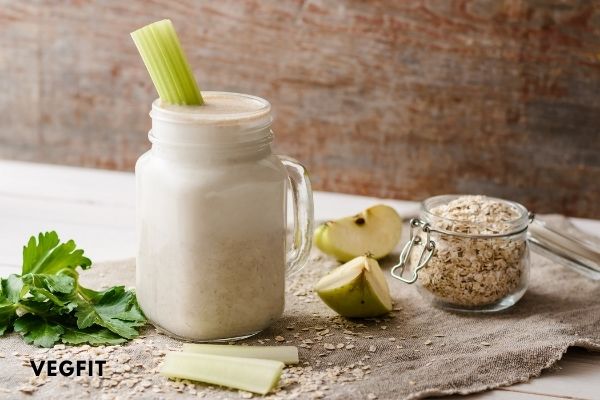 Ingredients
1/2 cup Quick-cooking rolled oats
1 cup almond milk
1 Tbsp peanut butter
1 tbsp maple syrup
1 tsp chopped dates
1 tsp chia seeds
¼ th cup chopped apple
Process
Combine the first four ingredients and blend them, until well incorporated.
Put the chopped apple into it
Put chopped dates to it
Mix all of them together. Close the jar and fest for 4 hours
Top off with chia seeds.
If you want, just skip the milk and add fruit juice in its place. maple syrup is good to control your sweet cravings.

6. Whole Moong Dosa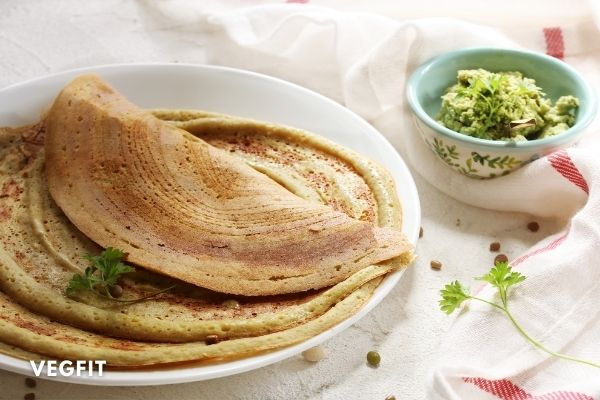 Ingredients
1 cup whole moong
¼ cup rice
¼ cup urad dal
21/4 tsp oil
For Stuffing
½ cup finely chopped onions
½ cup corianders
2 green chillies chopped
Method
Combine Moong dal, Urad Dal in a deep bowl, and soak in water for 5-6 hours
Mix the dal, blend it and add another cup of water till the batter reach the right consistency
Transfer the mixture in a deep bowl, cover, and let it ferment for 5 to 6 hours
Add salt, mix well.
Divide them in to 8 portions
Heat a nonstick tawa, drizzle a little oil, sprinkle little water, and pour a ladle full of batter. Spread it into a dosa.
Sprinkle a little portion of the filling. Wrap the dosa up. Brown spots appear at the surface.
Make another 7 dosas from the batter.
Include this in the Indian diet plan. Combine with sambhar, quickly!
7. Nanchi/ Nachni Dosa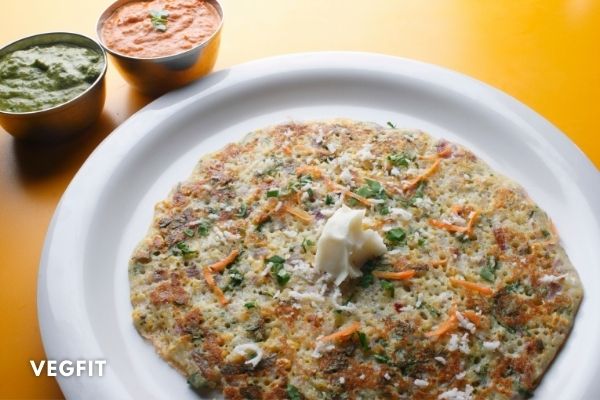 Ingredients
2 cups Ragi Flour( millet Flour). Optionally put some flax seeds to it, and kneed the dough.
½ cup Urad Dal
1 cup fenugreek seeds
Salt to taste
Oil for Cooking
Method
Soak urad Dal, along with fenugreek seeds, along with 2 cups of water in a deep bowl.
Drain the water, and paste it in a blender. Make a smooth paste out of it. Additionally add3/4 cup water while blending.
Transfer the mixture to a deep bowl. Add Ragi flower. Sprinkle salt and mix. Again add 1 ¼ cup of water. Mix everything using a whisk, till it is lump-free. Cover, and keep it aside in a warm place for 12 long hours.
Once fermented, mix very well again.
Heat a non-stick tawa. Sprinkle a dash of water into it, and wipe off using a muslin cloth.
Pour a ladle full of batter. Make a thin circle out of it in the tawa.
Smear a little oil over it. Cook in high heat, till the dosas, become slightly brown in colour.
Fold over, make a semi-circle, or roll.
14 more nanchi dosa will be easily made from this batter.
Eat this sumptuous diet healthy breakfast with coconut chutney, and sambhar. make sure in the chutney you keep the amounts of sugars and salt in control. Additionally, you can add two tablespoons of chickpea flour by cutting down two tablespoons of ragi flour from the measured 2 cups.
8. Fermented Rice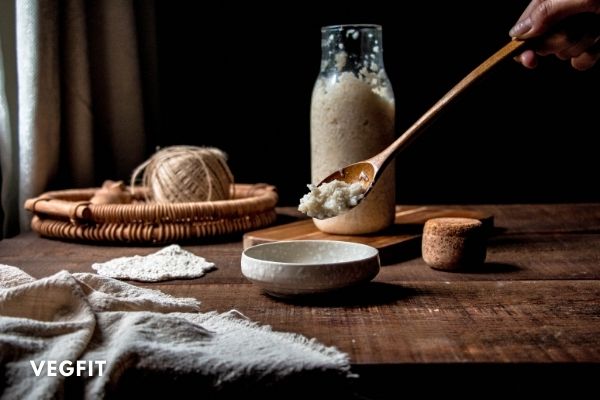 Ingredients
1.5 cups of Cooked White Rice/ cooked Brown Rice
2 cups of warm milk
1 cup of curd
1 small onion
1 small chilli
Salt
Method
Before going to bed, add around 2 cups of water to the leftover rice.
After the rice being soaked in water for 20 mins add warm milk, curd, and salt as per taste.
Put one chilli.
Close the vessel with a lid, and leave it overnight.
In the morning mix everything and serve in a deep bowl.
Fermented rice is a natural pro-biotic. In the summers you can add tadka to it. Heat a little bit ghee, and in the heated ghee put mustard and cumin seeds, one red chilli, curry leaves and asafoetida. Saute for about a minute, and then put this over rice. You can also add flax seeds for a healthier version. It is a unique item of Indian diet plan.
9. Stuffed Paratha ( Paneer Stuffed Green Pea Paratha)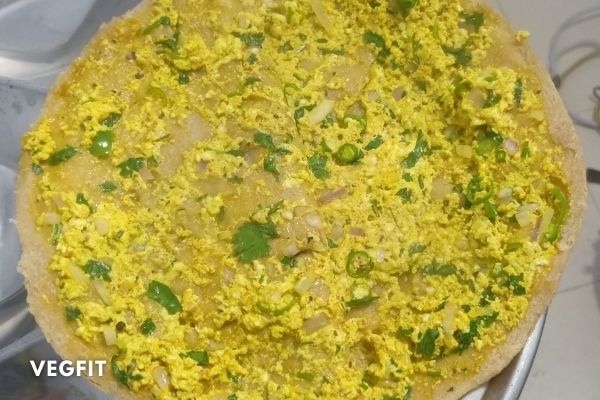 Ingredients
1 cup whole wheat flour
1 cup green peas
½ tbsp chopped green chillies
1 tbsp oil
Salt to taste
For The Paneer Stuffing
¾ cup crumbled paneer
1 tbsp raisins
1 tsp finely chopped green chillies
Salt accordingly
Other Ingredients
More wheat flour( for rolling)
Oil
Method
Combine green peas, green chillies, and 2 tbsp of water in a mixer, and blend till smooth.
Combine all the mixture, including green peas in a bowl, and knead into a soft dough using little water.
Cover with a lid, and keep aside for 10 minutes. Your green pea dough is done.
Now combine raisins in enough water, and keep them aside for 10 minutes. Drain the water.
Combine all the ingredients, using raisins in a deep bowl, and mix well.
Divide the stuffing into 6 equal portions, and keep them aside. The paneer stuffing is done.
To make paneer stuffed green pea paratha, now divide the dough into 6 equal portions.
Roll them into circles, and give them the shape of paratha.
Bring together all the sides to the centre, seal, and then knead again into circular discs.
Heat a non-stick tava. Cook the parathas on medium flame. Let golden brown spots appear on both sides.
A great option for an Indian diet plan. You can add shredded paneer (source of protein) to it as well. Serve it immediately.
10. Dahlia Upma Recipe For Indian Diet Plan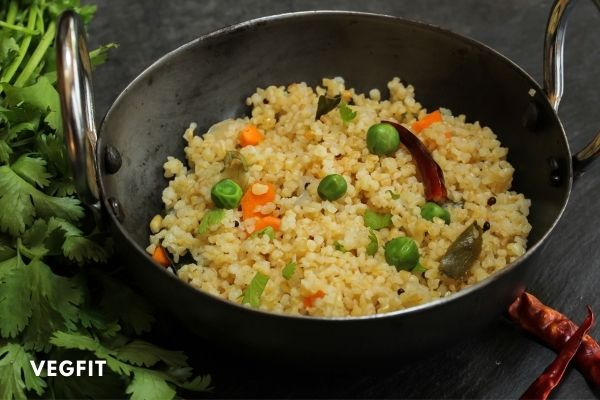 Ingredients
4 tsp oil/ Coconut oil
1 tsp mustard
1 tsp urad dal
½ tsp cumin seeds
Few curry leaves
1 dried red chilli
8 whole cashews
½ onion finely chopped
2 green chillies
1 inch ginger
1 tomato
2 tbsp carrot
¼ potato( diced)
2 tbsp peas
5 beans (chopped)
¼ tsp turmeric
¾ tsp salt
1 cup broken wheat ( Bansi Rava)
3 cups of water
Method
In a kadhai, heat 4 tsp oil and 1 tsp mustard seeds, 1 tsp Urad dal, ½ tsp cumin, few curry leaves and 1 dried red chilli.
Now fry the 8 cashews
Let them saute on medium flame.
Once they splutter add the measured quantities of onion, ginger and green chillies. Saute and incorporate well.
Go on adding the tomato, carrot, potato, peas, and beans.
Add turmeric, and salt.
Cover it up. Cook for 5 minutes, on medium flame.
Lowe the flame. Add the Rava. Roast for 5 minutes. Now, add 3 cups of boiling water. Keep the flame continuously on a low.
Cover it with a lid, and cook for 7 more minutes.
Serve this Indian diet plan recipe with chutney/ green chutney.
Conclusion
Try all these recipes and do let us know how you liked them. A bowl of sprouts, healthy snacks, and vitamin C infused foods, are great for Indian women to get rid of PCOS. Also, Indian women tend to work out less. Do sufficient workouts and leave a sedentary lifestyle at bay. Following all these tips should improve your health condition.
If you like this article then do check out our article on Intermittent fasting for PCOS.
Also, I, Priyanka the founder of Vegfit, curate personalised diet plans for my clients based on their specific needs. Along with this, I motivate my clients to develop sustainable long term habits. I personally motivate them to eat well and exercise properly. Check out my personalised programmes over here, and quickly enrol for yourself— https://veg.fit/personal-training
See you again in the next vlog! Until then stay fit with VegFit!