Breakfast is essential to maintain good health. It is equally important to make it filling. One must never forget to add protein to their breakfast. What can be better than adding an egg to your breakfast? It makes your dish healthier, tastier, and more nutritious. Check these collections of egg recipes below.
1. Egg sandwich with avocado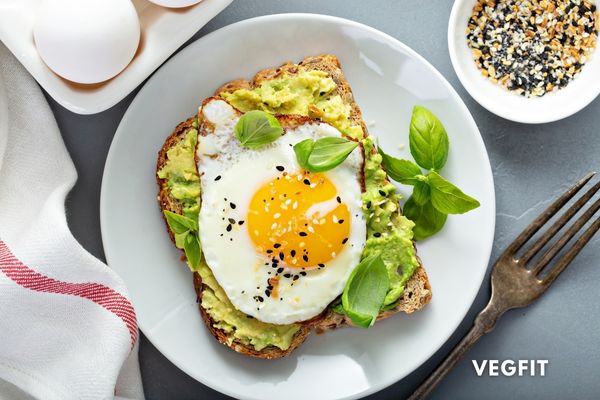 Ingredients
2 Slices of bread
1/2 Tsp butter
1/2 avocado sliced
1 egg
1 tomato sliced
2 Cheddar Cheese Slice
1/2 Tsp Black pepper
1/4 Tsp Mayonnaise
Method
Spread butter over the two inner sides of the bread.
Place the cheese slices inside.
Now place the avocado slices along with the tomato slices. You can spread a little amount of mayonnaise on top of it.
Make an egg poach. sprinkle some Black pepper on top of it. Now, place the poach on top of the sliced avocados, and tomatoes.
Now Place this whole thing inside a Sandwich griller. Grill it. 
Serve hot, with green chutney.
Pro -tip: Make a hole in one of the bread with the help of a cookie cutter. Now, put the egg inside the hole. Toast it on a pan. The egg poach will stay inside the bread, and you'll feel like you're eating an appetizer!
2. Potato egg roast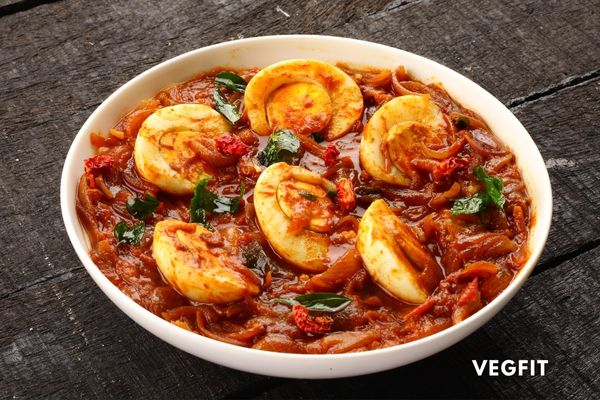 Ingredients
4 medium eggs
2 sprigs of Rosemary
400 Grams of boiled Potatoes
4 Springs of thyme
Olive Oil
400 grams roasted pepper
1 tsp paprika
1 lemon juiced
Method
Pre-Heat the oven to 200 C. Spread the potatoes on a roasting tray. Make sure the tray is lined With parchment paper.
Mash the potatoes using a potato masher.
Add the garlic, and the cloves. Drizzle oil generously.
Roast for a good 30 minutes. Break this 30 minutes into two slots of 15 minutes. Turn and shake the pan halfway through the time, and incorporate everything very well.
While the potatoes are roasting, cook the British lion eggs.
Bring a large saucepan of water to a boil.
Gently put the eggs into the water. Boil for 5/6 minutes.
Fetch the eggs out of the water. put them inside cold water.
Peel, and then halve them.
Make the sauce. Add the paprika, and lemon juice, and squeeze the garlic out of the cloves. Mix everything together.
Put these eggs into the pan, Alongside the potatoes. Serve with pepper sauce.
Pro-Tip – While baking, season the potatoes with Italian mixed herbs.
3. Classic egg Poach
Ingredients
1 slices sourdough
50g smoked salmon
20g mixed baby salad leaves
1 spring onion chopped
2 radishes, sliced
Cilantro for garnish
1tbsp olive oil
Method
Make a poach of the egg. Bring a saucepan full of water to a rolling boil. Add vinegar. Stir the mixture.
Now crack the egg into the water and carefully place it in the center of the saucepan.
Cook the egg for 3-4 minutes. Lift the egg out and drain the excess water from it on a piece of kitchen paper.
Heat the hollandaise sauce in a small pan.
Toast the sourdough for a few minutes.
Spread the horseradish sauce over the toast, smear it all over and arrange the salmon on top of it.
Put the poached egg in the middle of the toast and pour the hollandaise sauce all over.
Garnish with mixed salad leaves, spring onion, and radish slices. Add a bit of cilantro and drizzle a little amount of olive oil.
Pro-tip: you can drizzle a scanty amount of Soya sauce.
4. Onion Bhaji With Poached eggs
Ingredients
4 Red Onions
A handful of Coriander Leaves
3cm Ginger, grated
1 Tsp Ground Coriander
1 Tsp Cumin Seeds
1 Tsp Curry Powder
1 Tsp Baking Powder
1 Tbsp Gram Flour
100ml Water
8 eggs
Mango Chutney 9 (optional)
Salt
Method
Slice your red onion into thin pieces,
Chop the coriander and finely grate the piece of ginger.
Now, add the red onion, ginger, 3/4 of the coriander leaves, ground coriander, cumin seeds, curry powder, baking powder, gram flour, a pinch of salt, and water, one by one, into a mixing bowl. Mix all the ingredients with your hands until well combined. This is your bhaji mixture.
Pour a handful of chopped vegetable oil into a frying pan. Again, take a small handful of the bhaji mixture and give them the desired shape with your hands.
Once the oil is hot, add the shaped bhajis into the pan and fry for a few minutes on each side. It will gradually turn crisp and golden brown. Set aside the bhajis, and repeat until all the bhaji mixture has been completely used.
Fill a large saucepan with water and bring to a rolling boil. Add a pinch of salt, then stir the water with a spatula. Crack the eggs and gently put them into the center of the pan.
Cook the whole thing for 3-4 minutes until the egg whites are set but the yolks are still beautifully runny. Repeat the same technique for each egg.
Put two bhajis on a plate and place two poached eggs on top. Drizzle some homemade mango chutney and sprinkle the remaining coriander on top. Gulp in!
5. Old Style Egg Benedict
Ingredients to make the hollandaise sauce
2 large eggs
1 English muffin, halved
1 Paneer pattie
1 large vine tomato cut into 4
½ avocado, peeled, stoned, and sliced
The Remaining Ingredients
2 large egg yolks
½ teaspoon white wine vinegar
A pinch of sea salt
A splash of ice-cold water
120g unsalted butter, freezing cold
A dash of lemon juice
Pepper
Method
Put two egg yolks, ½ teaspoon white wine vinegar, a pinch of salt, and a little amount of ice-cold water in a glass bowl that fits well over a small pan. Whisk everything for a few minutes. Make sure the batter is lump-free. Incorporate everything very well.
Now place the bowl over a pan of barely simmering water. Whisk everything continuously until the mixture turns pale and thick. It should not take more than 3-5 minutes.
Remove the pan from the heat and slowly whisk in the cubes of butter, bit by bit until everything is well incorporated. By this step your creamy hollandaise gets ready.
Season the cream with a squeeze of lemon juice and a little pepper.
Keep the mixture warm until needed.
Bring the pan of salted water to a rolling boil, then make two poached eggs. Make sure the yolks are kept soft.
Lift each of these poaches out with a slotted spoon and drain on kitchen paper.
To make eggs Benedict, toast 2 muffin halves, top each with a slice of paneer pattie, a slice of tomato, a few slices of avocado a poached egg, and top it off with a generous amount of hollandaise.
6. Parsi Eggs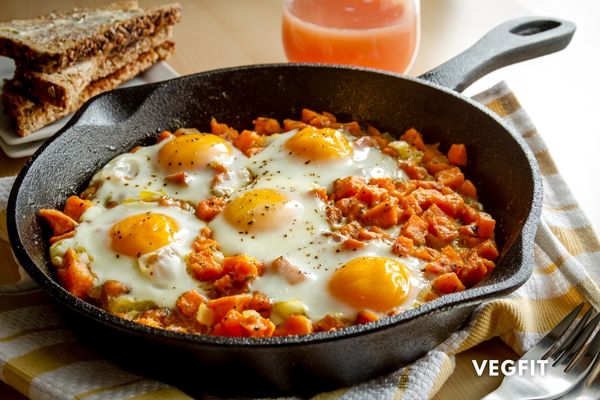 Ingredients
4 Eggs
1/2 tsp cumin seeds
1 green chili finely chopped
2 garlic cloves, (finely grated)
1 onion, finely chopped
2 tbsp finely chopped fresh coriander leaves
1/2 tsp salt ( adjust as per taste)
1 medium tomato, finely chopped
2 tbsp skimmed milk
2 tbsp low-fat butter
1/4 tsp turmeric powder
1/4 tsp red chili powder
Method
Whisk together the eggs, and the milk with a little salt in a bowl.
Heat butter in a non-stick skillet.
Keep the heat to medium. Now add cumin seeds, green chili, and garlic. saute for 2 minutes. A fragrant smell will come.
Add the chopped tomatoes and saute for a minute.
Add the red chili powder, and turmeric powder. saute for another two minutes.
Lower the heat and add the eggs. Make sure you add the eggs gently. they should not set firm.
While the eggs are still runny, add the coriander leaves. turn of the flame.
Pro-Tip: You can also garnish this Parsi recipe of egg with fresh cilantro.
7. Egg wrap with berries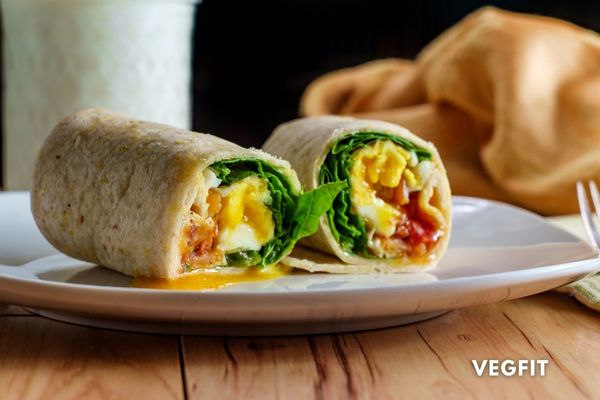 Ingredients
2 large eggs
25 grams muesli
1/2 tsp cinnamon
A drizzle of sunflower oil
75 grams of assorted raspberries, and blueberries
3 Tbsp Fat-free Greek yogurt
A little amount of honey
Method
Beat the eggs with muesli and cinnamon. Heat a non-stick frying pan. Cook the eggs. Keep it on medium flame.
Cook for 2 minutes.
Use a spatula, and push the eggs into the center of the pan. Allow the runny eggs to fill the void space. You have to continue repeating this step until there is no more runny egg left.
When the omelet is cooked transfer it to a serving plate. Add the berries. Top it off with Greek yogurt, and honey. You are sorted.
Pro-tip: In place of honey, you can add maple syrup too.
8. Green Onion and Mushroom Omelette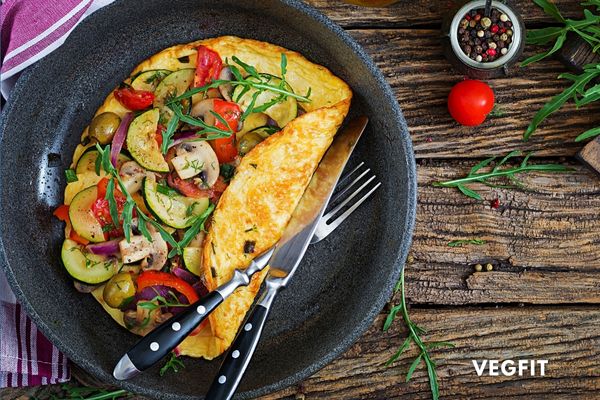 Ingredients
175 grams of mushroom
2 Tbsp butter
5 Tbsp chopped green onions
6 eggs
1 Tbsp water
¼ Tsp Salt
¼ Tsp ground black pepper
Method
Finely chop mushrooms. Heat butter in a skillet on medium heat. Stir fry the mushrooms.
Add mushrooms and onions, and stir fry for 3 minutes.
Add vermouth and boil. Adding vermouth is optional.
When the vermouth evaporates, season the preparation with salt and pepper.
Whisk eggs, salt, and pepper in a medium-sized bowl. Blend everything.
Melt butter in a medium-sized skillet.
Add half of the beaten egg mixture. Stir with the back of a fork until edges begin to set.
Cook until the omelet is set.
Lift the edges with a spatula. You will see uncooked or half-cooked eggs set underneath.
Cook well. At least for 2 minutes.
Fill a spoon with mushroom mixture. Place it in the center of the omelet. Fold the omelet.
Fold both sides of the omelet. Transfer to another plate.
9. Pain Perdu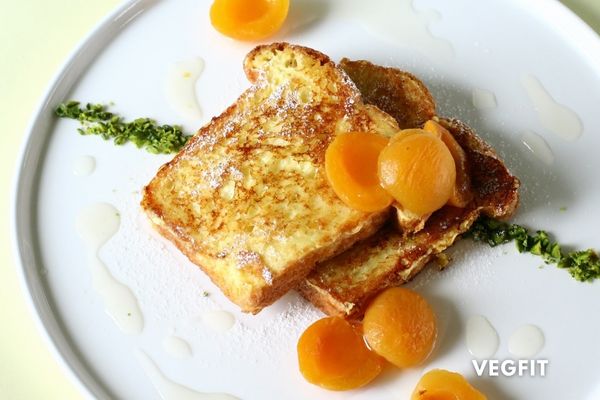 Ingredients
3 large eggs
3/4 cup of milk
1/4 teaspoon salt
1 teaspoon sugar
1 teaspoon vanilla extract
1/2 Tsp cinnamon
1/4 Teaspoon of all spices
12 thick slices of French baguette
3 tablespoon butter
Confections sugar
Method
In a bowl combine eggs, milk, sugar, cinnamon, vanilla, and all spices. Whisk them together.
Now in a pan heat some butter and melt it.
Now dip the baguette in the batter and fry it in the batter.
Plate it with sliced strawberries, and almonds.
10. Omelette with a Twist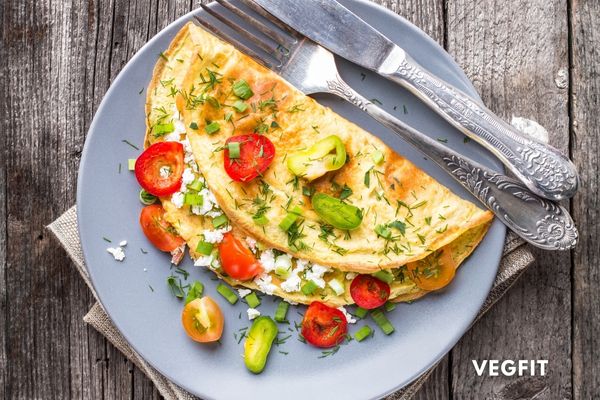 Ingredients
3 large eggs
Mixed Italian Herbs.
Salt
1/2 tsp black pepper
1 tbsp unsalted butter
Direction to cook
In a bowl take the eggs. Beat it.
Add salt and pepper and add 1 tsp of herbs.
Now in a skillet melt the butter. It should come to a foamy consistency but not brown.
Add home herbs. An aroma will come.
Now put the egg over medium heat.
Fry it. But the texture should stay soft.
You can additionally add fresh parsley chopped.
Nutritional Profile
Calories: 322
Fat: 26g
Carbs: 01g
Protein: 19g
Pro-tip: You can add chopped garlic to it.
Hope you have enjoyed these collections of recipes. Do comment and let me know if you are going to try these recipes at home! Until then, stay tuned to VegFit for more health and fitness tips.