A lot of people struggle to lose the bulging fat that stubbornly sticks to their bellies, hips, thighs, or arms. And with our undisciplined lifestyles and more and more sedentary habits, our body develops unhealthy proportions. But, getting rid of fat is not only about doing workouts every day. Much of it is about eating healthy. There are some really healthy foods that have natural fat-burning properties and consuming these foods can help you to lose weight.
Most of these foods incorporate a rich range of antioxidants that help boost overall health too. Instead of consuming 'empty' calories, it is advisable to restructure your diet and think about foods that are not only low in calories but offers a horde of nutrients too.
Leafy Greens are full of nutrition like essential minerals, fiber, and vitamins that may help your body to improve metabolism rates and subsequently burn body fat. Focus on including these in your diet. Without fail, these foods will help you not just to lose weight, but also will let you live a long and healthy life.
Recommended Portion Of Intake Of Dark Green Leafy Vegetables
Children: 1/2 cup to 1 1/2 cups per week
Adult Women: 1 1/2 to 2 cups per week
Adult Men: 2 cups to 21/2 cups per week
Best Leafy Green Vegetables For Weight Loss
1. Spinach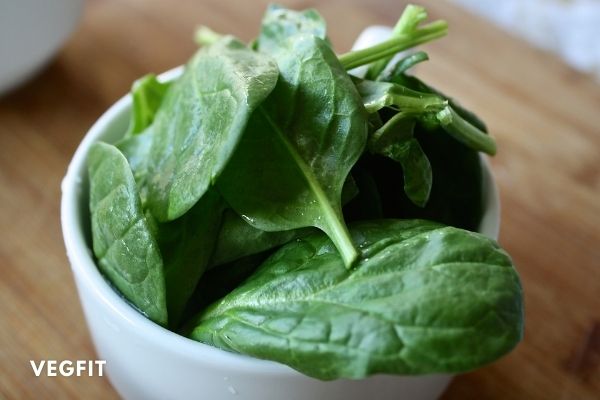 Spinach is a great source of leafy green vegetables. It is a great leafy vegetable for burning belly fat and has a high nutrition profile as well. There have been numerous studies on this subject about what exactly is the fat-burning capacity of spinach and the very healthy leafy green has come out on the top. Add a little blanched spinach to your breakfast or any major meal of the day to set your body on track and get rid of excess fats.
2. Kale
This leafy green is an extremely weight-loss-friendly food and a lot of people include it in their detox juices. Kale is rich in nutrients. In its composition, it includes a great proportion of water. The same is also rich in fibre that is good to suppress appetite.
3. Cabbage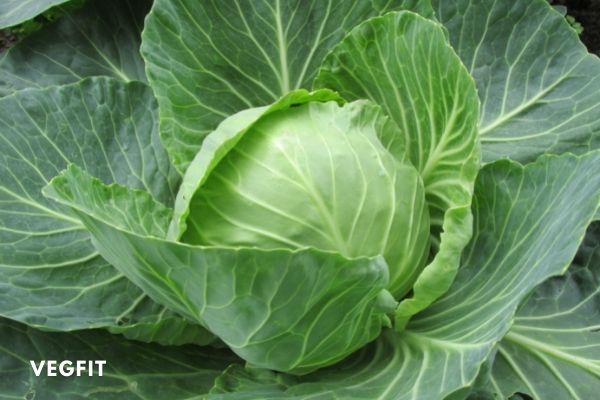 Cabbage comes in different colours— the most common are green, purple and white. Cabbage has properties in them that prevent, lung and oesophagal cancer. Cabbage can very well be fermented and turned into Sauerkraut. Sauerkraut has a lot of nutritious benefits. It helps you to improve digestion and aids in weight loss.
4. Beet-Greens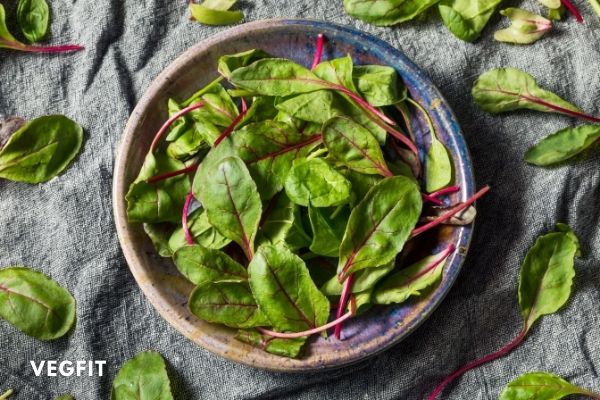 It has been since the middle ages that beetroot made an inlay to our cuisines. We often eat the red portion of the beetroot and leave the leaves. But that is not wholly recommended. Because the leaves of beets are edible and full of potassium, Calcium, Riboflavin, Vitamin A and Vitamin K. They also incorporate loads of beta carotene and lutein, which prevents eye disorders like muscular disorientation and cataract to take place.
5. Lettuce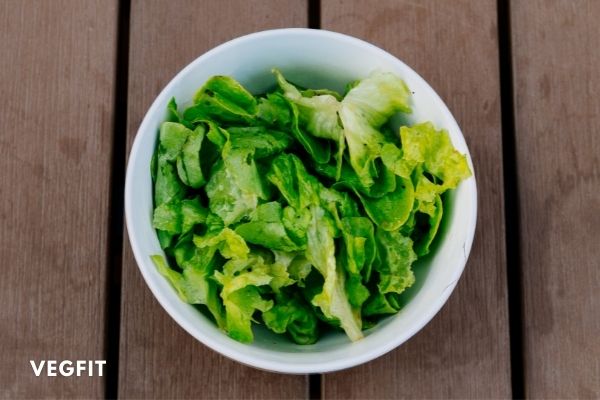 Lettuce is the annual harvest of the aster family. Most lettuce families are eaten fresh and work as a base of green salads. Lettuce is a great source of Vitamin K and Vitamin A.
Lettuce is a storehouse of folate too. One can add lettuce to salads, mixed veggies.
6. Sarso Ka Saag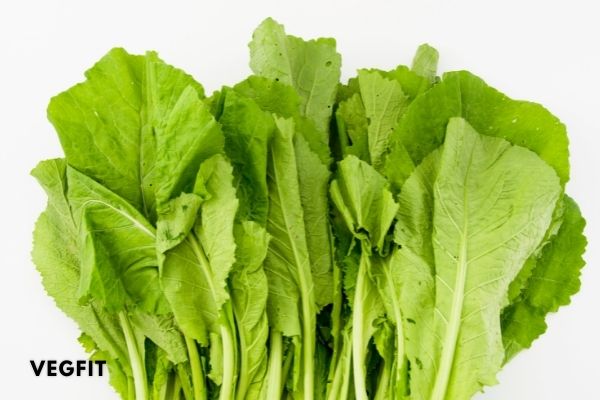 During winters Sarso ka saag is one of our most delicious yields. In North India, during the winters they often indulge in Saarso-ka-Saag and Makai ki Roti. Saarso ka Saag has a lot of Zinc, Pottasium, Magneseum, and Manganese present in them. Dietary Fibers are also a storehouse of Vitamin A, Vitamin C, and Vitamin K. It helps to cut down bad cholesterol and promotes good health.
7. Water Spinach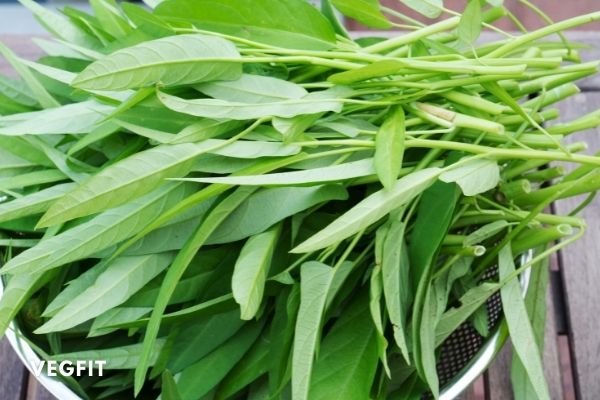 This leafy green is a delicacy of winter for the Eastern part of India, especially Bengal. It has a lot of dietary fibre present in them, along with potassium, vitamin A and C, calcium, iron, protein, etc. This leafy green can cut down risks of heart disease, anaemia, indigestion, constipation, diabetes. It is also a great source to meet your daily vitamin needs.
8. Bok Choy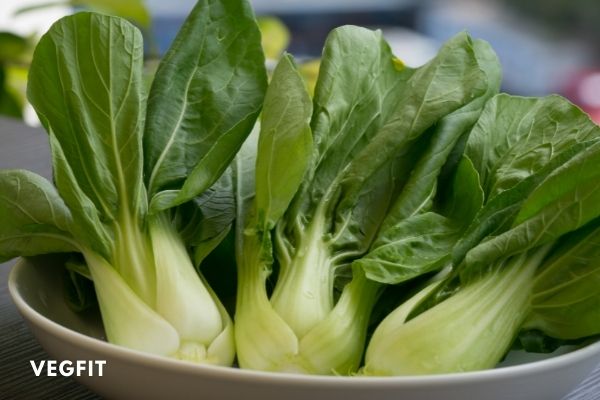 A member of the cabbage family, bok choy is good for stir-frys, salads, soup or as a quick side dish. To get hold of the best quality bok Choi always goes for smooth stems and leaves that are intact. For storage, wrap them in clean plastic film and keep them in the vegetable section of the refrigerator. They stay fresh for about a week. Bok Choy has a great nutrition profile. It has Potassium, Iron, Vitamin C and Vitamin B6 present in it. Hence, this vegetable makes up a great weight loss ingredient.
9. Methi ka saag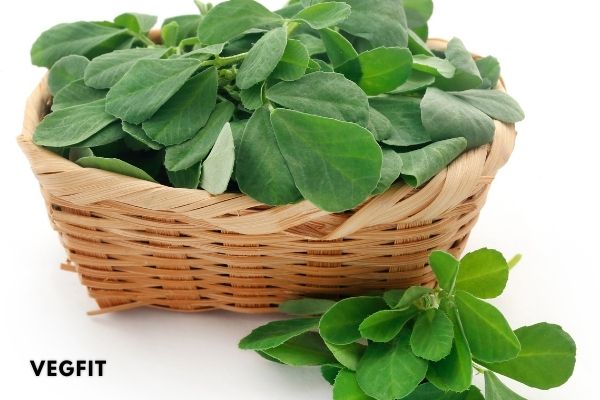 Fenugreek leaves or Methi ka saag is a winter delicacy. This leafy green takes minimal oil to get cooked and is full of nutrients like potassium, dietary fibres, Vitamin K, Phosphorus and Iron. For diabetes patients, it is a great medicinal food item. It has an extremely refreshing flavour. Methi ka saag can very well become a staple for your weight-loss journey.
10. Bathua Ka Saag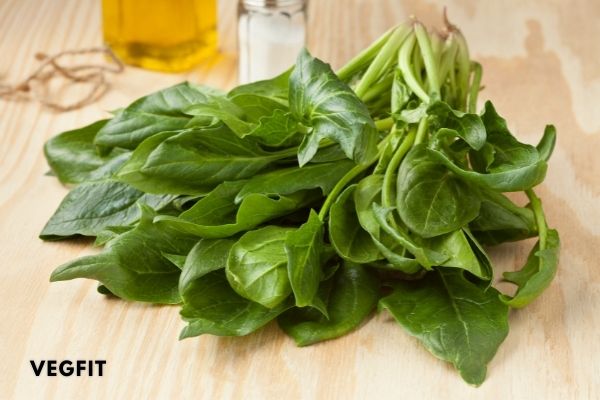 Unlike Sarson ka saag, Bathua ka saag is cooked in an iron wok. It takes cumin seeds, garlic paste, green chillies in hot mustard oil to cook Bathua saag. First, the saag is blanched and then pureed. Once these two steps are done Bathua saag is added to the other two ingredients. Season the recipe with salt as per taste and homemade garam masala. Serve hot. This recipe makes up to be one of the healthiest foods.
11. Swiss Chard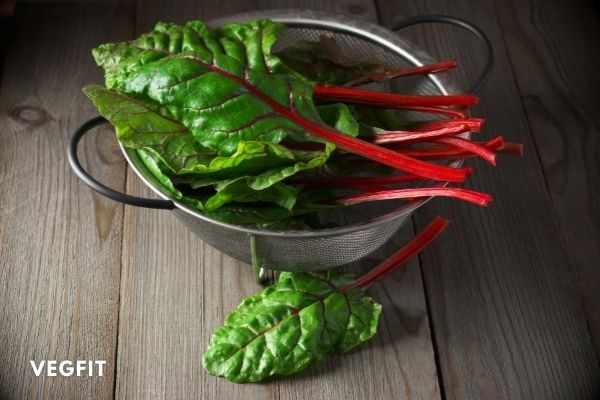 This green leafy vegetable is a great staple for your weight loss journey. It is loaded with the goodness of fibre. The same is great for your daily vitamin K intake. plus it has a great source of Vitamin C, Vitamin A, Vitamin E, and proteins.
12. Sunsunia Saag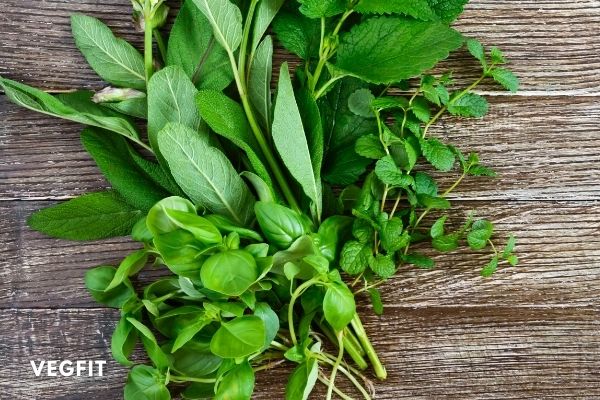 Sunsunia Saag looks like a clover. It is basically a type of miniature fern. It is quite popular in West Bengal, Jharkhand, Odisha, Bihar, and Chattisgarh. Its leaves are used in different folks and medicinal treatments. It is a great aid to insomnia, skin disease, and hypertension.
13. Gotu Kola
Brahmi of Gotu kola has been in use in Indian Cuisine for centuries. It is also called Ben saag. This leafy green is rich in iron, and dietary fibre. It is a great treatment for varicose veins.
Benefits of Eating Leafy Greens in a Weight Loss Diet:
Very low in calories
A powerhouse of vitamins, minerals, antioxidants, fibre, etc.
Low-fat food content
Rich in iron, good for anemics
Good to make metabolism better
Helps to improve digestion
Rich in trace minerals like manganese, copper, chromium, magnesium, etc.
Does not cause spikes in blood sugar levels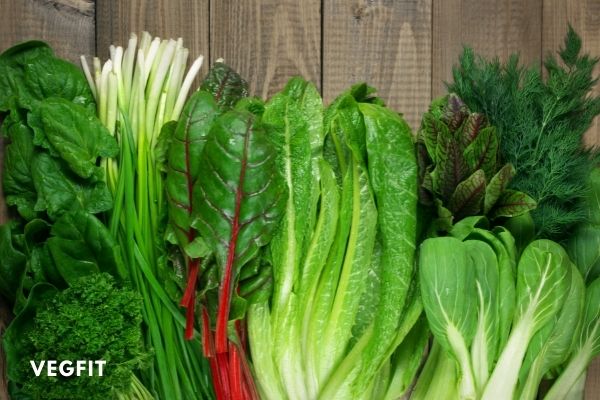 Every green leafy vegetable is a weight-loss-friendly veggie in the world. Leafy vegetables make you feel fuller and effectively contribute to the weight loss process of a weight loss aspirant. It makes us feel fuller and helps to maintain a calorie deficit. Most green leafy vegetables are rich sources of vitamins, minerals, antioxidants, protein, and fibre. Leafy greens are a non-negotiable part of one's diet.
In India, leafy greens are available at an extremely low price. To you all— who are trying to lose weight, you can eat as many leafy greens as you want.