What is Fibre? Fibre is essentially the carbohydrate component of the food that we consume— that doesn't spike your blood sugar levels up. Dietary fibre is a required item to be consumed through our daily intakes.
Why Do We Need Fibre In Our Diet?
Choosing fibre rich food lessens the chances of constipation, and regulates our bowel habits. It also is essential to cut down risks of Type-2 diabetes, cholesterol, strokes, and heart diseases. Fibres are also found to improve the digestion of our system. It is responsible to keep the gut health on point.
6 Fibre Rich Indian Meal Recipes
1. Chocolate Peanut Butter-Infused Quinoa Balls
Deliciously tasted peanut butter and quinoa offers ample taste to your mouth. Peanut butter tastes extremely good with a dash of maple syrup. There is quinoa present in it. Quinoa is known to have anti-inflammatory and anti-oxidant properties. Adding quinoa—fibre rich food in your diet helps to regulate your bowel system, and fuels beneficial bacteria in your gut. Plus eating a fibre-rich diet ameliorates the gut condition. You can check the recipe here.
2. Oats And Vegetable Broth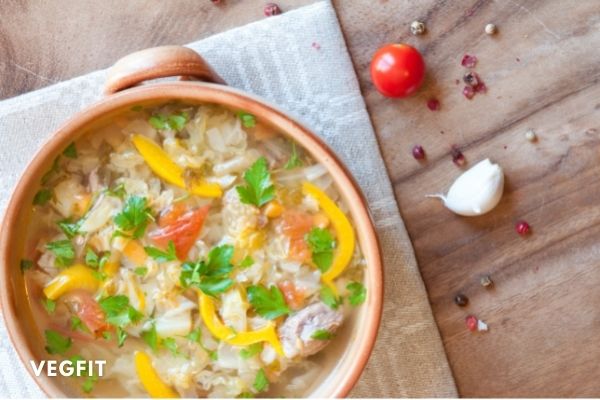 When talking about Fibre-rich Indian food , oats occupy space there. This recipe incorporates a horde of sauteed vegetables. Keep the vegetables tiny, and chunky. And enjoy bites from it. Further, add chopped coriander and parsley. Also, to give the dish a tadka we use onions, garlic, and green chillies. This Indian diet is full of vitamin, mineral, and fibre-rich foods. It is a great aid to soothe constipation, and regularise bowel movements. You can check the recipe here
3. Mushroom Oats Soup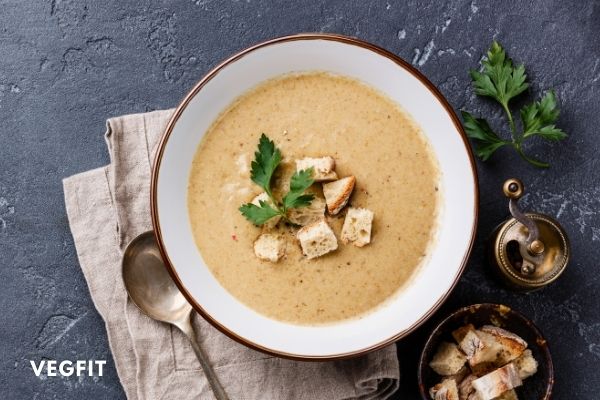 Indian style mushroom oats soup is low in carbohydrates. It accelerates weight loss. We use quick-cooking oats over here. Also, we keep the proportion between carbohydrates and protein in this recipe as 1:2. So If we put 1 cup oats, we will put 1 ½ cup mushroom and 1 cup lentil sprouts. Also, additional veggies like onion, carrot julienne, and beans make their way to it. In the end, we top it off with flax seeds.  This soup is rich in fibres. Also, a great amount of protein-rich foods are used in making this dish. Thus it is a great option for protein for vegetarians. Lastly, oats are great for solving any constipation problems. You can check the recipe here
4. Healthy Paneer Chickpea Salad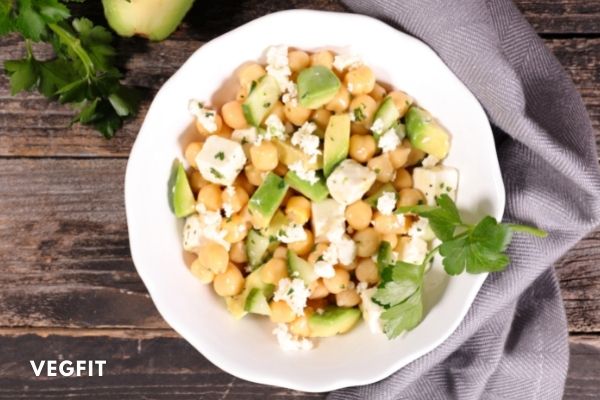 Easy paneer chickpea salad is a great food item. The item is fibre rich. 100 grams of chickpea has 18 grams of fibre present in it. Plus a horde of vegetables makes their way into the recipe. You can accompany it as a side dish with healthy foods like rice, bajra roti, jowar roti. It can very well occupy a permanent place in your Meal plan. You can check the recipe here.
5. Chickpea/ Nut Bars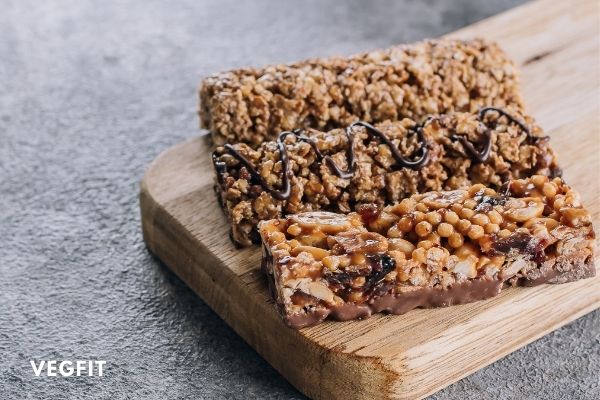 People love to indulge in snacks. and wouldn't it be just amazing if your snacks are rich in fibre? Chickpea protein bars, nut bars, are all packed with the goodness of fibers, are highly nutritious and take good care of one's health. These bars can even be consumed during one's weight loss journey. These fibrous snacks can be made at home too. You can check the recipe here.
6. Chickpea Stew and Millets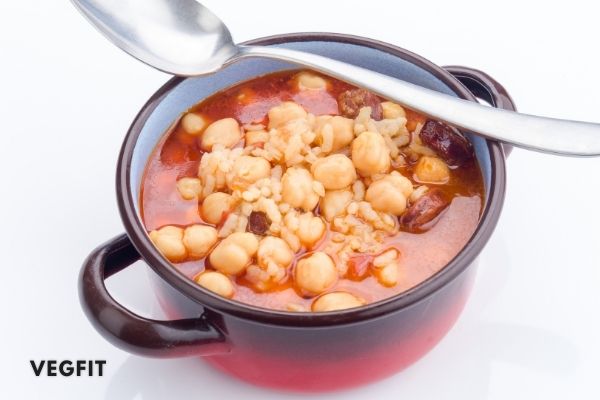 A fibre-rich meal is a wholesome option to consume the goodness of fibres. Chickpea stew and millet, with vegetables, is a great meal that is rich in fibre. You can optionally replace millet with brown rice— which is a great source of dietary fibres. Check the recipe here.
How Much Fibre Should We Eat Every Day?
Recommended portion of fibre intake for a man and a woman
Women— Need at least 25 grams of fibre per day
Men— Need at least 35 grams of fibre per day.

Types Of Fibre
There are 7 types of fibre that we consume through food. We provide the list below—
| | | |
| --- | --- | --- |
| Types of Fibres | Food Sources | Benefits |
| Cellulose( Insoluble fibre) | Broccoli, cabbage, kale | Aids in the digestive system's health |
| Inulin( soluble fibre) | Banas, garlic, onion, asparagus | Helps the body to absorb sugar, without causing blood sugar spikes |
| Pectins( soluble fibre) | Strawberries, carrots, potatoes | Lower cholesterol by removing fatty acids |
| Bela Glucans( soluble fibre) | Oats, barley, mushroom | Is a natural prebiotic that helps in forming good gut bacteria. |
| Psyllium (( soluble fibre) | Any type of husk | Softens stool |
| Lignin(Insoluble fibre) | Avocado, zucchini | Helps reduce the risk of colon cancer |
| Resistant starch(soluble fibre) | Banas, Oatmeal flake | Maintains the health of the GI tract |
FAQs
Which Indian vegetables are high in fibre?
Beetroot, cabbage, carrots, cauliflower, okra (ladyfingers) and drumstick are a few of the vegetables which have high fibre content.
Which breakfast contains the most fibre?
Ragi, bajra roti, Breakfast made up of Urad dal, toor dal, channa dal, buckwheat, quinoa, flax seeds are great for fibre consumption.
How can I add fibre to my Indian diet?
Increase the fibre content of your meal by adding any of the following to your diet — Buckwheat, Ragi Bajra, Peas, Carrots, Pineapple, watermelon etc.
Is chapati rich in fibre?
Normal atta chapatis are low in fibre and contain roughly 0.5gms of fiber in a single chapati. Chapati made of ragi, bajra, barley, buckwheat are highly rich in fibre. They have respectively 11.5, 11.3, 3.9, 8.6 grams of fibre present per 100 grams of it.
Are oats rich in fibre?
Oats are definitely fibre rich. 100 grams of oats have 10.1 grams of dietary fibres present in them.
Which Indian foods are high in fibre?
Flax Seeds, quinoa, moong, jowar, buckwheat, green peas, dates, oats, carrots, walnuts, apple, and spinach are high in fibre.
What are the 3 high fibre weight loss recipes?
Chickpea salads,  roasted green artichokes, and mushroom oats soup are rich in fibre and aid in weight loss.
We really hope you enjoyed this post about Fibre rich Indian recipes. If you did, please share it with your friends, family, and loved ones.
Thank you for reading!