Vegetarian protein sources while abundant in variety can be scanty in quality. Soy poses to be an excellent contender when it comes to sources of protein, especially in a vegetarian diet. When you're in a fitness frenzy and all you want is a good amount of protein in you, finding a healthy plant-based protein-rich diet can become crucial. We're here to give you an overview of exactly how beneficial soy products are in the long run.
Let's begin by busting some myths about soya consumption. 
1. Does soya cause kidney problems?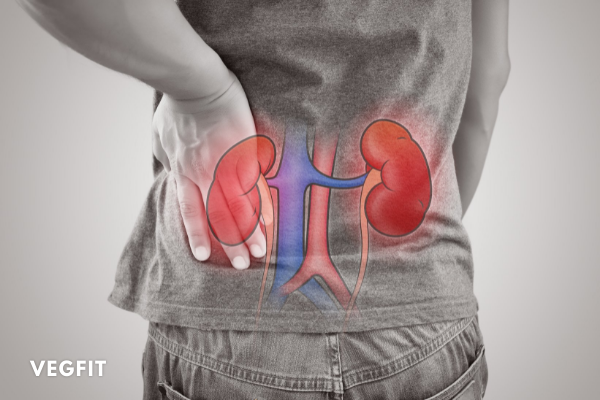 At the beginning of the 21st century, rumors arose that soy products might bring about hazardous conditions for kidneys. It was speculated that a large amount of soy consumption promotes kidney stones. A randomized trial was held on patients with pre-dialysis chronic kidney disease (CKD) which revealed that soy protein can have beneficial effects on people suffering from kidney problems.
Conclusion – Soya can help benefit individuals with kidney problems since it's a cholesterol-free replacement of meat and contains low saturated fats.
2. Does soya affect libido/sex drive?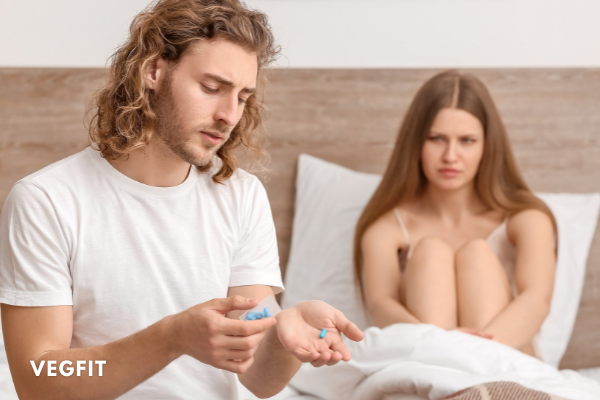 Another false misconception linked with soya consumption is due to the presence of a plant-based compound called phytoestrogens. These compounds behave a lot like estrogen and hence instill fear of diminished libido in men. A study held in 2010 by the University of Minnesota and Loma Linda University in California revealed that soy consumption does not take a toll on men's testosterone levels.
Conclusion – Soy does not affect the sexual drive/libido in any way.

3. Is soya harmful to thyroid patients?
While soya itself doesn't directly hamper the conditions of thyroid patients, research does show that it might interfere with thyroid medication. Three servings of soy a day won't inflict any harm – concludes a study by the American Institute of Cancer Research. If you're wondering what comprises a serving of soy, a single cup of soy milk would amount to one serving. Conclusion – A controlled amount of soya won't do any damage, but it's best to consult a doctor if you're on thyroid medication. Check out this link to know more https://pubmed.ncbi.nlm.nih.gov/16571087/
4. Does soya consumption promote breast cancer?
The estrogen-like compound present in soy might look like it can potentially cause breast cancer if overloaded on, but the amount present in soya is very negligible and won't take a toll on the lives of people consuming it. The fear comes from the linkage between high estrogen and breast cancer levels, but soya might not be all that harmful.
Why is soya the best source of protein for vegetarians?
Protein amounts to about 20% of the human body composition. Quite a large percentage right? Well, protein doesn't like to stick around in our body's storage and hence has to be consumed over and over again. The protein is broken down into essential amino acids that contribute to our metabolic activities. So we know that protein is kinda important, but what's an excellent source for vegetarians to get their daily dose of protein? What foods will contain enough of it to sustain a healthy lifestyle?
Although an endless list of vegetarian sources will unfold to give you the answer to that question, soya tops them all. Not only is it easy to prepare, but it can be fashioned into several products and dishes. It can even supplement dairy products like milk and butter with soymilk and soy nut butter. Although abundant in amounts of protein, soya contains a decent size of both carbs and fat. It's a treat for the body's nutrients for those on a vegetarian diet.
How much protein does soya contain?
Soya chunk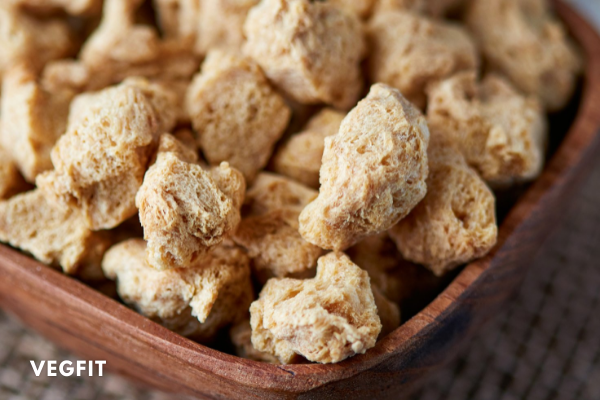 A 100 gram serving of soya chunks can provide you with approximately 54 grams of protein. It also nourishes our bodies with 0.5 grams of total fat. The carbohydrates in 100 grams of soya chunks are 33 grams and the dietary fiber present in it is 13 grams. Stuffed with Iron and calcium, they provide no sodium in the form of extra sugar to the body.
| | |
| --- | --- |
| Protein | 54 grams |
| Total Fat | 0.5 grams |
| Carbohydrates | 100 grams |
| Fiber | 13 grams |
Nutritional breakdown of soya chunk (100 grams)
Soybean
Native to eastern Asia, soybean has made its way across to the western countries. 100 grams of boiled soybeans contain 16.6 grams of protein, 9.9 grams of carbs, 3 grams of sugar, 6 grams of fiber, and 9 grams of fat.
| | |
| --- | --- |
| Protein | 16.6 grams |
| Carbohydrates | 9.9 grams |
| Sugar | 3 grams |
| Fat | 9 grams |
| Fiber | 6 grams |
Nutritional value of 100 grams of boiled soybeans
Soymilk
High-quality protein and an abundance of B-vitamins are loaded in soy milk. The only conflict one might have with it is its low calcium levels, which everybody expects from milk. Soymilk still proves to be an excellent alternative to cow milk since it contains isoflavones that fight off bad cholesterol.
100 grams of soy milk contains 2.8 grams of protein, 2 grams of fat, 1.8 grams of carbs, and 1.3 grams of fiber.
| | |
| --- | --- |
| Protein | 2.8 grams |
| Fat | 2 grams |
| Carbs | 1.8 grams |
| Fiber | 1.3 grams |
Nutritional value in 100 grams of soy milk
Now that you're familiar with what your soya is made of, it's time to implement this excellent ingredient in mouth-watering dishes. Soya's flexibility is vastly enjoyed by newly turned vegetarians who are looking to fulfill their dedicated amounts of protein supplements with something that tastes a lot like meat. Soya meals can be prepared in several ways that make them favorable to the taste pallets of the new vegetarians. It's an excellent addition to the diet of gym enthusiasts and full-time workers since it's relatively easy and quick to prepare.
Check out these easy recipes that will blow you away! We'll make sure you fall in love with being in your kitchen and preparing healthy meals.
Soybean Salad
Place 128 grams or 1 cup of soybeans in a cooker and let them sit in water for some time. Once done, leave them to absorb the water for 7-8 hours. This meal has to be pre-planned and the preparations can commence one night before the consumption. You can also soak some sprouts the night before to add and an excellent source of nutrients. Once the beans are done, soak the water and add sleeves of apple and celery with a topping of sprouts. Your healthy salad is ready to eat. You can even pack it for the road and snack on it.
Soya Bhurji
We'll be using soya granules for this one. Take as much as you're hungry for, a bowl typically would work. Soak the soya granules with a pinch of salt while you prepare a pan with sunflower oil and let it simmer. Once the oil starts bubbling, you can add cumin seeds, chopped onion, and garlic.
Strain the water from the soya granules with a cloth and mix it into the pan of flavors. Mix the whole concoction and add a bit of turmeric to bright out an appetizing color. Season it to your taste and it's ready to be served hot and delicious!
Soya Curry
Soya chunks will be the ideal ingredient for this recipe, but feel free to experiment with what kind of soya you want to use! Soak the soya chunks with a pinch of salt till the chunks expand and become spongy. Add oil to a pan and add cumin and mustard seeds till the oil starts to sputter. Now add the chopped onions, garlic, and green chili.
While the pan is on low heat, grind a tomato in your mixie to make a smooth paste, You can also add coconut to the paste. Mix the paste in with some delicious garlic chutney and coat the soya chunks with it. Now dump the whole mixture into the already heated pan. You can add as much water as you want gravy, and your delicious soya curry is ready to be eating with delicious Rotis.
Soya Cutlet
Grab 100 grams of soya nuggets and soak them in water with a bit of salt. Once they're all cushiony, drain the water out and put two tablespoons of gram flour (besan) into the soya chunks. Add chopped carrots, garam masala, salt, and pepper to your taste and mix everything with your hands.
Once that is done, make thick patties and cover them with breadcrumbs. Set them in a pan on medium flame with oil heating in it. Let the cutlets simmer and turn golden brown and they're ready for consumption!
Soymilk cold hand-whipped coffee
Take a mug and mix in some coffee, water, and sugar till you reach a thick brown consistency. Pour a glass with soymilk and add some to the coffee mixture on top of it. You can keep the rest of the mixture away for the next batch of soymilk cold coffee. Slowly stir the milk and your frothy and thick hand-beaten cold coffee is ready! Garnish the drink with almond shavings for a picturesque feel and added flavor.
Soy comes in all forms and shapes to fulfill your nutrition needs while being utterly delicious. No need to scour about your fridge for your next protein-infused meal! Soya is here to stay!