With this surging trend of people turning more towards vegetarian and plant-based high protein diets—Soya chunks are becoming more popular than ever before.
What Is Soya Chunk & What Are They Made Of?
Soya chunks gradually became a supplement for meat for everyone in this country. Vegetarians highly rely on it for its magnanimous nutrition profile.
Soya chunks are made up of soya flour, from which excess oil has been removed. In this way the soya chunks become defatted. As the soybean oil gets extracted from them the soya chunks become dry in texture.
But if one cooks any curry dish or gravy dish with soya chunks it will absorb the curry juice, and become juicy. That is why they are sometimes called vegetarian meat.
Due to its nutritional benefits, non-vegetarians also consider it as their preferred food option. It is also very good for your weight loss diet.
Nutritional Benefits Of Soya Chunk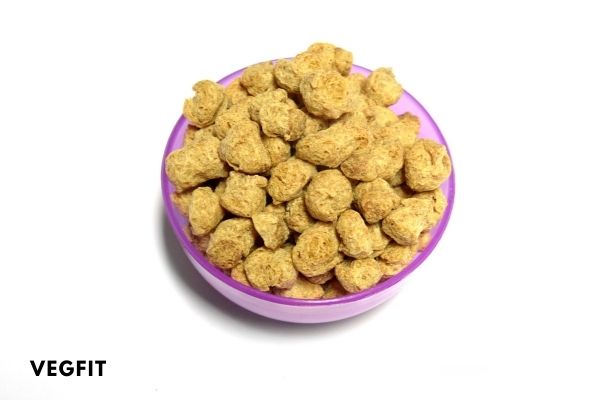 Soya is full of good polyunsaturated fats. It also has a dose of protein, and Omega 3 fatty acids. 100 grams of soya chunks have—
345 calories
52 grams of protein
33 gms of carbs
13 gms of dietary fiber
0.5 gms of total fat.
They are a rich storehouse of Calcium and iron and is free from sugar or sodium— thus safe to the body, and good for your health. People sometimes label soya as bad for health! Looking at the levels of nutrition it offers, and the values of each of these source nutrients— I don't think soya is at all bad. Men and women can safely consume soya beans in their daily diet.
Is Soya Bad For Your Health?
Well, the answer is no. Asians consume a great deal of soya for ages. And have less obesity, less chance of breast cancer and heart disease. The source of one such study we leave over here.
In rare cases, soya chunks have some side effects. But very mild. They are mainly bloating, constipation, and nausea.
However, keep in mind as soya food has purine it may slightly increase Uric acid levels. it might also cause water retention for the body. The same may also cause hot flashes.
And though it is highly unlikely in some people it may cause dire health issues. Grossly speaking, most nutritionists would say the good quality of soya taken in moderation is healthy.
Benefits Of Soya Chunks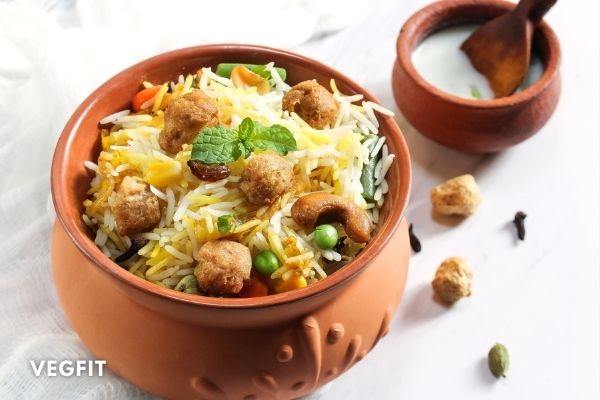 There are multiple benefits of consuming Soya chunks.
Soya chunks act as a vegetarian substitute for meat. The present content in soya chunks makes it a great substitute for meat. Thus, vegetarians eat them a lot. Because it is their meat substitute and source of protein. Soya has 16.6 gms of protein content present per 100 gms of it.
Soya chunks are rich in protein, fibre, omega 3 fatty acids, low in sodium, and bad fats. Thus they are really good to promote heart health.
Because soya has a lot of fibre, it makes you feel full for several hours after you have consumed it.
Photo-estrogen is a key content in soya chunks that helps in regulating the body's estrogen hormone's levels. Women with hormonal imbalance can consume them. As phytoestrogens are good at mimicking estrogen, they are great for maintaining the menstrual cycle, and menopausal symptoms of women. And also curbs down PCOS symptoms.
Soya chunks promote gut health. It can enhance the levels of bifidobacteria, and lactobacilli in the guts.
It improves digestive health.
Soy food enhances bone health and adds strength to your bones. It is thus a good source of vegan protein and takes care of your body, even if you don't take animal protein.
Soya cuts down heart disease risk. It also cuts down the risk of certain cancers, diabetes, and inflammatory diseases.
Here is a study by Harvard University that claims Soya protein helps in cutting down bad cholesterol.
Soya food is a source of vitamins present in them. Vitamins like vitamin B and minerals like zinc and iron are present in them. So include them in your diet.
Pregnant women can also consume soya chunks safely as per doctors advice.
Soya products are great to control blood sugar levels. It has isoflavones, that cuts down blood sugar levels, and improve insulin levels. On the flip side, isoflavones cause mood swings and hence do not eat too much soy.
Soya chunks prevent kidney damage. It is recommended for dialysis patients.
How Much Soya Chunk Can You Eat Every Day?
It depends on what quantity you are consuming. For vegans, it's a storehouse of protein. 100 gram serving of soya chunks has 52gm of Protein content, 33 gm of Carb content and 0.5 gm of fat present in it.
Soya Chunks are a great source of Phytoestrogen and many gym freaks suggest not to have them. One cup of soaked soya chunk is the source of 156 calories in it. But the underlying fact is that the amount of Isoflavones present in 100 gm of soya chunks is too little to cause any alterations in your hormonal levels. I eat 100gm of soya chunks at least 5 days a week and I have witnessed no harmful changes in my body.
So we can safely conclude that soya is safe until you are taking protein from multiple sources without solely being dependent on it.
Besides soya take lentils, paneer, tofu, rajma, almonds and other nuts because they are other good sources of protein for vegans.
Here We Provide A List Of Recipes Made With Soybean—
Many people ask me how to eat soya chunks? I think these recipes will help them cook something delicious with soya which when consumed contribute to some important developments in health, including cardiovascular health.
Soybean Curry
Ingredients
1 cup of nutrela soya chunks (Buy Here)
3 cups of cold water
1 pinch of salt
For Curry
3 tbsp soybean oil/ Any vegetable oil (Buy Here)
½ tsp mustard seeds
½ tsp cumin seeds
1 tbsp finely chopped onions
½ cup chopped tomatoes
1 tsp instant ginger-garlic paste (Buy Here)
¼ tsp turmeric powder
1 tsp Kashmiri red chilli
1 tsp garam masala
1tbsp chopped coriander leaves
Ingredients to grind
1 cup tomato
3 to 4 tbsp of coconut milk (Buy Here)
Recipe
Bring 3 cups of water to a rolling boil.
Dip the nutrela soya chunks.
The soaked soya chunks will soften and then remove excess water
Heat oil in a pan. (Buy Here)
Add mustard and cumin seeds. Add the curry leaves. Let it splutter then add Kashiri mirch powder, turmeric powder.
Add the onions fry till golden brown.
Add ginger and garlic paste, wait for the raw taste to disappear.
Add the chopped tomatoes. When they become tender, mash them in the pan.
Add the coconut milk. Wait 5 minutes.
Now add the soya chunks. Saute everything on medium flame.
Further, add 2 cups of lukewarm water. Mix everything. Wait till the curry thickens
Add garam masala
Garnish with coriander leaves.
The recipe is great to resolve protein deficiency for vegetarians, which leads to muscle loss.

Consume soy chunks safely. Add it to your diet. It doesn't cause unnecessary weight gain when taken in moderation.
Masala Soya Chunks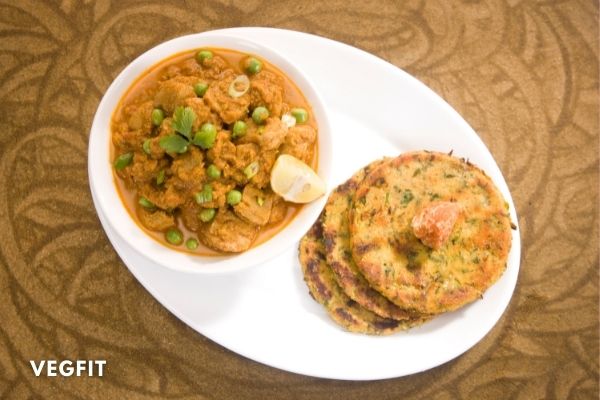 Ingredients
100 Grams Nutrela Soya Chunks/ soybeans (Buy Here)
Marinate
1 Teaspoon pepper Powder
1.5 Teaspoons chilli Powder
1 Teaspoon ginger
1 Teaspoon garlic
1 teaspoon salt
Masala Gravy
2 onions of medium size
1/2 Teaspoon Turmeric Powder
2 Teaspoons coriander Powder
1.5 Teaspoons garam masala
1 teaspoon fennel powder (optional)
1 (large size) tomato
1 tablespoon vegetable oil
2 sprigs of fresh curry leaves
4 tablespoon coriander leaves
salt
Steps
Put the Nutrela soya chunks in a deep bowl and pour in enough hot water so that the soya bean chunks get immersed. Leave it for 20 minutes.
After absorbing water, the Nutrela soya would appear double in volume. Squeeze the soaked Soya Chunks, and remove the excess water from the chunks.
Marinate it with pepper powder, chilli powder, ginger, garlic, and salt for 15 minutes.
Heat oil in a kadhai. Add onions, curry leaves and some salt. Salt gets cooking fast by absorbing moisture. Saute it well until onions turn light brown.
Add turmeric powder, coriander powder and garam masala. Saute well.
Further, add tomato. Cover and cook for 5 minutes in medium flame.
Add marinated soya and 1 cup of lukewarm water. Adjust salt for the final time. Cover and cook it for 15 minutes in low to medium flame.
Now open the lid and cook until the water evaporates.
Add coriander leaves and give it a mix. To have a perfect dry soybean masala dish add another 2 – 3 tsp oil. Saute it well until its colour darkens.
Serve this Indian diet recipe of soybeans with rice or Indian pieces of bread. Enjoy and give your health a boost of good nutrients.
Thai Soyabean In Cabbage Cups
Ingredients
1 cup soya bean from any famous soya chunk brand/ Nutrela soya
3/4th cup chopped onions
2 tsp chopped garlic
4 green chillies chopped
2 Tbsp tomato sauce
3 tbsp chopped coriander
2.5 Tbsp soya sauce
1 Tbsp Thai red curry paste (Buy Here)
1/2 cup bean sprouts
1 tbsp crushed peanuts (optional)
Juice of 3/4th lemon
2 tbsp Spring onion
1 tbsp Coriander,
1 tbsp chopped chilli flakes
1 tbsp dry roasted sesame seeds
Method
Soak the nutrela soya bean in water for at least 30 minutes. Wash them 2-3 times. Now squeeze them and take all the excess water out.
In a kadhai, heat 1 tablespoon of oil. Saute the onion till they become translucent. Now go on adding the chopped garlic and green chillies.
Put in the soybean. Toss it a few times. Saute till water evaporates.
Add the tomato sauce, soy sauce, Thai red curry paste into the cooked soya chunks. Keep the flame in medium.
In the next step add a little crushed black pepper and mix it well. Now add spring onions and saute till the soybeans become crispy.
Add the remaining ingredients: coriander leaves, spring onions, chilli flakes and a few roasted peanuts. Finally, garnish with sesame seeds. Adjust salt for taste and sprinkle lemon juice.
A perfect diet recipe to curate diet for weight loss.

That's all. Eat soybean in a delicious way— without any worry. Make sure you add it to your protein diet, side by side maintaining your proportion of intaking carbohydrates. They take of hormone in the female body, bone health, muscle building, and are a great source of several micronutrients, fibers, proteins, etc.
I am Priyanka. Your fitness, nutrition, and lifestyle coach, and the founder of the VegFit community. I provide more recipes, along with ideal diet regimes in my personal coaching, depending on your choice, body type etc. For my personalised fitness and diet plan please enrol here— https://veg.fit/personal-training/.
Thank you for stopping by. Take care of your body, health, mind and soul. Prioritise self-care. Stay fit in a vegetarian way…!