Poha, one of the most popular Indian breakfast, is a good source of carbohydrates. Can you eat poha during weight loss journey? What are the ways to make poha healthier? This post helps you make your poha yummier and healthier.
Indian Cuisines are full of flavourful recipes. Poha is one of them. Poha is a healthy and delicious meal that every Indian is familiar with. The thing is a mouth-watering, and filling breakfast. Originated from the land of Maharashtra, Poha is made up of beaten rice, alternatively known as cheewda. However, the flavors of the dish have crossed the boundaries of Mumbai and have become famous now all over India. Every Indian household has its own choices and preferences to make poha. They add this and omit so and accordingly customize a Poha exclusively for themselves which is good to taste and healthy to the body.
Poha can be eaten in various ways. In parts of Uttar Pradesh and Rajasthan Poha are topped off with Bhujia, and consumed with jalebis on the side. In Maharashtra, potatoes are cut and added to Poha which makes it even a more filler recipe. Then there comes misal poha. We all have heard the name of Misal Pav. Misal poha is the same thing where the Pav gets replaced with Poha. Another very interesting variety of Poha is Kanda Poha, which uses onions in it. The thing is loved the most in Mumbai.
Calories in Poha? Macros Nutrients in Poha?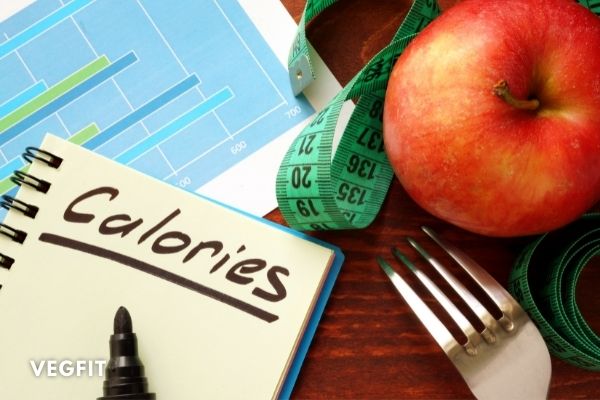 Poha contains a very restricted amount of calories that is why it is recommended during weight-loss. A plate full of Kanda poha or Maharashtrian style Poha, which is consumed the maximum, gives 180 Kcal of calories. Out of the total share of this amount of calorie Carbohydrate contains 100 Kcal of calories, Protein accounts for 9 Kcal of calories, fat contains 71 Kcal of calories.
| | |
| --- | --- |
| Nutrients | Amount |
| Iron | 2.6 mg/ Full plate |
| Potassium | 5 mg/Full Plate |
| Carbohydrate | 76.9%/ Full plate |
| Fat | 23%/ Full plate |
| Fibre | 2.5mg/Full plate |
Should You Eat Poha during weight loss?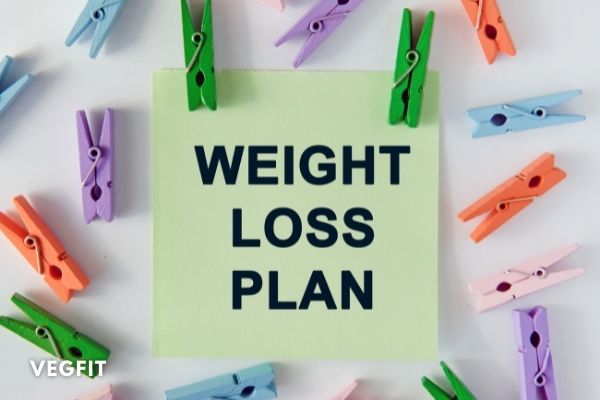 If you are aiming to lose weight and stay in proper shape, then Poha can be very healthy as your weight-loss diet staple. Poha is easy to make and full of nutrients. It is loaded with Iron, carbohydrates, Fibre, antioxidants, and essential vitamins. Poha is very low in calories. It has 76.9% of carbohydrates present in it, along with 23% of Fat— such a combination makes the thing a good fit to be consumed for weight-loss purposes. The same thing is also rich in fiber and therefore it leaves you feeling full for a long period. Nutritionists recommend Poha to avoid the craving for curbs during mid-meals, and it also helps to control over-eating.
The fact that there are so many variants of poha is available even makes it a good choice for you to consume. As per the latest research, the thing that tastes good in your tongue offers greater nutritional benefits to you, rather than something which you consume but don't enjoy. Therefore, when you are on a diet you can try any one of the multiple Poha recipes available. Also, the same can be eaten for breakfast, or even for a snack. A resource of healthy nutrients, minerals, and antioxidants Poha is recommended for those who suffer from any skin or hair problem. To make it even richer with protein one can use Peanuts in it along with sprouted lignum.
Benefits of eating Poha
1. Poha Controls Blood Sugar levels
Poha is a very good breakfast option for diabetics. Being rich in fiber, poha helps to release sugar in the bloodstream in a very slow and steady way. The same thing also prevents a sudden hike in sugar levels.

2. Poha acts as a very good Pro-biotic
It may hit you at first, but Poha is a really good source of probiotics. The dish is made of parboiling paddy. The dried paddy is then beaten, to produce poha. The finished product then undergoes the fermentation process, and retains to itself the microbial floras, from the partially boiled carbs and proteins. The whole process that poha undergoes is really healthy for one's gut health.
3. A very healthy source of Carbohydrates
Poha is a very healthy source of carbohydrate, one full plate of Poha contains at least 76.9% of carbohydrate in it. It also contains 23% of fat. Hence it is considered a great breakfast option— because it kicks starts your system.
4. A Very Easily digestible Meal
Poha is a light meal, which can be digested easily. Therefore, we can either have it in the morning, or we can choose to have it as a light evening meal. It is guaranteed that Poha will never cause bloating, and indigestion problems. That is why pregnant and lactating mothers are advised to eat Poha.
Poha Recipes as a Wholesome Healthy Meal
1. Vegetable Poha recipe—
Ingredients-
150 grams of Red Rice Poha( Choose the medium Thick variety of it)
2 green chilies finely chopped
2 Tablespoon Shelled peanuts
1 spring curry leaves
2 Tablespoon chopped cabbage
2 Tablespoon chopped capsicum/ bell pepper
2 tablespoon peas( use fresh pies extracted from pea-pods)
½ cup chopped tomatoes
1 teaspoon mustard seeds
¼ th teaspoon turmeric powder
½ teaspoon Red chili powder
1+½ Tbsp oil
Salt to taste
Chopped coriander leaves
Let's come to the recipe—
First, you need to take the red rice poha in a bowl. Then add to it ½ cups of water. Set the mixture aside. Or you can rinse the Poha under cold water. Drain the excess amount of water.
Heat oil in a pan. Keep the flame on medium. Shallow fry the peanuts. Take the fried pea-nuts out. Keep it in a separate bowl.
In the same oil add a spoon full of mustard seeds. Let the seeds flutter. At this point add the chopped green chilies, and curry leaves. Add chopped capsicums, cabbage shreds, and frozen peas to cook the dish. Keep it stirring occasionally.
Now add salt to taste and turmeric powder as well, along with some red chili powder.
At this stage add the tomatoes chopped. Mix well. On low to medium flame cook for 4-5 minutes. At ¼ cup of water. The tomatoes should become tender.
When everything gets mixed, and a fresh aroma starts to come out, the preparation adds the red poha. Mix the poha with the veggies. Be careful, try not to mash up the poha rice. Handle and mix everything gently.
Also after 4 minutes of mixing turn the gas to low, and cook for another 3 minutes. Add the freshly chopped coriander leaves. Top it off with fried peanuts.
Give everything a good mix.
Serve it hot. Sprinkle some lemon juice for tangy flavors.
Garnish it with a lot of bhujia Sev.
Voila! Your poha is done. You can enjoy it with a steaming cup of masala chai!
2. Vegetable Poha with Soya Chunks— for a boost of protein in your diet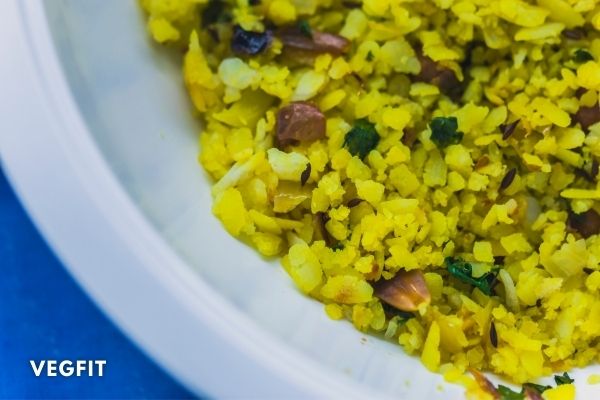 Ingredients For the recipe—
1 cup soya chunks
2 Tsp oil
1 Tsp Mustard seeds
8 to 10 Curry leaves
¼th tsp asafoetida
½ cup sliced onion of medium size
½ tsp chopped chilies
¼ the cup Haldi(Turmeric Powder)
2 tbsp peanuts(blanched)
2 tbsp green peas steamed
1 tbsp lime juice
Salt as per taste
Garnishing Ingredients
2 tbsp chopped coriander
Method
The soya granules need to be soaked thoroughly. Use two cups of warm water to soak them and soak for 25 minutes.
Heat oil in a Kadhai
Now add the mustard seeds. It will start crackling. Now add the asafoetida and the curry leaves. On medium flame give them a toss of 40 seconds. A fresh aroma will come out of it.
Add the sliced onion. Saute for 3 to 4 minutes. The onions will start becoming translucent.
Add the Haldi powder. Add one by one peanut, peas, soya chunks, lime juice. Toss them gently over medium heat. Adjust the salt. Sprinkle chopped coriander on it.
The recipe is nutritious and extremely delicious. It also gets ready in a minimal amount of time.
When is The best time to consume Poha?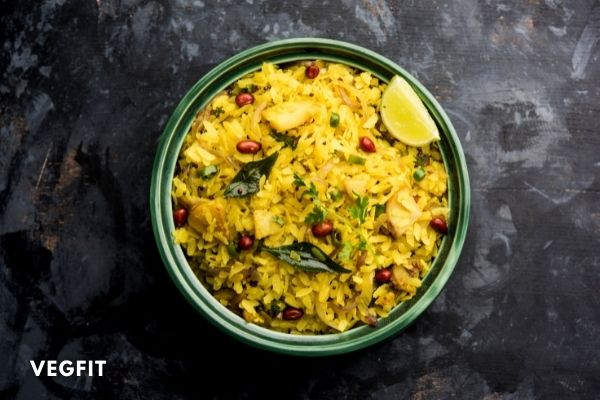 One can consume poha at any time of the day. But it is best to be consumed at the breakfast or as your evening snacks. Poha is primarily a carbohydrate source and thus, it is a good breakfast option. You can also add soya chunks to it, to make it tastier.
For the evening snacks, you can also have them. It takes minimal time to get prepared and Poha is quite filling without being heavy on your stomach. Plus, to satiate that chatpata craving of yours toss some spicy bhujia on it, on your cheat days!
How to make poha even healthier?
There are many ways to make Poha healthier. For example—
Add soya chunks to poha, for increasing the protein content of your dish.
Add a black gram curry alongside poha to add extra protein to your meal.
Add varieties of vegetables to the poha preparation, and the dish becomes instantly a tad bit healthy.
Use brown poha instead of white poha since brown poha has lot more fibres.
Instead of garnishing with packaged snacks like bhuji, switch to healthier options like peanuts, ground coconut, pumpkin seeds, and a range of dry fruits.
Fruit Poha is largely becoming a popular dish to consume. Pick a dose of cranberries, strawberries, dates, apples, and pomegranates to your Poha Dish that will elevate the nutrition value of the dish.
Always garnish Poha with a drizzle of Lime juice, which instantly supplies Vitamin C to the total share of the dish's nutrition value.
Last but Not Least!
Team veg fit is ever committed to bringing up to you the best possible news regarding nutrition. If you want to stay young, in proper shape, and healthy — you just can't compromise on your nutrition. Every one of us is unique. Our bodies need exclusive ingredients as per their own choice. Thus, myself Priyanka ISSA certified nutrition coach has come to help you to choose the right recipes and diet plans that are exclusively tailored for your body type. Book a session with me via https://veg.fit/personal-training/ and see a positive transformation of your body.
Until then, stay connected with the Veg.Fit family and healthy!