Made of Rice, flour vermicelli is a great choice of dessert for many Indian households. They appear much like noodles but are much thinner in texture. Vermicelli is flavourless. But, when cooked with something else, it at once absorbs the taste of the cooking ingredient. Thus, vermicelli is used to cook many delicious Indian desserts.
Vermicelli for Weight Loss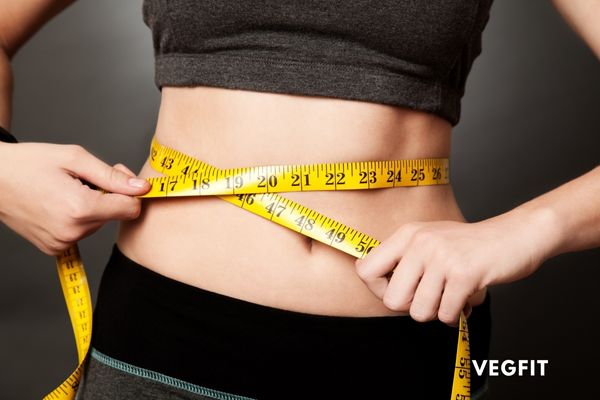 Vermicelli made up of rice/ bajra/Ragi/semolina is gluten free. While consuming them we don't really get any type of protein in a considerable amount. Generally for weight-loss, green vegetables and protein are recommended. So, considering this aspect of vermicelli, it is not an ideal food for weight-loss.
On the other hand, vermicelli is cholesterol-free. This property of vermicelli makes it a good option for weight loss.
Sometimes you get hold of some types of vermicelli that are calorie-dense. Thus, it is best recommended to avoid them, if you are trying to lose weight.

However, vermicelli is fat-free. But, it is a good source of carbohydrates and hence quick energy. To help our bodies function properly we need energy, which primarily comes from carbohydrates. In a way, vermicelli gives us fat-free energy, which qualifies it in the weight-loss category of foods.
Should we eat vermicelli or not for weight loss?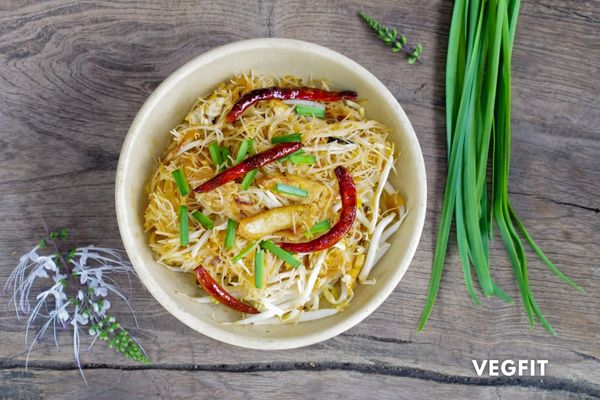 So, Is vermicelli good for weight loss or not? Going by these points, one might get confused about whether to eat vermicelli or not.  But there's a way out. Vermicelli is good for weight loss. You can replace foods which are comparatively higher in calorie content than vermicelli with vermicelli. In this way, you get to taste the deliciousness of Vermicelli, without putting on weight.
Types of Vermicelli
Making vermicelli starts by adding moisture to the flour with water and a little bit of salt. Then one kneads the mixture until a smooth dough is formed. This dough is then rolled out and processed through small cylinders to make long thin strands. The strands are then dried and packaged.
In Southeast Asia and China, rice vermicelli is really famous. The rice vermicelli noodles are usually made from a paste of rice flour and water.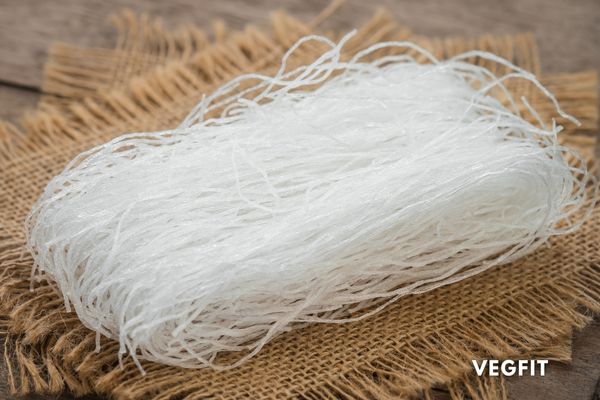 Mung bean starch is used to make these Chinese vermicelli or cellophane noodles. The noodles are gelatinous in texture. When they are cooked they become delicate and chewy. The very thin noodles have a neutral taste and are capable to absorb the flavours of any ingredient they are combined with.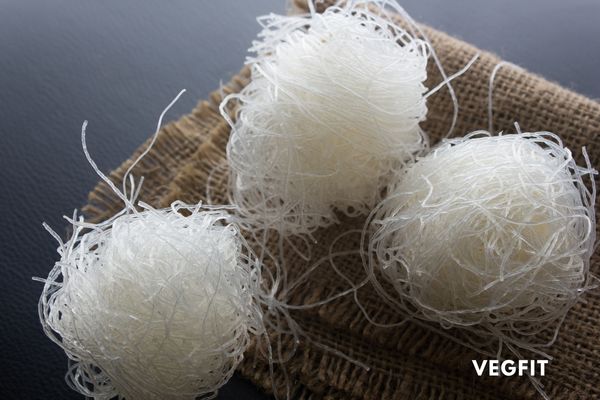 In Japanese cuisine, cellophane noodles may be made from starchy potatoes. However, the Korean version is made from sweet potato starch.
Recipes Made up of Vermicelli
Semayi Upma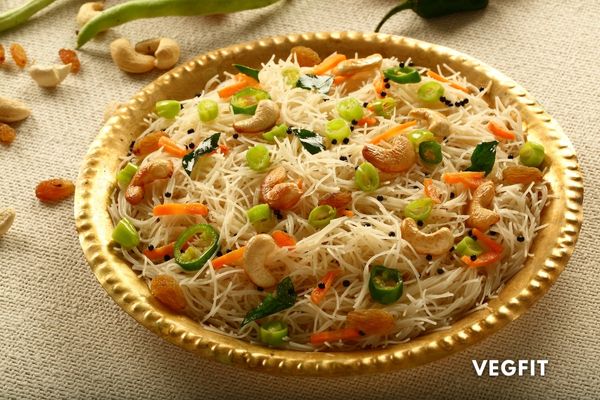 Prep time: 5 minutes
Cook Time: 10 mins
Total Time: 15 mins
Serving: 2
Ingredients
2 tsp oil
1 cup vermicelli
Water to Cook
1/2 tsp salt
3 tsp oil
1 tsp mustard
1/2 tsp Urad Dal
1 tsp Channa Dal
1 dried Red Chilli
Few Curry Leaves
Handful Peanuts
1 inch Ginger
2 green chilli
2 tsp finely chopped onions
1/2 tsp turmeric
2 tbsp Peas
2 tbsp Carrot
1/2 tsp Salt
2 tbsp finely chopped Capsicum
2 tbsp finely chopped beans
1/2 lemon
2 tbsp coriander
Method
Heat oil in a Kadhai
Splutter mustard, urad, chana, 1 dried red chilli and a few curry leaves.
Now add one-inch ginger
Now add peanuts making them crunchy.
Now add green chilli, and ginger and saute very well.
Additionally use 1/2 tsp turmeric and Salt.
Cover and cook on low to medium flame for 2 minutes.
Add Vermicelli and mix everything very well.
Now add 2 tbsp coriander and half of a lemon.
Serve with masala chai.
Nutritional Profile
Soya Chunk Vermicelli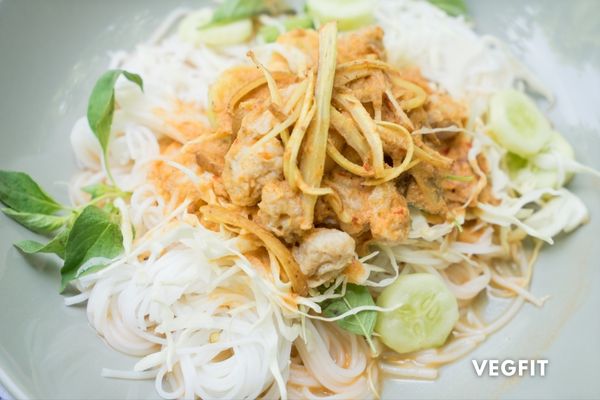 Ingredients
20 no of Soya chunks
1 cup of vermicelli
1 no of big Onion
1 cup of Carrot, beans chopped
5 no of Green chillies
3 no of garlic cloves
1/4 spn. of Garam masala
1/2 spn. of Chilli powder
1/6 spn. of turmeric powder
1 tbsp. of Oil
Salt to taste
Method
Cook the soya chunks for 10 min in a pressure cooker. Drain the excess water. Cut the chunks into small pieces.
Heat oil in a pan, and add the chopped onion, green chilli and curry leaves.
Saute everything for 5 minutes.
Add the remaining chopped garlic.
Add chopped vegetables one by one.
Now add all the soya chunks.
Incorporate all the spices one by one, and cook for another 2 to 3 minutes.
Add the vermicelli. Mix everything very well.
Add a dash of salt.
Add 2 cups of lukewarm water.
Close the lid of the pan and cook for 10 min on low to medium flame.
Stir it often while cooking, so that nothing gets burnt on the bottom.
Semiya Ice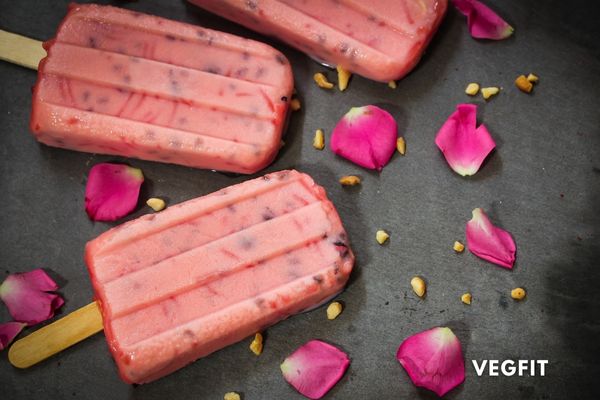 Prep time: 5 minutes
Cook Time: 15 minutes
Total time: 20
Ingredients
¼ cup vermicelli
3 cups of milk
¾ cup white sugar
¼ cup vanilla essence
¼ tsp ground cardamom
Method
In a large frying pan roast vermicelli on low heat till golden brown
Stir the milk in. Increase the heat to the maximum. The mixture will start boiling
Reduce heat to medium. Add the vanilla essence and cardamom powder
Spoon the mixture into popsicle moulds. Cover with a lid, and insert a stick.
Freeze for 8 hours
Run the mould under running water to de-mould the popsicles.
That's it. Hope you enjoy the recipes. They are unique yet healthy. Vermicellis are great to taste and do no harm to your body. Consume them to satiate your hunger craving…in a free mind!!
FAQs
Is vermicelli recommended for weight loss?
If one eats the varieties of vermicelli which have a lower portion of fat, cook it in a healthy way, and controls the portion size — then vermicelli can cause weight loss.
Is vermicelli fattening?
No, there are types of vermicellis made up of rice flour, wheat flour, ragi etc which are also sweetener, or trans-fat product free. They don't cause fat gain.
Is vermicelli rice healthy?
Vermicelli rice noodles are definitely healthy. In Vietnam, it is the staple. They are one of the best sources of carbs.
What is the calorie present per 100 grams of vermicelli?
There are approximately 157 calories present in 100 grams of vermicelli.