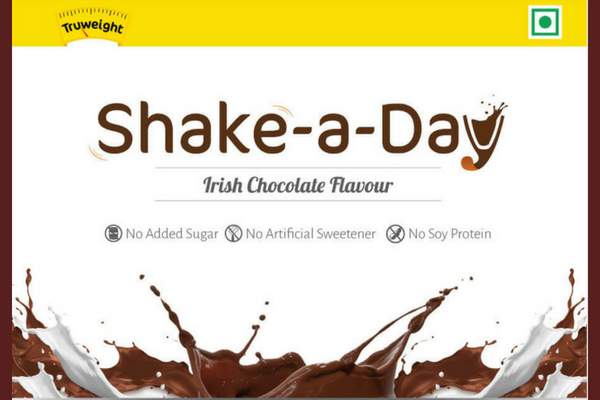 TruWeight Shake-a-Day is a supplement by TruWeight that fulfils macro and micro-nutrients of our body. Shake-a-Day provides essentials like protein, vitamin and minerals in the required ratio.
Shake-a-Day is a convenient meal for small hunger pangs, and also it tastes good. With a decent amount of protein content, it helps in muscle protein synthesis, which adds to body fat loss.
Weight loss or fat loss is all about adhering to a workout regime and eating a balanced diet. Every meal should provide optimal nutrition.
The most challenging part of following a diet plan is preparing and packing the food for the entire day. Truweight proves to be a complete offering for my snack time.
TruWeight Shake a day comes in Chocolate and Vanilla flavours. One box of Shake-a-Day contains 8 sachets, each of 25gm.
[ Buy TruWeight Shake-a-Day in Chocolate Flavour ]
[ Buy Truweight Shake-a-Day in Vanilla Flavour ]
Disclaimer
Before trying out the Shake-a-Day, I explored its benefits and side effects. I also discussed with the nutrition expert at TruWeight about how safe this product is. Only when I was satisfied with the information given by the TruWeight nutrition expert, I tried it out.
The views in this review are based on my experience. Though, the product may have a different impact on individuals depending on their body type.
Due to my diet restrictions, I am very particular about choosing the products I consume. And I only recommend the products that I have used and that have helped me.
The observations shared below are honest and not influenced by the brand TruWeight in any manner.
What is TruWeight Shake-a-Day and who can take it
TruWeight Shake-a-Day is a health product that offers a balance of all the macronutrients.
The shake is designed to provide all the essential nutrients in an adult's diet, including protein-rich Whey, Casein, Prebiotic fibre gum arabic & beneficial probiotic culture, enriched with vitamins & minerals.
TruWeight Shake-a-day is a superfood that meets all the requirements for a small meal. If you are looking for weight loss, fat loss, muscle gain or trying to maintain a healthy balanced diet, you can safely consume this shake. (In case there are any dietary restrictions for you, please consult a qualified doctor before taking it.)
The shake comes in 2 delicious flavours – Chocolate and Vanilla. It contains no artificial sweetener, but it contains stevia.
Composition (per 25gm of a sachet)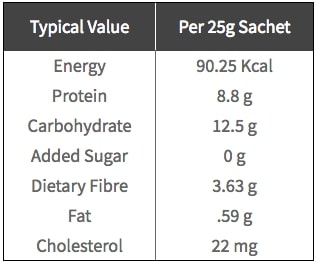 My observations on Benefits of TruWeight Shake-a-day
Is Shake-a-Day beneficial for weight loss?
Shake-a-day is definitely a healthier and more wholesome choice over the other food options. Also, it keeps you full for a long time and keeps you away from craving for snacks.
For these benefits, I strongly recommend TruWeight shake-a-day for weight loss. Though, I don't have any data in this regard since I was not targeting for any weight loss while consuming it.
What are the best times to consume it?
I mostly take it as an evening snack around 5 PM because that's time I am looking for something that can refuel me and reduce my hunger for another couple of hours. You can also take it in breakfast or a post-dinner small meal.
I was happy realising that I did not feel hungry for 2-2.5hrs after having it. Carry a sachet of Shake-a-day to your work-place, or while you are travelling, it will save you from those small pangs of hunger and keep you away from eating junk food.
Also read : How to avoid craving for unhealthy food
The shake contains about 8.8gm of protein. If you require more protein than this, I advise on having roasted soya chunks or paneer alongside.
How does it taste?
If you like chocolate shakes, you will like it too.
The shake can be prepared in water or milk, though it tastes better with milk (I am a milk lover). If you are mixing it in milk, use skimmed milk.
If you are looking for weight loss, I suggest taking the shake in water only. For taste, you can add a little milk, if you prefer.
Does it cause any side effects or bloating?
The product states to contain probiotics, and this was something I wanted to test.
Many of us feel bloated after consuming a heavy protein meal. Shake-a-day passed the test with flying colours there.
In spite of leaving you full for hours, it doesn't give any uneasy feelings or bloating. I have consumed it later in the day as well, and no signs of bloating at all.
So far, I have not experienced any side effects as well and can say confidently that the product is safe to use.
Should you have it cold or hot?
Well, both ways are fine.
You can make a smoothie in your mixer adding water/milk and ice to it.
If you want to have it hot, mix the shake in regular temperature water and then pour hot water or milk on it. Boiling the shake mix is not advised as it changes it's texture entirely.
[ Buy TruWeight Shake-a-Day in Chocolate Flavour ]
[ Buy Truweight Shake-a-Day in Vanilla Flavour ]
If you have more questions regarding the product, please post them in the comment section, and I will be happy to respond to them. And will include them in the post as well. 🙂