We often hear celebrities following a keto diet. But what is it really? Well, the keto diet is a high fat, adequate-protein, and low carb-containing diet. In a keto diet, one's body becomes more efficient in burning fat. To maintain a keto lifestyle, you have to drastically reduce your carbohydrate intake and increase your consumption of fat. This reduction of carbs to <50 gms a day, puts your body into a metabolic state called ketosis.
But keto diet for vegetarians is hard to follow. In this article we are going to share Indian keto breakfast recipes for vegetarians:
1. Keto Tortilla Chips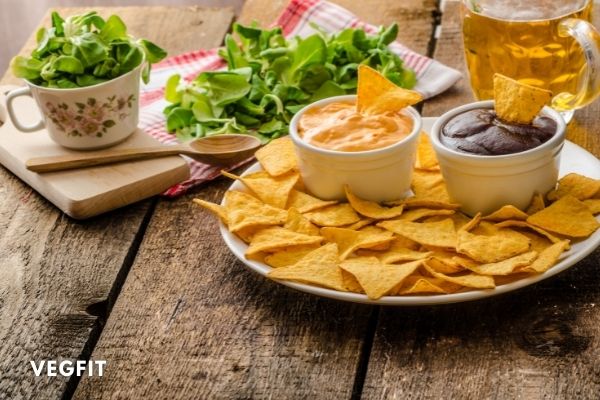 Yield: 4-6
Preparation time: 5 minutes
Total time: 35 minutes
Ingredients
2 cups of Shredded Mozzarella
2 cups of Almond flour
1 tsp Kosher Salt
1 tsp Garlic powder
1/2 tsp Chilli powder
1 tsp freshly ground black pepper.
Directions to cook
Preheat Oven to 350°C
Take two baking trays. Line them with parchment pepper.
In a microwave-safe bowl, melt the mozzarella cheese for 2 minutes. Give a pause at every 30 seconds, and stir.
Add almond flour, salt, garlic powder, chilli powder, few black peppercorns.
Use your hands, to make a dough. Knead the dough a few times. Make balls from it.
Place the dough within the two sheets of parchment paper. Roll it into a rectangle. Keep 1/8" to be the thickness.
Use a knife, or a pizza cutter and cut the dough into triangles.
Spread the chips on the baking sheet. Bake for 10-14 minutes. The edges should become golden brown.
Nutritional Profile (Per Serving)
Calories: 270
Protein: 15 grams
Carbohydrate: 6 grams
Fibre: 2 grams
Sugar: 2 grams
Fat: 22 gram
Saturated fat: 7 grams
Sodium: 677 grams
2. Zucchini Salad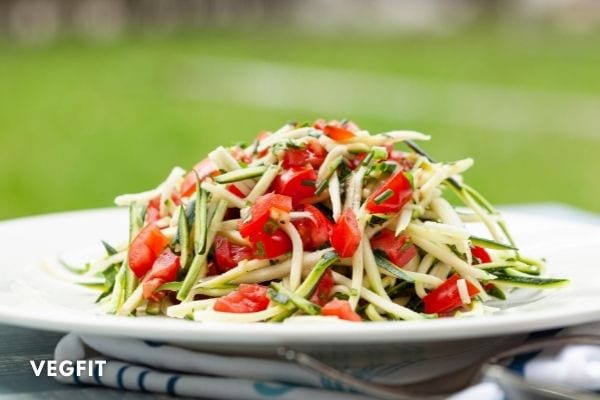 Yields: 4
Preparation Time: 10 minutes
Total Time: 25 minutes
Ingredients
4 large Zucchini
2 Tbsp Extra Virgin Olive Oil
Kosher Salt
Freshly ground black pepper
2 cup cherry tomatoes, halved
1 cup Mozzarella Cheese
1/4 th cup of Basil leaves
2 tbsp Balsamic Vinegar

Directions to cook
Using a spiralizer create zoodles out of Zucchini
Take the zoodles in a large bowl. Toss with olive oil, and season with salt. Add pepper.
Marinate everything for 15 minutes.
Add tomatoes, mozzarella, and basil. Toss until combined.
Drizzle with Balsamic vinegar and serve.
3. Keto Burritos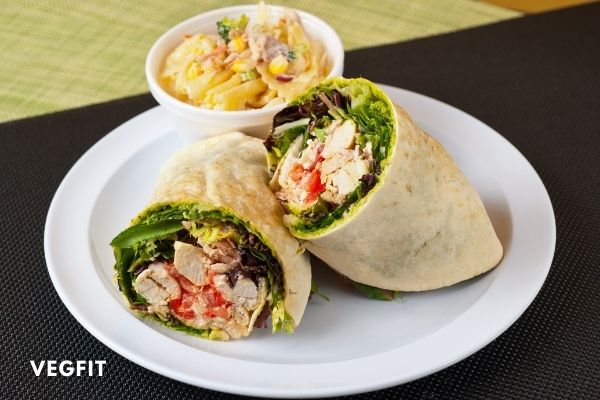 Prep time; 20 mins
Cooking time: 35 mins
Yields: 6 burritos
Ingredients
1 red capsicum sliced
1yellow capsicum sliced
1 red onion sliced
2 medium zucchini chopped
2 tbsp olive oil
3/4 th cup of pumpkin
2 tbsp extra virgin olive oil
1/4 cup ground cinnamon
1/4 cup ground cumin
1 tsp paprika
1 tsp dried oregano
1/2 tsp sea salt
1 1/4 cup chopped Kale
1/2 medium cauliflower florets
1 tbsp virgin coconut oil
1 cup cheddar cheese
150 ml sour creme
Juice half of a lemon
1/4 tbsp cracked black pepper
Multigrain tortilla burrito wraps
Directions to follow
Pre-Heat the oven to 190°C.
Chop the capsicum, zucchini, and pumpkin. Toss with paprika, cinnamon, and cumin. Add salt. Roast in an oven for 20 minutes, until soft.
Meanwhile, grate cheese.
In a grinder grind the cauliflower florets. It should become like dust. Now add a dash of water and microwave for 3 minutes.
Transfer the cauliflower to a muslin cloth. And squeeze out extra water.
Now put it in a bowl. Stir through the coconut oil. Add a pinch of salt.
When the veggies are cooked, add the chopped kale. Cook all together for 2-3 more minutes. Remove from oven.
Now on a skillet dry roast each burrito sheet on medium flame on both the sides, for 1 minute.
Stuff the burritos with cauliflower, mixed vegetables, a dollop of sour cream, and a dash of pepper.
Nutritional Profile
Calories: 385 grams
Protein: 13 grams
Fat 31.5: grams
4. Berry And Coconut Milk Smoothie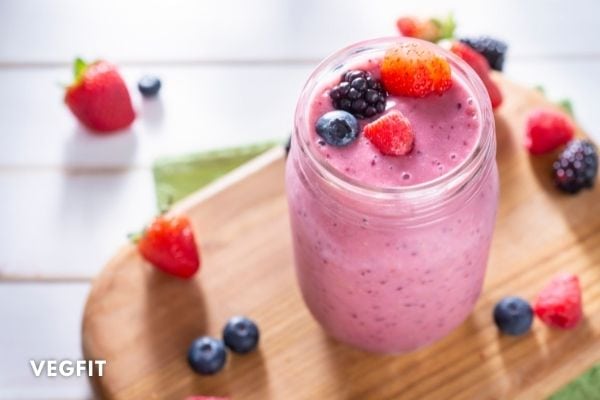 Preparation Time: 3 Minutes
Total Time: 3 minutes
Yield: 1
Ingredients
2/3 cup canned unsweetened Coconut Milk
1/4 cup frozen mixed berries
1 tsp sweetener
2-3 cubes of ice optional
Directions to cook
Put everything into the blender. Grind everything. Make a smooth paste out of it.
Check the consistency. Add more liquid if necessary.
Serve immediately
Nutritional Profile
Calories: 240
Fat: 24 grams
Carbohydrate: 5 grams
Fibre: 1 gram
Sugar: 4 grams
Protein: 3 grams
5. Cauliflower Upma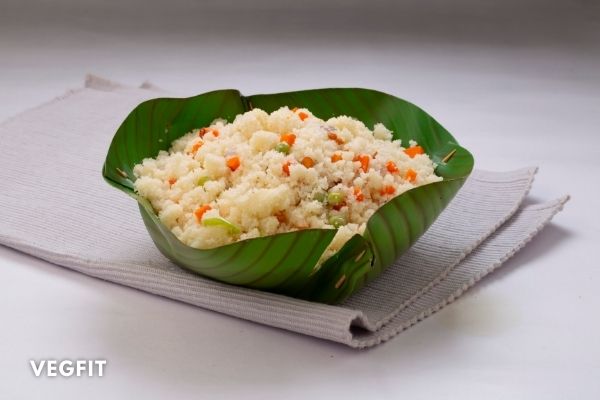 Preparation Time: 15 minutes
Total Time to Prepare: 40 minutes
Yields: 2
Ingredients
2 tbsp ghee or oil or butter
20 grams peanuts
5 gram Ginger
50 grams Onions
4-5 Curry leaves
1 tsp Cumin seeds
1 tsp Mustard Seeds
1 Green Chilli
Direction to Cook
Grind the cauliflower into a grinder. It should have a couscous type consistency
Add ghee or butter or oil to a frying pan.
Add the curry leaves.
Add all the spices.
Saute the onions. Fry till golden brown.
Now add cauliflower. Fry few minutes.
Add one cup of water. Cover it up. Cook for a few minutes.
Sprinkle coriander leaves.
Nutritional Profile
Calories: 223
Carb: 9g
Fat: 20g
Protein: 5g
Fibre: 3g
6. Overnight Oats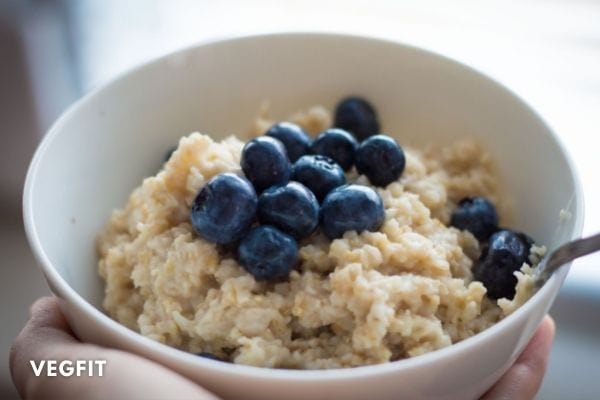 Preparation Time: 10 mins
Chilling Time: 8 hrs.
Yield: 1-2
Ingredients
1 tablespoon chia seeds
2 tablespoons hemp seeds
1 tablespoon coconut flour
1/4 cup unsweetened shredded coconut
1/3 cup unsweetened almond milk
1/2 teaspoon vanilla extract
2-3 teaspoons Maple syrup
Fruit Toppings:
Berries
Toasted coconut
Sunflower seed butter or peanut butter
Directions to cook
Add all the ingredients to a bowl. Stir until everything is well combined. Cover it up with a lid and chill in the fridge for at least 5 hours.
When ready to serve, pour more milk until the correct consistency is reached.
Divide between two small bowls. Add fruit toppings. You can drizzle more maple syrup.
Enjoy…
Nutritional Profile
Calories: 216
Fat: 17g
Carb: 9g
Fibre: 6g
Sugar: 1g
Protein: 8g
7. Keto Pancake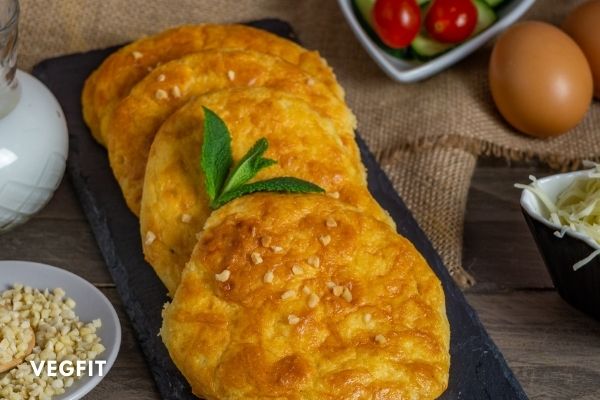 Preparation time: 20mins
Cooking Time: 15 mins
Yield: 6- 7 Pancakes
Ingredients
1/2 cup of almond flour
1block of cream cheese softened
4 large eggs
1 tsp. lemon zest
Butter, for frying and serving
Directions to cook
In a medium bowl, whisk everything together almond flour, cream cheese, eggs, and lemon zest until smooth and lump-free.
In a nonstick pan melt 1 tablespoon of butter. Add additional 1 tsp oil. It would prevent the butter from getting burned.
Pour in about 3 tablespoons of batter and cook until golden on both sides. It will take 2 to 3 minutes. Flip and cook the other side for a few minutes more. Transfer to a plate and repeat with the remaining batter. Make a few more pancakes.
Serve topped with butter.
Nutritional Profile
Nutrition: 110 calories
Protein: 4 g
Carb: 2g
Fibre: 1 g fibre
Sugar: 1g
Fat: 10 g
8. Chocolate Peanut Butter Smoothie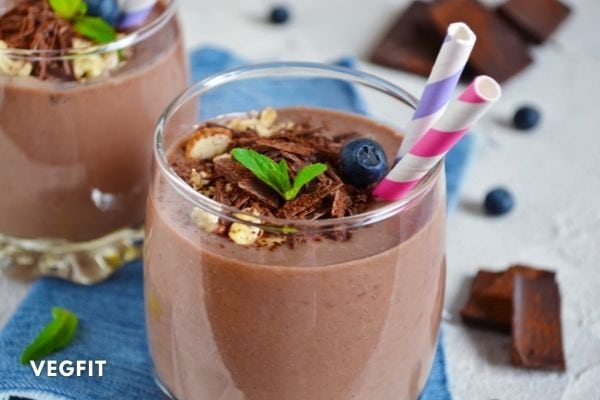 Time to prepare: 5 min
Time to cook: 5 minutes
Yield: 3
Ingredients
1/4 cup creamy peanut butter
3 tbsp dark cocoa powder
1 cup heavy cream (or coconut cream for dairy-free or vegan)
1 1/2 cup unsweetened almond milk
1/4 tsp essence of vanilla
Salt a pinch
Directions to cook
Combine everything in a blender.
Then blend till smooth.
Adjust sweetness.
Fix the consistency
Nutritional Profile
Calories: 435
Fat: 41g
Protein: 9g
Carb: 10g
Fibre: 4g
Sugar
9. Keto Cereal Recipe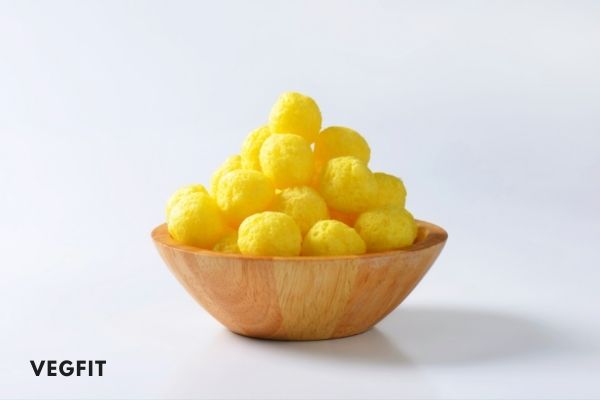 Prep time: 15 min
Cook time: 5 min
Chilling time: 1 hr
Total: 1 hour 20 mins
Yield: 1- 2
Ingredients
2 tbsp Almond butter
1 tsp Vanilla extract
1 cup Sugar
1 large Egg white
2/3 cup Whey protein powder (unsweetened)
Directions to cook
Take a large bowl. Use a hand mixer to beat together the almond butter, sugar, vanilla, and egg white.
Beat in protein powder.
In the next step knead the dough with bare hands. It should look and feel all the more smooth.
Chill the dough in the fridge for 1 hour, or until cold.
Preheat the oven to 350 degrees F (177 degrees C). Line a baking sheet inside.
Roll the dough into tiny balls with a rolling pin having 1 cm diameter. You can do the same with your hands. Keep the balls between your fingers. Place onto the lined baking sheet.
Bake for 5-8 minutes for balls. The outer crust of the cereal will start to harden. Remove from the oven when it gets cooled.
Nutritional Profile
Calories: 390
Fat: 18.6g
Protein: 47.7g
Total Carbs: 6.8g
Fibre: 3.5g
Sugar: 2.8g
10. Kadhai Tofu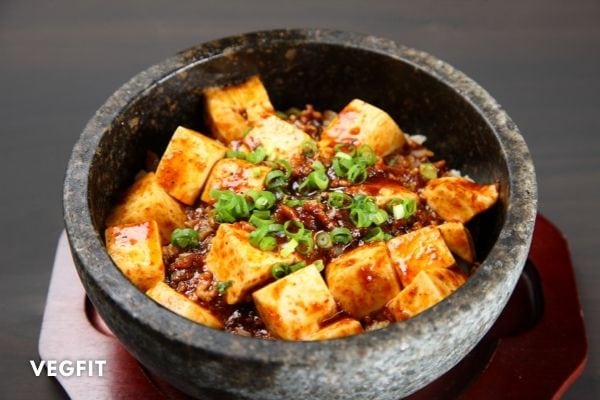 Prep Time: 10 minutes
Cook Time: 15 minutes
Total Time: 25 minutes
Yield: 4
Ingredients
1 1/2 cup Tofu
3 Tbsp oil
2 tsp red chilli powder
1/2 tsp turmeric
1 tsp pepper
1/2 tsp coriander powder
1/2 tsp cumin seeds
1 medium onion chopped
1 medium tomato chopped
1 1/2 inch ginger( paste)
7 garlic cloves ( paste)
3 green chilli slit open
2 bundles of spinach
1 tsp Kasuri methi
Water
Directions to cook
Flatten the tofu cubes up with something heavy. Then cut them into small cubes.
Heat 2 tablespoons of oil in a skillet.
When the oil is hot, add cubed tofu, red chilli powder, salt and pepper.
Saute for 4-5 minutes. The tofu turns light golden brown in colour. Keep it aside in a dish.
Heat oil in a kadhai.
Once the oil is hot add cumin seeds. Wait for the cumin to splutter
At this point add the onions, ginger, garlic, green chilli, and saute till the onions turn light brown.
In the next step add diced tomato, red chilli powder, turmeric powder, coriander powder, and salt, and cook for another 1-2 minutes.
Add sufficient water( preferably warm) and spinach.
Close the lid and cook for 3-4 minutes on medium to low flame.
Then switch off the burner.
Cool the mixture and blend the ingredients into a creamy texture, lump-free.
Now transfer the mixture into the Kadhai.
Add garam masala, dry roasted and crushed Kasuri methi, and that seasoned tofu that you kept aside. Incorporate everything very well.
Let it sit for 5 minutes. Turn the gas off.
Nutritional Profile
Calories: 154kcal
Carbohydrates: 11g
Protein: 7g
Fat: 20g
Fibre: 4g
Sugar: 4g
FAQs
What is a common keto breakfast?
Pancakes, Waffles, cinnamon rolls, certain cereals, and smoothies are the most common keto breakfast option.
Is chapati keto-friendly?
Chapatis contain 20g of carbs in it which is very high. In a ketogenic diet, you are allowed to take only 25g of carbs. Hence, chapati is not keto-friendly.
Can cauliflower be eaten on keto?
Cauliflower is a great choice if you are on a keto diet. It can be eaten in raw or cooked form.
Which Indian vegetables are keto-friendly?
Vegetables such as cauliflower, kale, spinach, tomatoes, zucchini, cabbage etc. are keto-friendly.
How many carbs will break ketosis?
Eating 50g of carbs or more can stop the ketosis state of your body.
Is saunf keto-friendly?
Saunf/fennel seed is keto-friendly as they contain only 1.25g of carbs in 10g of serving.
What is the best keto breakfast to lose weight?
There are plenty of good breakfasts that you can eat to maintain the ketosis state of your body. To successfully maintain a keto lifestyle you need to eat keto-approved lunch, dinner, snacks etc. Any meal which has 5g of carbs is best recommended to maintain ketosis in your body. Avocados, eggs and several smoothies fall in this category.
When should you eat breakfast on keto?
Many people follow intermittent fasting while on the keto lifestyle. You can eat from noon-8 p.m. In this case, you skip your breakfast. Alternatively, you can eat from 7 a.m. to 3 p.m. In the latter, you skip dinner but can have breakfast.
How many eggs can I eat for breakfast on keto?
You can easily eat upto 6 whole eggs a day, while on the keto lifestyle.
We hope you liked this Indian keto diet plan for vegetarians with breakfast options. Do let us know if you want to see similar articles on an Indian keto diet.