The last year has been a rollercoaster ride for us all. The emergence of the COVID 19 pandemic has crippled all the natural activities of life. Some of us had even to go through heart wreathing news of the death of near and dear ones.
The last 1.5 years, starting from March 2020 till now have been a lesson for us all. Lockdown and work from home have become the new normals of our life. Covid19 reminded us of the importance of good old habits like spending more time with loved ones, eating homemade food, performing household chores, maintaining personal hygiene, etc. It is a piece of good news that now several vaccines are available to combat the impact of the COVID-19 virus.. However, in such a situation when the second strain of mutated virus is again creating trouble in our lives and fresh lockdown regimes have been declared by the government— we should adopt those old measures again in our lives that we all did just a year ago. A balanced diet is one of the most important among all these measures to be taken.
Since the outbreak of the COVID-19 virus in India the country has registered over 1.17 crore COVID cases, as of Apr 25th, 2021. Lately, an unusual strain of virus is again taking an upsurge of the tally of COVID 19 cases in India. It is a mutated genome of the virus which has gone changes in its two variants namely E484Q and L452R. It is a doubly mutated virus. The term mutated means that the virus has gone a significant change in its chemical construction of the DNA sequence due to environmental or other natural causes. Now we are facing the third variant strain of coronavirus which needs an impromptu address.
One of the best ways that we can combat the COVID-19 virus and its ominous effects left on our health is to eat healthy daily. Including foods that strengthen your immunity system, can help you to combat the ominous virus.
How does our immunity system react when attacked by the CORONA virus?
The immunity system that is present in our body is a natural barrier against the attack of ominous germs and viruses. For example, we are given mucous membranes, protection of skins, acids in our stomach, hairs in our nose, etc. that forbids foreign particles from entering our body.
By maintaining a healthy lifestyle, we can boost our immunity system to fight these germs and viruses, effectively. WHO has recommended 5 ways you can choose to stay healthy during the Corona time
Being active
Eating healthy
Not smoking
Meditating
Reading books
All these recommended steps help us to stay in our best shape possible. It keeps our senses alert and boosts our immune system to not fall into the trap of the impending CORONA virus.
How to FIght CORONA with a Balanced diet
Food is the fuel for our body to maintain a strong immune system. Here we provide eight necessary tips on how to choose the foods you should consume in these COVID times:
Include lots of fruits and vegetables in your diet. Children and elderly people are most vulnerable to COVID attacks. Also, people having underlying threats of comorbidity are highly susceptible. Make sure to keep their immune system intact by incorporating vegetables and fruits into the diet of your loved ones.
In these troubling times go for fresh and raw fruits and vegetables.
Cultivate a habit of gorging in healthy snacks. Keep your options open— Try out nuts, yogurt, dry fruits, or other healthy options.
Check and control the amount of processed food you are intaking.
Cut on the intake of salt and sugary kinds of stuff
Drink enough water or freshly made smoothies to stay hydrated.
If you are a lactating woman make sure your baby is getting enough breastfeeding.
Incorporate good fats, fibers, and oils into your diet.
Foods to Boost Immunity Against COVID
Fruits high in Vitamin C
Vitamin C increases the number of white blood cells in our blood. And, as we all know white blood cells are meant to fight the germs, and infections that impair our immunity system.
1. Guava:
Vitamin C in Guava: 228 grams of vitamin C per 100 grams.
Guava is high in Vitamin C. It also helps in cutting down blood sugar levels, and aids in keeping the heart-healthy. You can make easy Guava smoothies, sprinkle some black pepper on top, and drink. It is nutritious and filling.
2. Lemon
Vitamin C in Lemon : 53 mg/ 100 gms of juice
Lemon is one of the most sought-after sources of vitamin C. As a summer drink, simple lemonades work like magic. Lemon peels have more amount of Vitamin C present in it, 129 gms/ 100 grams. Therefore, if you include a pinch of lemon zest in any preparation, you intake in a day, you further improve your amount of daily vitamin C intake.
3. Amla
Vitamin C in Amla: 600 mg/100grams
Amla is just your best friend to boost immunity against CORONA. You can consume Amla pickle, Amla chatni, amla juice, or even one piece of raw amla.
4. Orange
Vitamin C in Orange: 54 gms/100 gms
We all love oranges. Orange juices are hydrating, fresh, and tasty. On orange contains almost 100 mg of Vitamin C. You can put oranges in the mandatory bowl of fruit, I recommend everybody to intake daily. Oranges compliment greek parfaits perfectly. The classic fruit is tasty and balanced in its nutrient quotient.
5. Grapes
Grapes are a rare Combination of Vitamin C and Vitamin K.
Grapes are high in Vitamin C and Vitamin K. It also has a lot of Manganese, Copper, and Potassium. You can drink grape juice in the summer. They are easy to make, tasty, and very nutritious.
6. Papaya
Vitamin C in Papaya: 61mg/100grams
This fruit is high in Vitamin C. Also, alongside fighting corona it gives relief to constipation problem. Papaya leaves the skin looking healthy. Therefore, add papaya to your total consumption of fruit over a week.
Vitamin C helps not only to cut down chances of getting affected by COVID but in general, it strengthens our immune system and protects us again common cold and flu.
Vegetables rich in Vitamin C
1. Red Bell-Pepper
Vitamin C in Red bell-pepper: 190 mg/100 gms
Red Bell pepper is rich in Vitamin C and Beta-Carotene. I recommend including red bell peppers in the salad. Though one can consume it in salads/ in sandwiches/ as sauteed vegetables one must remember that heat reduces 25% of Red bell peppers total Vitamin C contents.
2. Broccoli
Vitamin C in Broccoli : 89.2 milligrams/ 100 grams
Rich in Antioxidants of broccolis are the best arsenal to fight diseases. The nutrients present in broccoli (like Vitamin A, Vitamin C, and fiber ) strengthens our immunity. I recommend taking broccoli with other vegetables, in form of soup, combining it with bell pepper, or just boiling lightly infusing a dash of lemon into it.
3. Spinach
Vitamin C in Spinach: 28 milligrams/100 grams
A combination of nutrients like Vitamin C, Beta Carotene, and antioxidants are present in Spinach. You can consume spinach in any of the Indian Curry forms, like Palak Paneer, Aloo Palak, etc. Just avoid using too much sugar, salt, ghee, cream, or butter in these recipes. You can also make spinach smoothies, and top it off with any of the seeds ( Chia Seed/Pumpkin seed or sunflower seed) and just drink it.
Vitamin D Rich food
Vitamin D is essential to absorb calcium in the body. Exposure to sunlight is the most preferred way to make sure your body is producing enough amount of Vitamin D. Broadly speaking, there are two variants of Vitamin D you need. The first one is Vitamin D2 and the second is vitamin D3. Vitamin D3 is produced in animals. Vitamin D2 is found in plants. Therefore, food items which are animal extracts, or plant extracts will be rich in vitamin D3, and vitamin D2 respectively.
These are the food sources that help your body to generate Vitamin D—
1. Yogurt
Yogurt is one of the best resources to synthesize Vitamin D in your body. The thing is extremely good to prevent early osteoporosis. I would recommend mixing your fruits with yogurt. Top it off with a dash of chia seeds. It tastes amazing!
2. Cheese
Cheese is a dairy product that can boost vitamin D proportion in your body. Be cautious don't consume too much of it, as it may result in unnecessary weight gain.
3. Almond Milk
Low in calories, full of Vitamin E almond milk also has a good share of Vitamin D in it. The same is also a good source of calcium.
4. Soya milk
Soya Milk is extremely good in taste, and nutritious. You add whey protein and smoothie having soya milk base and drink it. Soy Milk can work as a substitute for any dairy-based milk. It is also a great source of protein for vegetarians.
5. Mushroom:
Alike humans, mushrooms also produce a lot of Vitamin D being exposed to the sun. You can add mushroom to any mixed vegetable dish, or incorporate them in a sandwich, or make a curry out of it.
6. Spinach
Alongside giving you Vitamin D spinach also has Vitamin A, Iron, and lots of good fiber.
Foods rich in Vitamin E
Vitamin E is another vitamin that helps to boost our immunity. Almonds and sunflower seeds are great sources of Vitamin C. We need only 15 milligrams of Vitamin E daily.
Soak almonds overnight (almonds soaked for 8-9 hours are absorbed better in the body), and consume them in the morning. You need to eat at least 20 almonds daily for the Vitamin E requirement of your body. Now, consuming 20 almonds at times seems impossible. Then you can switch over to sunflower seeds. Roast it lightly and top of your smoothies/ shakes/ fruit bowls/ or breakfast cereals with it. I prefer to incorporate these nuts and roasted seeds in my protein shake or fruit bowl.
| | |
| --- | --- |
| Foods | Vitamin E Content |
| Almonds | 7.4 mg in one ounce |
| Sunflower seeds | 12 mg in 60mL |
| Wheat germ Oil | 20 mg per tablespoon |
| Avocado | 3 gm in 100 gms |
| Pumpkin | 36gms in 100 gms |
Foods rich in Zinc
Zinc helps to produce over 300 different types of nutrients in our body. It helps to metabolize nutrients and propels our immunity system to grow.
1. Tofu
Tofu has almost 2 milligrams of Zinc present in it in 4 ounces of serving size. You can consume tofu in the forms of Chillas, Tofu Bhurji, or can make curries with it even.
2. Seeds
Seeds are one of the best sources of zinc. You can consume the seeds by topping any healthy smoothie, Greek yogurt, Yogurt Fruit bowls with it. Just roast it lightly, for better taste.
| | |
| --- | --- |
| Seed | Amount of Zinc |
| Pumpkin Seeds | 2.2 mg |
| Sesame Seeds | 0.6 mg per Tbsp |
| Hemp Seeds | 1 mg per Tbsp |
3. Lentils
In Indian, household lentils are famous for the term dal. I recommend in your diet include kidney beans, Mung beans, etc. that will give you nutrition to fight CORONA. 100 grams of cooked dal consists of 12% of the DV( Daily values).
4. Chickpeas
Chickpeas are loaded with the goodness of Vitamins, minerals, and fiber. It is also high in protein. Half Cup of chickpeas has 2 milligrams of Zinc present in it.
Whole Grain Foods
You cannot Compromise on your Carbohydrate intake proportion in these troubled times of CORONA. It gives energy to your body. Whole grains are the most trusted source of Carbs.
1. Rice
Rice is one of my favorite whole grains that is full of nutrition and is easy to digest. Rice is a trusted source of Carbohydrates. It keeps gut health in good shape, eases out a regular bowel movement, and cuts down the risk of colon cancer.
2. Oats
There are so many one-pot recipes available for oats. It is rich in antioxidants, and also helps in weight loss. So, in this pandemic time if you are aiming for weight loss but don't want to compromise on your nutrition level, then you should always include oats in your meal.
3. Quinoa
A rich reservoir of Manganese and Iron, a source of plant-based protein, and a trusted whole-grain cereal Quinoa is known for its multiple health benefits. It has a rare nutrient present in it called folate. Consume Quinoa as quinoa khidhchi, Quinoa Poha, etc.
4. Millets
According to researchers whole-grain foods stake up your immunity system and give it arsenals to fight against COVID. Millet is a great gluten-free whole grain staple. It is widely recognized for its antioxidant,fiber-rich food values. Also, the same food controls blood sugar levels. Millet Khischi, Millet Poha are my two absolute favorites.
Indian Spices
Indian spices have medicinal properties to fight the CORONA Virus threat.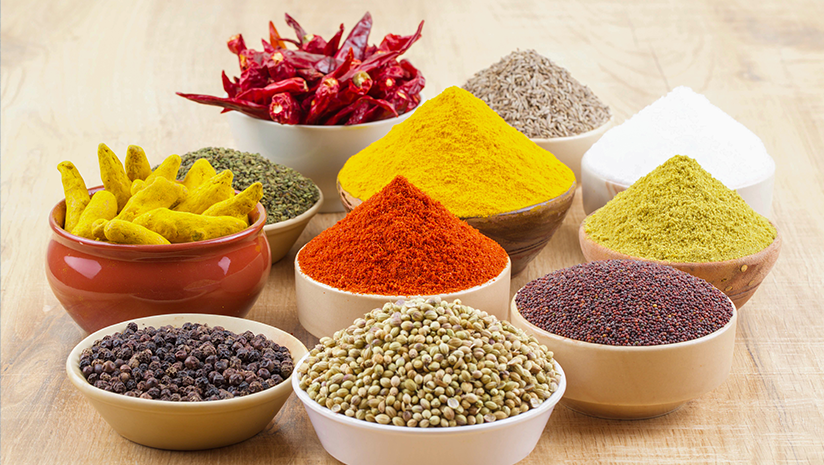 1. Turmeric
The spice has antibacterial properties in it in general it boosts the immunity system of our body. In Corona times it adds benefit if consumed daily. The best to have turmeric is to incorporate a generous pinch of it in a cup of warm milk. Drink it before bedtime. This will improve your sleeping cycle, and improve your immunity overnight. The drink is a great de-stressing beverage too.
2. Black Pepper
Kali merch or black paper has a significant proportion of vitamin C present in it. A pinch of it is good to be added in your fruit bowl, or breakfast that keeps toxins at bay from getting produced in our body.
3. Ginger & Garlic
Garlic has Calcium, Potassium, and Allicin. Ginger has gingerol that controls inflammatory diseases. Both of these spices are low in calories but high in their nutrient levels. Avoid purchasing ginger or garlic from outside. Packaged spices have a lot of additives in them. Therefore prepare your spices at home, and store them in a jar.
4. Cardamom
Cardamom is full of antioxidants. Cardamom is known to have antibacterial and anti-infectious properties. It helps to fight inflammatory diseases. Also, the same spice has anti-carcinogenic properties in it. Consume cardamom putting a few of it into healthy Lassi drinks, which are made with jaggery instead of sugar.
5. Cinnamon
Known for its unique smell Cinnamon has too many health benefits linked to it. It has ani fungal, antibacterial, and anti-virus properties present in it. You can top the greek parfait with a pinch of it. A dash of cinnamon goes very well with your whey protein drink. Just make sure you are having Cinnamon in one way or the other to keep your nutrition level on point. I add cinnamon to my milkshakes or fruit bowls. You can also add it to your tea. Cinnamon cuts down hunger pangs and is known as a substitute for sugar.
6. Asafoetida
Asafoetida has a tantalizing, unique smell. The same is also known for anti-bacterial and anti-viral properties. It helps to reduce inflammatory diseases. Because of its values, it is referred to as the "Food for God". If added to the lentils, like sambar it gives the dish a great taste and takes care of your body's immunity too.
7. Green Tea
Our food comes with a lot of unwanted free radicals that damage our cells. Antioxidants are the key nutrient that prevents this damage. Green tea is a storehouse of anti-oxidants. You can have it at any time— After the meal, in the morning, or in the evening snack time. I take it before sleep at the night. Green tea has L-theanine which improves sleep quality.
How VegFit helps you with exclusive diet regime
At veg. fit I, Priyanka(certified nutritionist), provide diet plans keeping in mind your specific nutrition needs. All of us need custom-made diets depending upon our unique needs, and body types. Therefore, contact me and get your diet and exercise plan tailored to fight CORONA, and lower its chances to infect you. Also, I have worked with several clients who followed veg.Fit's curated diet regimes and exercise patterns regularly to get rid of those extra kilos, and came out successful, in their journey to lose weight. To avail of such a lucrative chance at an extremely affordable rate do contact me via https://veg.fit/personal-training/.
Also, check my latest video on how to boost your immunity during CORONA times https://www.youtube.com/watch?v=VEGADIVGOe0&t=2s
Till then stay tuned with the Veg. fit family. Stay home, stay safe!