Morning or evening, summers call for a cold refreshing drink. Lets make a tasty and healthy drink with our list of healthy summer drink recipes.
We all love to have refreshing drinks in the summer. The joy becomes double if it is healthy, without compromising its nutrient values. In this article, I am going to narrate below the recipe of 13 healthy drinks, that anybody can make in a minimal amount of time. These drinks are healthy, super easy to make, and the ingredients are very much available in any Indian Supermarket.
The Benefits of Healthy Drinks
Healthy drinks just kick-start your system. Staying hydrated is extremely important. All healthy Drinks consist of a considerable proportion of water. Adding even more to it, all these drinks are made out of nutritious ingredients.
Nutritious health drinks help you to boost your physical activity level to a maximum. Intense exercise in the high heat of summer sucks out a lot of nutrients from our body. To fill back the nutrient gap we can very well rely upon these summer-friendly health drinks.
Healthy, liquid-based smoothies and health drinks keep your brain function on point. It also stops nagging headaches to appear. Headache is a red flag that indicates your body is dehydrated.
The summer smoothies are filling. Thus, it controls your recurring hunger pangs. The smoothies are a reservoir of antioxidants. It strengthens your immunity system and fights back diseases to occur. These smoothies trick your lymphatic system and detoxify the internal mechanism.
Healthy Summer Drinks prevent Kidney stone formation in your system. It flushes out mineral crystal clumps from your urinary system tracks. Higher fluid intake increases the volume of urine, and the kidney, therefore, remains highly functional.
Last but not least they help the formation of new tissues and cells into your body that keeps your skin young, healthy, and glowing.
Why to Avoid Packaged Drinks
Avoid consuming packaged drinks for all the right reasons.
Packaged drinking Fruit Juices are completely devoid of a bunch of healthy nutrients. Fruits lose the goodness of Vitamin C when the extracted juices from them are boiled. To maximize the shelf-lives of packaged drinking goods the juices go through heat treatment. This heat treatment completely sucks the Vitamin C out of the juice.
The packaged drinks are also without fibres. Fruits are known to be the storehouse of fibres. A great proportion of our daily consumption of fibres comes from fruits. But these packaged fruit juices are low in the share of fibres. They sometimes replace Natural fibres with additives. But that does not replace the nutrition proportion of the same.
Canned or bottled fruit juices, and all other variants of packaged drinks, e.g. Lassi, MIlk shakes etc. are full of sugar. Sugars make you gain a lot of unwanted weight. Also, once you get addicted to sweetness the hunger just doesn't stay in control. Thus, even if you consume 2 bottles of packaged drink, you are still going to stay hungry.
The packaged drinks contain many acidic substances for preservation purposes. These acids snatch away the whiteness from your teeth. Excessive sugars sometimes cause a cavity.
Easiest Summer healthy Drinks Recipe:
1. Tangy mango juice
Ingredients
1 cup of Mango Cubes
Chilled/Normal water
Mint
Jaggery
Instructions For The Recipe
Blend the mango pulp in a Food Grinder
Sieve it through a Stainer.
Add water to it.
Now again blend both— the strained pulp and the water
Now in a Mortar slightly dash a few Mint leaves. Add it into the liquid. If you want the mint flavour to be strong, you can blend in together with the pulp and the Water.
And You are Done!
2. Refreshing Water Melon Juice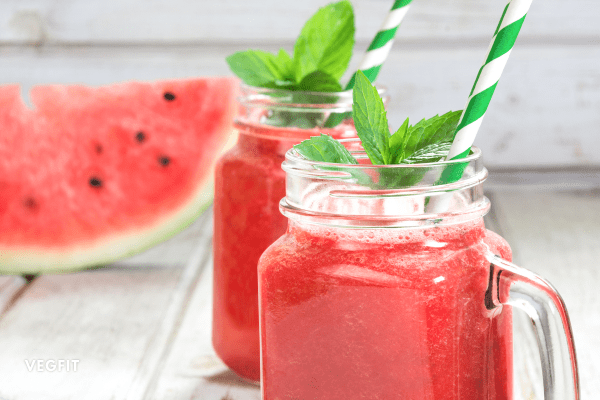 Ingredients
1 ½ Cups of diced watermelons
5 black grapes
Coconut Water
½ of a lemon (juice)
Pepper powder
Mint Leaves
Instructions for the Recipe—
Grind the watermelon dices, and sieve it through a strainer.
Squeeze out grape juices.
Then with the blender blend the watermelon juice, coconut water, grape juice, and the lemon juice
Sprinkle some pepper powder into it
Dash a few mints leave in the mortar and pestle. Add it to the juice.
If you want you can add some ice cubes too.
And voila! The juice is ready.
3. Pine-Apple Juice
Ingredients
2 cups of Chopped Pine Apples
1 ½ Cups of water
6 ice cubes
Black Salt
Roasted Cumin Powder
Instructions to follow
Blend the peeled, and the chopped pineapples in a blender. Wait, until it becomes very smooth
Sieve it Through a strainer
Pour the water into the pineapple pulp
Mix the pulp and the water in a blender, or preferably go for a hand blender in this step
Add on a pinch of black salt
Top it off with some roasted Cumin Powder. That's it!
4. Rose Lassi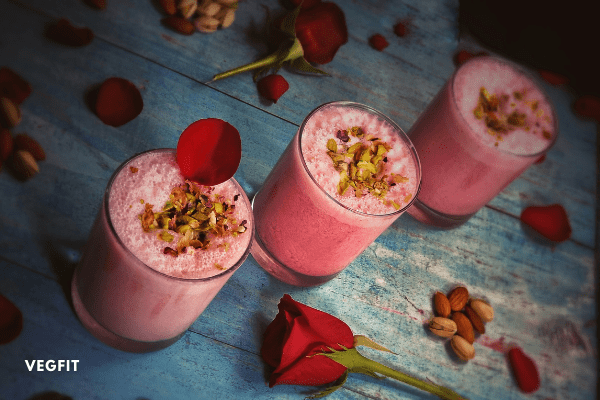 Ingredients
1.5 cups Chilled Curd
1 cup chilled water
1 tsp Rose Essence
1 tsp Rosewater
Few dried Petals of rose
Chopped Pistachio
Chia Seeds
Instructions for the recipe
Blend Curd and water, and all the other things leaving Pistachio
You are done with the drink. Just top it off with some dried pistachio and Chia seeds.
It's all done!
5. Strawberry Shake
Ingredients
Strawberry (8-10 pieces)
1 Tbsp Milk
1 Cup Chilled Yoghurt
1 tsp Honey(optional)
½ Tsp Rosewater
Chia Seeds
Instructions
Chop the strawberries and make a smooth puree of it
Then with a hand blender/ Normal blender mix the puree with yoghurt
Add the Milk to give it a lump-free or smooth consistency
Add the honey and the rose water
Top it off with loads of chia Seeds
Enjoy your healthy and tasty drink!
6. Banana Whey High Protein Smoothie
Ingredients
Chopped frozen banana
Vanilla Whey Protein Powder
Almond Milk
Chia Seeds
Ice Cubes
Instructions For the Recipe
In a high-speed blender Blend frozen banana, whey protein and almond milk
Add the chia seeds on the top
Put crushed Ice Cubes.
The drink is ready, for your guiltless gorging
7. Jaljeera Drink
Ingredients
1 cup hot water
1 tablespoon Jaljeera Powder
1 Tbsp Tamarind Pulp
1 tsp Black Salt
1½ Tsp Jaggery (You can skip this too)
Few Mint Leaves
Instructions to be followed
Add The Tamarind pulp, jaljeera powder into the hot water
Add salt, and jaggery into it
Mix everything till all the ingredients get mixed properly
Add few mint leaves into it, after crushing them in a mortar and pestle
It only takes that much!
8. Kiwi Banana Smoothie
Ingredients
4 kiwi Chopped
1 ½ Banana Chopped
¾ th Cup Soy milk
⅔ rd Cup Yoghurt
2 Tbsp Oats
Chia Seeds
1-inch ginger
Instructions To follow
De-seed, and peel of the kiwi. Cut them into pieces.
Peel the banana, chop it off
Grate the ginger cube
Transfer the fruits, the yoghurt, the soy milk, and the oats, and the grated ginger into the blender. Blend it till smooth, add the chia seeds on top, and just drink!
9. Cinnamon-Chocolate Roll Smoothie
Ingredients
2 scoops of chocolate whey Powder
1 cup soy milk
¼ th Tbsp Cinnamon Powder
¼ th Tsp Vanilla Essence
1 Banana Sliced
1 Cup Ice
1 cup water
Chopped dry fruits
Instructions to follow
Blend the whey powder, soy milk, cinnamon powder, vanilla essence, diced banana, and water. Add the ice cubes.
Top it off with lots of dried nuts.
You can also add chia seeds on top. Believe it or not— The thing is done! That Simple…
10. Mosambi or Sweet Lime Juice
INGREDIENTS
4/5 Mosambis/ Sweet Lime
Roasted Cumin Powder
Chat Masala Powder
Ice Cubes
Honey ( Optional)
Instruction to follow
De-seed, and de-peel all the mosambis. Cut them into pieces. Blend them in a blender.
Strain them through a strainer. Collect the extra pulp. Then with the help of a heavy wooden spoon press the pulp and collect the remaining juice.
Now into this juice, if you want, you can add a little honey, which is optional.
Add roasted spices, chat masala, and crushed ice cubes.
That is it, the juice is ready!
11. Coconut-Lime Juice
Ingredients
1.5 Tbsp fresh lemon juice
2 cups coconut water
½ cup water
0.5 tbsp honey( optional)
½ tsp grated ginger
Black salt to taste
Instructions to follow
Add everything into a blender, leaving the mint leaves.
In the blended juice add dashed mint leaves.
Add ice cubes or refrigerate.
Drink with a big smile!
Fruit Mocktail Smoothie
1 frozen banana, removed of its skin and diced
1 cups frozen strawberries, or cherries
1 cup milk
1/2 cup vanilla yoghurt
1/2 cup fresh orange juice
1 tablespoons honey( optional)
Instructions to follow—
Blend everything in a jar.
Strain it through and get the excesses removed.
Add ice cubes and drink!
12. Grape Juice
1 cup Grape
1.5 cups water
1 tsp grated ginger
¼ th tsp chat masala
Instructions to Follow—
In a blender blend the grapes. Strain the grape juice, and remove the excess.
Add the water and the grated ginger, and again blend
Sprinkle the chat masala.
Add the ice cubes and drink!
A Word From Us Team VegFit
At VegFit we are more than eager to serve you with pieces of information that are going to take care of your health and nutrition. All these recipes we talked about are preservative and Sugar-free. They will keep you hydrated and cool in the summer days.
Here is an ebook with 10 quick healthy vegetarian recipes, do checkout.
Hello, I am your fitness and Nutritious coach Priyanka. I am associated with the fitness industry for the last 10 years. In the journey of self-transformation, working with several clients, and helping them gain and lose weight, I have learned about Exercises, Diet, and Nutrition way more than what is prescribed in the textbooks. Therefore, book an appointment with me to carve out a recipe and exercise regime exclusively for you via this link https://veg.fit/personal-training/
Till then stay healthy. Stay Fit with veg.fit.