You all might have come across beetroots when you go grocery shopping but have questioned the idea of taking it home with you. You might have also had second thoughts about eating a beetroot salad or drinking beetroot juices over your favourite mausambi, sugarcane, orange and mixed fruit juices while you come back from a good run. But what if you come to know that beetroots are nothing less but packed with all the essential nutrients (vitamins, minerals, carotenoids, nitrates, etc.) that you need to keep your body healthy.
9 Beetroot Benefits for better Health
1. Beetroots are a powerhouse of nutrients
Believe it or not, beetroots are an extremely good source of a variety of nutrients. They consist of fibre, folate, potassium, iron, vitamin C, manganese and other plant compounds (betanin, inorganic nitrate and vulgaxanthin). Apart from being nutrient-dense, they are also low in calories.
2. Beetroots keep your heart healthy
The nitrates present in beetroot helps in lowering your blood pressure thereby preventing you from being at risk of cardiovascular diseases. It also increases vasodilation (relaxation of your blood vessels) whenever your skin is heat stressed. It also increases the flow of blood to the muscles when you are exercising or doing some kind of activity.
3. Beetroots help in weight loss
The primary step of weight loss is to get your body in a calorie deficit state. Beetroots have an extremely good nutritional profile, a good amount of water and they are also low in calories. Including beetroots as a low-calorie food in your diet will help you lose weight.

4. Beetroot increases sports performance and can be taken as a pre-workout drink
Beetroot juice as a pre-workout drink is known to enhance sports performance. During the activity, it helps in the reduction of oxygen consumption by your body's skeletal muscles thereby speeding up the transformation from anaerobic (no oxygen state) to aerobic (oxygen state) muscle respiration. This will increase the output of your exercise and delay the onset of fatigue and you will not get tired soon.
5. Beetroots keep your gut healthy
We all know that the secret to a healthy gut is to eat foods that are rich in fibre. Fibre improves digestion and keeps your digestive system healthy. Beetroots are an excellent source of fibre and including them in your diet will not only promote digestive health but also prevent you from developing gut problems such as constipation, diverticulitis, bowel diseases, etc.
6. Beetroots can prevent cancer (Anti-cancerous)
Studies suggest that including beetroot in your meals can prevent you from the possibility of developing cancers or reduce the division and growth of cancerous cells. Cancer is a life-threatening disease, particularly caused due to an uncontrollable growth of body cells and tissues. Cancer prevention is possible due to the anti-inflammatory properties of beet and antioxidants present in beetroot extracts.
7. Beetroot for diabetes
Consuming beetroot especially in combination with carrot in the form of juice can be very beneficial for diabetic patients. Both carrot and beets consist of essential dietary fibres, iron and potassium. This not only acts as a natural source of energy but also gives the body a dose of good nutrients. Carrot beetroot juice has potentially a low glycemic value that means it will release fewer amounts of glucose in the blood when absorbed, thereby helping in maintaining blood sugar levels. Compounds like betalain and neo-betalain present in beetroot also help in the reduction of blood glucose levels.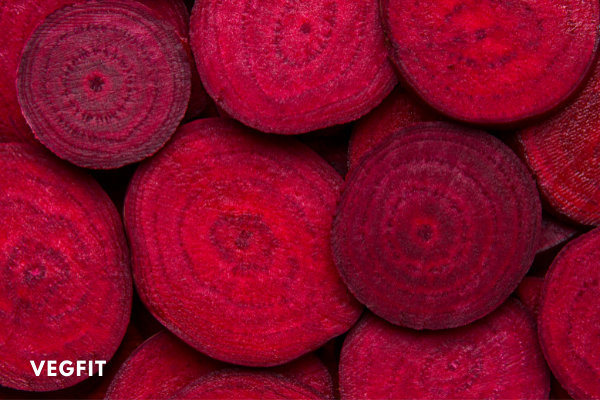 8. Beetroot enhances brain (cognitive) function
As we age, our brain function starts declining gradually. However, some of you might experience this decline in brain function at a much faster rate than others. Such people might go into a state of dementia showing signs of forgetfulness, minor memory losses, etc. This generally happens when there is a reduced flow of oxygen and blood supply to the brain. Beetroots contain nitrates that dilate blood vessels and increase blood flow to the brain, thereby improving brain function and preventing signs of dementia.
9. Healthy and glowing skin
If you wish for healthy and glowing skin and that too naturally, beetroot extract is the one source that can help you achieve a natural blush, rosy cheeks and radiant skin. Beetroot consists of vitamin c that prevents skin pigmentation, thereby enhancing your complexion. In addition to this, the iron and phosphorus present in beetroot give you pinkish skin.
When To Consume Beetroot Juice
We now know that beetroot has a basket full of benefits. Beets in the form of juices play an essential part in making you feel more active and full of energy. The juice is low on calories, rich in nutrients such as vitamin C, iron, etc. and has negligible amounts of fat, making it an excellent beverage recipe for weight loss.
Beets boost your metabolism and it will be good for your body to have a glass of beetroot juice in the morning to get that refreshing start to your day. However, it does not mean that you cannot drink beetroot juice at any other time of the day. You can even drink it as a late-night mocktail or in the form of a smoothie also.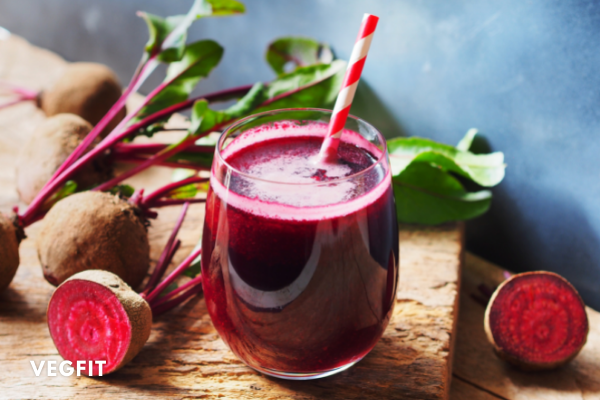 How To Make Beetroot Juice For Most Benefit – Beetroot Juice Recipe
Beetroot Juice can be consumed as it is, or with a lot of combinations using fruits and vegetables such as apples, carrots, etc. However, if you wish to have it as it is, here is the recipe for you. You can play along with your desired seasonings (sea salt, lemon juice, ginger powder, mint leaves, black pepper powder, chaat masala, etc.) to make your beetroot juice more palatable and according to your preference.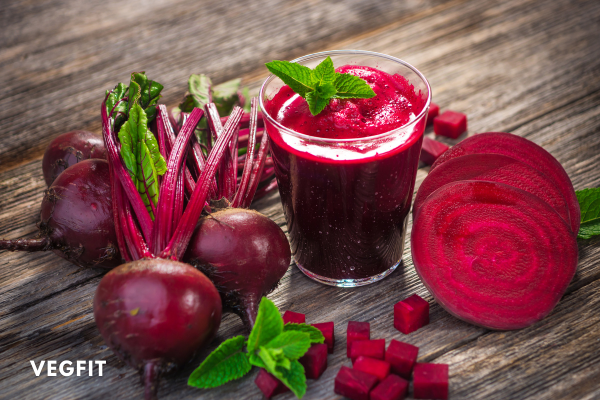 Nutritional information:
| | |
| --- | --- |
| Nutrients | Nutritive value per serving |
| Energy | 90 Kcal |
| Protein | 4.88 g |
| Carbohydrates | 15.45 g |
| Fat | 0.35 g |
| Iron | 1.9 mg |
| Vitamin C | 13.15 mg |
| Vitamin A | 5.37 μg |
Other Information:
| | |
| --- | --- |
| Serving | 1 |
| Portion size | 1 glass |
| Preparation time | 10 mins |
| Cooking time | 1-2 mins |
Ingredients:
Beetroot – 250 g
1-inch piece of peeled ginger (You can also add a pinch of ginger powder in place of raw ginger)
1 tsp Lemon juice (optional)
A pinch of black salt (optional)
Preparation:
Wash the beetroot thoroughly in running tap water.
Peel off the skin of beetroot and dice it into small pieces
Add the beet, ginger and a little water to a juicer blender and process all the ingredients
Sieve and pour the juice in the glass, add lemon juice and sprinkle some sea salt.
Stir well and serve fresh.
The Most Popular Variation Of Beetroot Juice: ABC (Apple Beetroot Carrot)
Fruits and vegetables are known to have myriad health benefits. They make you fit by strengthening your immunity and protecting you from diseases. They make you look good by giving you glowing, unpigmented and radiant skin. Fruits and vegetables boost your metabolism, help you in weight loss and keep your heart healthy.
For most benefits, combining beetroot with other fruits and vegetables is a good option and what better than the most popular version of Beetroot Juice – the ABC (Apple Beetroot Carrot) Juice. Whenever you feel a hunger pang, try substituting unhealthy food options with ABC juice as this combination can never go wrong in providing you satiety and curbing down your hunger.
Loaded with the goodness of vitamin c and other compounds, it is an excellent immunity booster. The carrots and beets contain phytonutrients that relieve constipation and help indigestion. Beta carotene especially, in carrot is not only good for the heart but also acts as an antioxidant that helps in slowing ageing and giving you spotless skin. The drink also helps the body detoxify by purifying blood.
Nutritional information:
| | |
| --- | --- |
| Nutrients | Nutritive value per serving |
| Energy | 140 Kcal |
| Protein | 3.32 g |
| Carbohydrates | 27.19 g |
| Fat | 1.18 g |
| Iron | 1.73 mg |
| Vitamin C | 18.42 mg |
| Vitamin A | 1297.53 μg |
Other Information:
| | |
| --- | --- |
| Serving | 1 |
| Portion size | 1 glass |
| Preparation time | 15 mins |
| Cooking time | 1-2 mins |
Ingredients:
Beetroot – 100g
Carrot – 100g
Apple – 100 g
1-inch piece of peeled ginger/ a pinch of ginger powder (optional)
1 tsp Lemon juice (optional)
A pinch of black salt (optional)
Preparation:
Wash the beetroot, carrot and apple thoroughly in running tap water.
Peel the beetroot and carrots
Dice the beetroot, carrots and apple into small pieces
Add the beet, carrots, apple and ginger and a little water into a juicer blender and process all the ingredients
Strain the pulp and pour the juice into the glass.
Add lemon juice, stir well and serve fresh.
Some Other Options By Which You Can Include Beetroot In Your Diet
Beetroot is a versatile food option that can very well be consumed along with other food groups. Adding beetroot while preparing your meals is simple. Other than the famous beetroot juice, here is how you can incorporate beetroot into your diets.
1. Beetroot chapati/paratha
Now you can also make your children eat beetroots too without them noticing it. Children are very cranky when it comes to eating fruits and vegetables. They are picky eaters when they are young and when they start growing up, their food choices are majorly influenced by their peer groups. To add the goodness of beets to your diets and to make a nutrient-packed meal, you can use beetroot juice to make your chapati/paratha dough. You can serve these chapatis with your desired vegetable or pack the parathas in the form of stuffed rolls in your child's tiffin. The red colour of beets will make this a very appetising and attractive food option as compared to the plain chapati or parathas.
2. Beetroot-carrot salad
If you enjoy eating salads, then beetroot in combination with carrot along with any other vegetable of your preference can make a good snacking option. All you need to do is cut the vegetables into thin slices, add some lemon juice and sprinkle seasoning of your choice (sea salt, chat masala, etc.).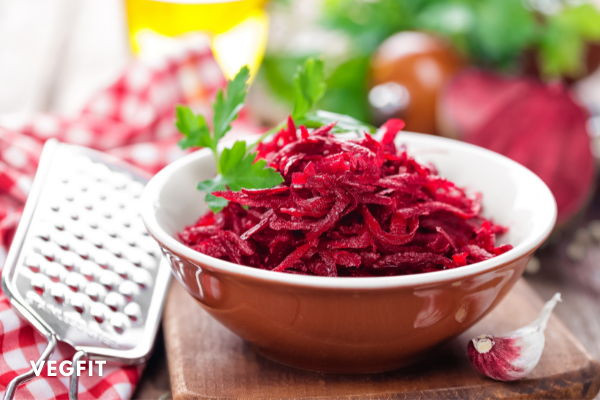 3. Beetroot Raita
Another way to add beetroot is by using it with curd in the form of raitas. The raita will provide you with good quality proteins from curd and several essential nutrients from beetroot. You can also add some other fruits and vegetables such as carrots, onions, pomegranate, etc. according to your likability. Season it with black pepper powder, cumin powder, chat masala, etc. to add flavour to your raita. Turn your plain curds into a colourful yet nutritious lunchtime side-option.
4. Beetroot Cutlet
You can also add beetroot while making the paste of your cutlets. This will not only make your cutlets attractive and appealing by providing them with a reddish-brown colour but also will add to the nutritional content of the snack. If you are someone who is on a weight loss journey, you can change your method of cooking from deep frying to shallow frying, air frying or even just pan roasting.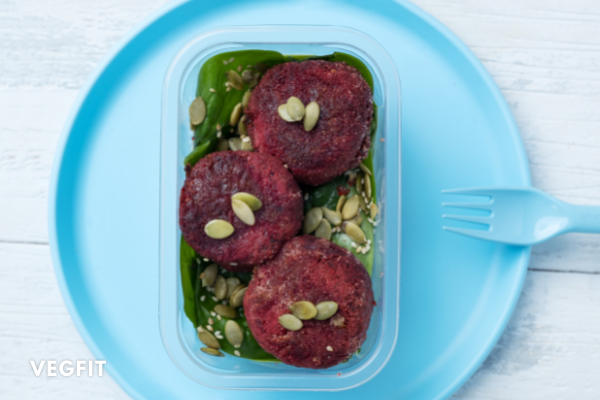 4. Beetroot Halwa
We Indians love desserts and look for what's in meetha at the end of almost every main meal we have, especially after lunch and dinner. Desserts are infamous for having a lot of calories and fat that will make you gain weight but what if you can enjoy eating a dessert that is not only low in calories but also low in fat. Anyone who is trying to lose some weight or is diabetic or just wants to eat healthily can go for this super delicious yet completely nutritious Beetroot Halwa. You can even add carrots with it and top it up with your favourite nuts. Now, having meetha will not be a sin!