There is a horde of Indian breakfast recipes which are extremely beneficial to achieve your weight loss goals. In this era, 'Diet' has become a cursed word, almost. People synonymously use the word diet for starvation. Or, maintaining a diet has now come to mean — following a dietary routine that has some foreign connection, is highly costly, and practised in either Mediterranean, or Balkan, or in some remote part of the world.
Believe it or not, as an Indian your genes are prepared to absorb nutrients from those foods that your forefathers have consumed since time immemorial. In scientific terms what we can eat during our weight loss journey should not drastically differ from our generation-wise day to day eating habits.
Hi, I am Priyanka, Founder of Vegfit and your nutrition and fitness, coach. In this article, I am going to present 17 Indian food recipes which have low carbs, yet are packed with loads of nutrients.
What Food Do You Eat For Breakfast On A Low-Carb Diet?
Well, personally speaking being a vegetarian it is quite tricky for me, to follow a low carb Indian breakfast regime that provides me with the essential nutrients, and at the same time feasible to follow on a long term basis. I emphasize a lot on eggs, green vegetables, healthy oils, fruits, seeds, etc to follow a low carb diet regime. Unsweetened dairy products are also my go-to favourite, including Greek yoghurt and dairy milk consumed rationally.
Most low carb diets grant room to consume 20 to 50 grams of carbohydrates per day. This is why it is absolutely necessary for people to cut down the proportion of carbs but to keep nutrient levels intact.
In my personalised diet coachings, I work closely with my clients and personalise diet routines for them based on specific needs. My priority remains habit building for long term well being. Making a person familiar with eating right, proportionate, clean and healthy are my priorities in my coaching. Weight loss is a beautiful outcome of this lifestyle. In case you are interested check it out here—
11 Indian Low-Carb Diet Meal Recipes For Weight Loss
1. Egg Bhurji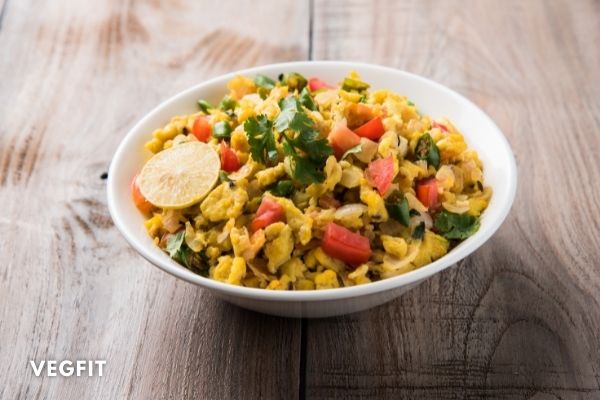 Ingredients
4 eggs
2 onions chopped
2 tomatoes diced
3 green chillies
1 capsicum
2.5-inch ginger finely chopped
½ cup coriander leaves
4 to 5 Curry leaves
1.5 tablespoons vegetable oil or you may use ghee
1 teaspoon jeera powder
1 teaspoon red chilli powder
1 teaspoon turmeric powder
salt as per taste
a pinch of asafoetida
2 tablespoons of butter (optional)
Method
In a large bowl whisk the egg till fluffy and keep aside. Take a pan add oil, and now go on adding masalas: jeera, onion, chillies, curry leaves, capsicum, and ginger. Sauté for 4-5 minutes into medium flame.
Now add the tomatoes and another few coriander leaves. sauté for 3 minutes
Add butter, red chilli powder, turmeric powder, and salt. Mix well
Now pour the slightly beaten egg, and keep whisking until their perfectly cooked.
Top it off with some butter and garnish with coriander or curry leaves
That's it you're good to go…
2. Masala Oats Recipe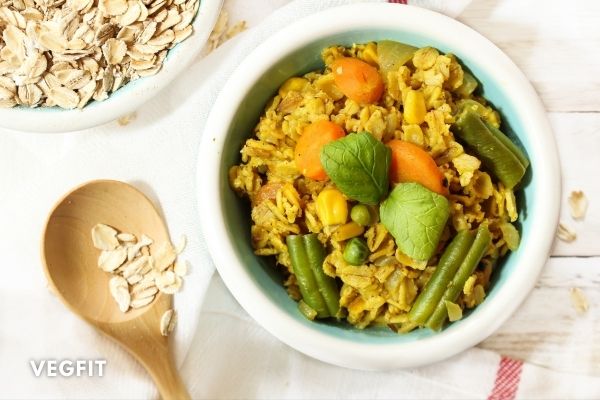 Ingredients
Rolled oat 2.5 cups
onion finely chopped 1 medium or 2 small
Oil 1.5 tablespoons
Cumene seeds 1 teaspoon
Cumene seed 1 teaspoon
2 green chillies finely chopped
2 green chillies finely chopped
1 medium tomato finely chopped
salt as per taste
Red chilli powder 1/2 teaspoon
Turmeric powder 1/4 teaspoon
Chopped coriander leaves
Method
Heat oil in a pan and add the seeds. They will flutter and change in colour.
At this point add the green chillies, and onion; sautés till the onion is slightly golden brown in colour.
Add the tomato and salt. Lower your flame and cover and cook for 3-4 minutes.
Now add the red chilli, and turmeric powder. Incorporate well.
This is a crucial step. You're adding the oats over here. Also, add 4 cups of lukewarm water. Cook for 4 to 6 minutes. Add coriander leaves, and mix them very well.
Serve hot, garnish with some more coriander leaves.
3. Mix Dal Chillas Recipe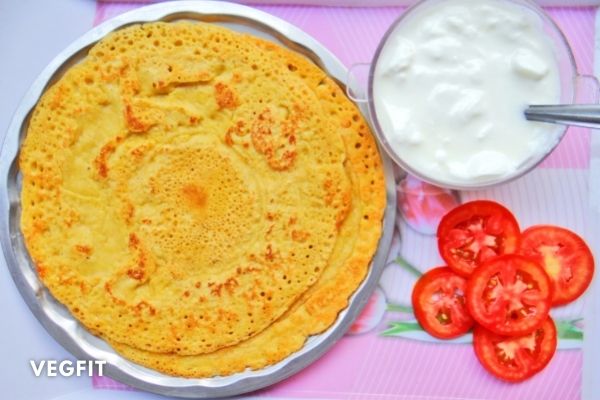 Ingredients
½ cup green Moong Dal
½ cup yellow Moong Dal
5 tablespoon oil
2 teaspoon green chilli paste
1 tsp ginger paste
½ teaspoon turmeric powder
½ teaspoon chilli powder
½ teaspoon asafoetida
4 tablespoon finely chopped coriander
salt as per preference
5 teaspoon oil
Method
Combine all the dals in a deep bowl. Add lukewarm water to it cover with a lead and let it rest for one hour
After an hour drain the water add another fresh one and 1/2 cup of water in a mixer with the dals and blend till smooth.
Transfer the mixture into a mixing bowl and mix all other ingredients. incorporate everything very well
Heat a non-stick dosa tawa in medium flame. Add a ladle full of batter into it— spread it evenly and make a thin circle of having an approximately 6.5-inch diameter
Add half a teaspoon of oil and cook the batter till it turns golden brown and takes the shape of a chilla.
From this batter, you can easily make 15 to 17 chillas.
Serve them hot with green chutney! Moreover, like rotis chillas can also be eaten with both types veg curries, and non-veg curries.
4. Mini Soya Paneer Pancakes Recipe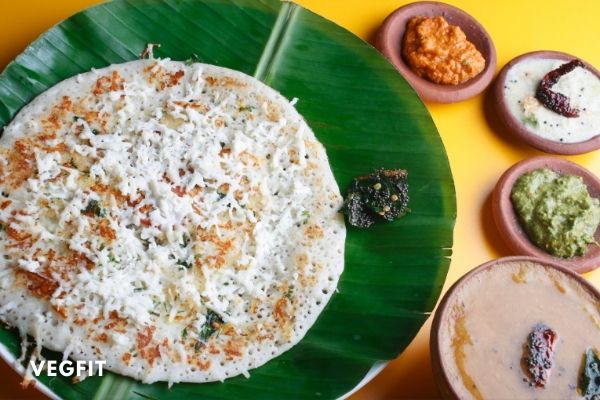 Ingredient
1/4 cup soy flour
¼ th cup grated cucumber
1/4 cup low fat paneer
2 teaspoon finely chopped green chillies
1tablespoon finely chopped coriander
1 tbsp shredded cheese
salt as per taste
1tablespoon oil for cooking
1/4 cup green chutney
Method
Incorporate soy flour salt and 2 cups of water in a deep bowl and mix it well into a thin batter
Add the cucumber, paneer, chillies, and coriander, and cheese
Heat oil on a pan. Add a full spoon of batter and spread it evenly into 2-inch mini pancakes.
Cook on both sides until golden brown.
You can make 20 more pancakes from this amount of batter. If you want you can skip adding cheese to it.
Serve hot all these diet pancakes with a little green chutney and melted butter on top.
5. Avocado Coconut Milk Smoothie/ Drink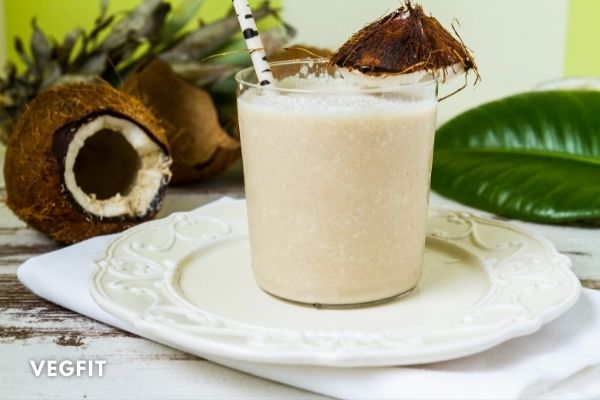 Ingredients
1 cup roughly chopped avocado
2 cups coconut milk
1 banana roughly chopped
1 tablespoon honey
Method
Combine all the ingredients in a mixture and blend till smooth, refrigerate and serve when chilled. Add more milk to fix the consistency. Add honey on top of it.
Your drink made with non-diry milk is ready.
6. Low Carb Samosas/ Diet Samosas Recipe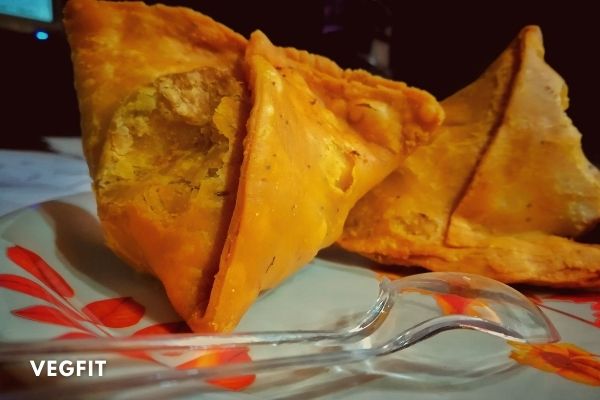 Ingredients
2cups cauliflower florets
1 cup yellow onion, diced
2.5 tablespoons extra-virgin olive oil
½ tablespoons fresh ginger, grated
1.5 teaspoon garam masala
2.5 teaspoons cumin
Salt and pepper to taste
3 low-carb tortillas (3-4 inches in length)
Method
Make the filling: Place cauliflower florets in a medium, microwave-safe bowl with about ½ cup of water. Cover the bowl with a plate and microwave for roughly 4 minutes and set aside.
Microwave the diced onions for roughly 5 minutes in full power until translucent to a golden brown. Lightly sprinkle salt.
Add the grated ginger, garam masala, and cumin and microwave again for about 1minute. Add the cauliflower, breaking it into smaller pieces, and again microwave for 1minute. Season with salt and pepper to taste, and microwave for 10 secs.
Create the samosas: Cut the tortilla in half. Sprinkle water on the straight edge of the halved tortilla. Fold one corner to the other corner and a cone. Pinch the corners to seal them. Fill the cone with roughly 1.5 tablespoons of filling — until the cone is ¾ full. Seal the edges by pressing them together. Place the samosas on a baking sheet.
Bake the samosas: In a small bowl incorporate 1.5 tablespoons of olive oil and ½ teaspoon garam masala. Brush the mixture on the outer surface of the prepared samosas. Put them in the oven. Bake in convection mode at 170 degrees for 20 minutes. ( Preheat at the same temp). Serve immediately with a low-carb chutney.Your low carb evening snack is ready!
7. Sprouted Dhokla Recipe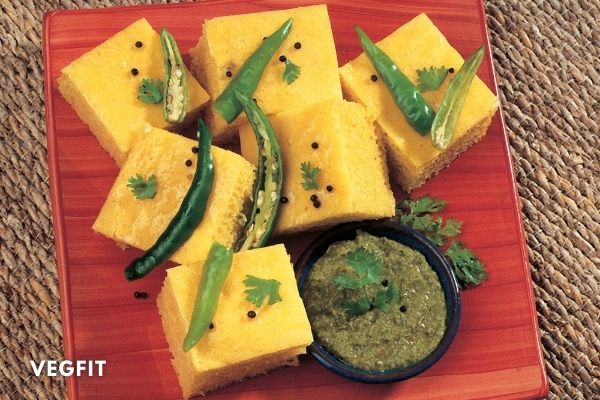 Ingredients
1.5 cups sprouted moong
1.5 cup finely chopped spinach
3 green chillies
2.5 Tbsp Besan
1 tsp fruit salt
1.5 tbsp oils
1 tsp sesame seeds
0.5 tsp sesame seeds
0.5 tsp asafoetida
5 curry leaves
1 tsp green chillies
Oil to grease
Method
Combine sprouted moong, spinach, and green chillies inside a mixture. Add a small amount of water. Blend it to a very smooth paste
Transfer the mixture to a bowl. Add salt and besan and another ¼ th cup of water make it of pouring consistency.
Just before steaming add the fruit salt( Eno) and another ¼ th cup of water. Add 1.5 Tbsp of water
When bubbles start to come, mix gently the whole thing.
Put it on a deep plate, called Thali in Hindi. Spread the batter evenly.
Heat oil on medium flame. Add Asafoetida, curry leaves, sesame seeds to it. Prepare the tempering. Pour it on the dhoklas.
Cut the dhoklas serve with chutney.
Your mouthwatering Indian food recipe is ready!
8. Almond Bread Recipe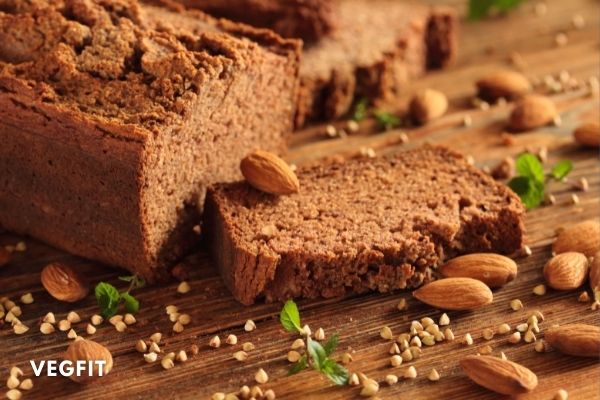 Ingredients
½ cup honey
½ teaspoon vanilla extract
3 cups almond flour
½ teaspoon ground cinnamon
½ th teaspoon baking powder
¼ th teaspoon ground nutmeg
1 teaspoon salt
Methods
Preheat oven to150 degrees C. Prepare a bread pan with oil greasing.
Beat eggs and vinegar together in a bowl; add bananas, coconut oil, honey, and vanilla one by one, until everything is blended.

Sift flour, cinnamon, baking powder, nutmeg and salt together in a large bowl; Pour it into the bread pan. Bake in the preheated oven. Prick a knife inside into the centre. If it comes out clean, then the bread is done. Cool it and slice it.
This is a delicious continental food item!
9. Spinach Smoothie Recipe
Ingredients
1 handful of baby spinach leaves
1 apple sliced and deseeded
1 cucumber roughly chopped
1 medium lemon peeled and halved.
¼ inch piece of ginger, peeled
Method
Put everything in your blender. Blend till smooth. Add the lemon juice to it. You are done.
Enjoy your food!
10. Spicy Baked Spinach Recipe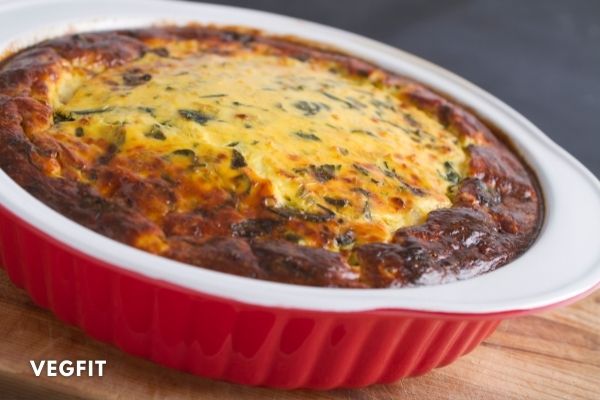 Ingredients
1kg spinach leaves
2 tbsp Extra virgin olive oil
4 large eggs
1 Garlic clove
150g Low-fat natural yoghurt
1 tsp Fennel seeds
1 tsp Paprika
Method
Preheat the oven to 180°C and oil grease 2 ovenproof dishes.
Wash the spinach, and roughly chop. Put a dry, non-stick frying pan over high heat and toss the spinach. Remove it and toss with the olive oil, season and divide between the dishes.
Break 1 egg onto each dish, and bake for 10–15 minutes until the whites have set and the yolks are still runny.
Beat the garlic into the yoghurt, place it over the eggs and sprinkle on top the fennel seeds. Top it off with paprika.
11. Keto Egg Fried Rice Recipe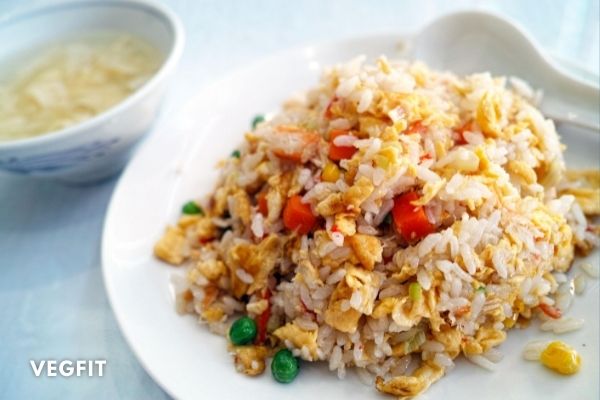 Ingredients
3 eggs
2 cups of cauliflower rice
2 tbsp coconut oil
1/2 cup spring onions
2 cups of mixed vegetables( Carrot, zucchini, green bean etc)
Salt
Black pepper
Method
Dice spring onions and all the other veggies.
Add the cauliflower rice ( Or any low carb rice type)
Pour in 1 tbsp water over low flame. Fry it gently with or without oil for 2 minutes.
Heat 1 tbsp of coconut oil. Add all the diced vegetables. Shallow fry them for another 3 minutes.
Meanwhile beat the eggs and season with black pepper. First putt it in the centre of the dish and then combine it with the rice and vegetables.
Cook for another 4 minutes. Drizzle with some soya sauce.
The meal recipe is highly keto diet friendly. Even people, not following keto can surely go for it!
Your body is the temple in which you reside. And the food you consume rejuvenates each cell of your body with nutrients. Choose your food wisely, respect food, and become the healthiest version of yours.
See You in the next blog…Until then stay tuned with the VegFit Fam!