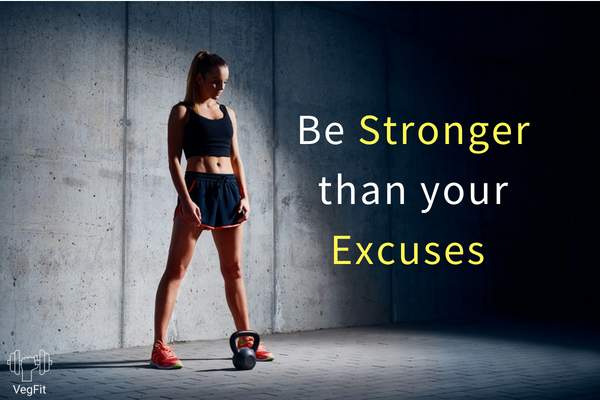 We all have thoughts of getting fit and having a stronger body, but we find it difficult to make the time from the daily routine for workouts. Starting to exercise is a challenge, but even more challenging is being regular with it.
I have come across so many people who take a gym membership, start working out and eating clean but that only lasts for a month or so. They enrol in a gym for six months but hardly use it for 15-20 days.
If you also find it difficult to be consistent, here are some tips and tricks you can use. After practising these tricks for years, I don't need them anymore since workout has become a habit for me. I feel self-motivated to start my day with a 40-45 min workout session.
Before it becomes a habit, you have to practice it consciously.
Here are 10 tips to motivate yourself to be consistent with workouts.
1. Find a sport or activity you love
It's easier to be consistent with a workout that you enjoy. Some of us love to lift weights and sweat out in the gym, while some enjoy sports like tennis, badminton, basketball, squash or even a run in a park.
Whatever it is that you like, just make a habit of doing it 3-4 hrs a week.
2. Join a group class or a sport club
Group classes are high energy and great fun. They bind you in a routine and make it easier to stick to a specific time slot. Group classes pass on the collective spirit of the entire group and motivate you to go that extra few counts.
These classes and clubs make it easier to find a workout buddy who can be a good motivation.
I love group classes because I at least find that one individual who is better than me, which puts me in a self-challenge mode.
3. Fix a time and stick to it
Finding the time that works best for you and your body performs the best. Understanding a suitable time for the workout is the most important activity when you are looking to follow a fitness routine.
Experiment with different timings and find what fits best with your schedule. Remember, consistency is the key to get fit.
4. Create short and long-term targets for yourself
A goal acts as a reminder to you for why you started in first place. Keep a measurable goal which is easy to assess. Evaluate yourself in every few weeks against your goals.
When I started working out, I could not even walk at speed higher than 6km/hr. So, I set a goal to brisk walk at 7km/hr in 1 month. I kept increasing my walk speed by 0.2km/hr every few days and eventually got to my goal. Once I got there, I set up another harder goal.
Some examples of what goals you can set –
Run x km in 30min, and keep increasing x
Be able to run at high speed of 12 or 14km/hr
Workout 20 days in a month or 5 days a week
Do 5 pushups or pull-ups
5. Reward yourself for milestone achievements
Any action can become a habit only when it results in a reward which is basic human behaviour.
Now, don't get me wrong and reward yourself with a huge cake after a little progress. Be sane in rewarding yourself. 🙂
I gift myself workout wear when I reach a particular milestone. But I ensure to work hard for it. And trust me, it's a great pleasure to earn something that way.
Keep a reward relative to the effort involved in reaching that milestone. And gift yourself what you truly enjoy, a watch, an expensive shoe, a dress, a nice vacation or a hotel-cation.
6. Remind yourself through a calendar or sticky notes
A visual reminder works well. Keep a calendar on a wall or on your desk that comes in your view often. Mark the dates in green when you worked out and cross in red for the ones you skipped. Try reducing the number of red-s every week.
Get sticky notes to remind you to keep working towards your goals. Keep your goals and success on either side of your work desk or your fridge or a white-board. Once you reach a goal, mark that note with a green colour and stick on one side of your desk. This way you can track your progress and also feel delighted.
7. Post your workout pic on social media
Heard of peer pressure? Social pressure? When we post about our workout goals on social media, we start feeling a little pressure to keep up the pace.
So, start posting your workout pics or fitness challenges. This trick works for me wonderfully, as I don't want to fail at something I told everyone about, and then I put 10X more effort to it.
The social pressure does really work for some of us.
8. Don't get into the loop of thinking – what if I don't
There are always two opposite thoughts playing in our mind. One would say 'get up and go' while the other will say, 'what will happen if you don't go…not much probably'.
The moment you have second thoughts about the workout, you will get weaker and skip it.
Know that everyday matters and you won't let that second thought win over the first one. Accept the challenge and get stronger every day.
9. Listen to good music and de-stress
A workout is the best stress releaser and mood-uplifter. Good music adds to the effect and also lets you enjoy your personal space.
Workout breaks the thought loop we get stuck in when we are stressed and helps us think wisely. Like everyone, I have also faced a lot of problems in life, but workout always helped me get stronger not only physically but mentally as well.
Listen to your favourite music or a motivational podcast, to help you clear your thoughts. The idea is to feel awesome after the workout session.
10. Hang out with fitness enthusiasts
Your surroundings affect you a lot. We should choose friends who motivate and challenge us to get better.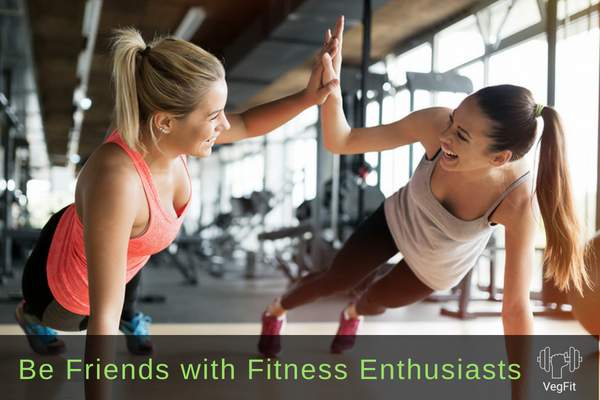 The people who follow an active lifestyle, tend to be motivators for the ones around them. Have at least one such friend in your circle, and you will see yourself getting into healthy habits.