Brace yourself up to conquer another day, with sumptuous gluten-free Indian breakfast recipes that are going to give your health a dose of nutrition. There are a variety of healthy breakfast ideas, that can act as your comfort dish for a sustainable period. Be it breakfast for weight loss, or just enjoying healthy snacks— gluten-free breakfast can cater to all your needs.
What Is Gluten-Free Food?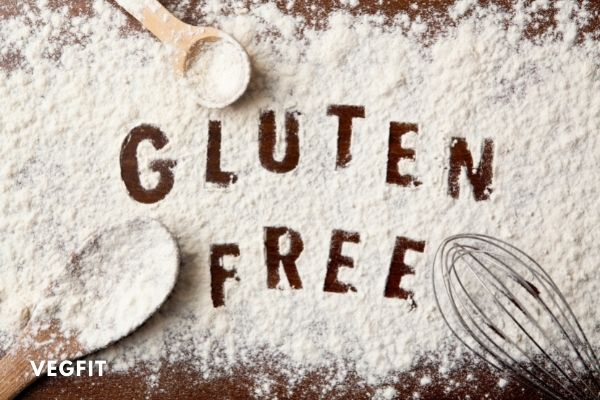 A gluten-free diet excludes any form of protein gluten. A gluten-free diet is effective for people having celiac disease, or for those who have gluten sensitivity. If you are looking for a gluten-free diet make sure you avoid these foods:
Wheat
Other forms/varieties of wheat that should also be avoided: whole wheat, spelt, wheat berries, kamut, durum, farro, farina, bulgur, graham, semolina, bromated flour
Barley
Rye
Triticale (a cross between rye and wheat)
Malt
List of Indian Gluten-Free Foods
Jowar flour
Buckwheat flour
Gluten-Free flour
Ragi flour
Rajgira flour
Arrowroot flour
Bajra flour
Barley flour
Millet
Quinoa
Rice, including wild rice
Sorghum
Soy
Citrus fruits
Banana
Apple
Berries
Peaches
Pears
Spinach
Potato
Corn
Squash
Gluten-Free Indian Breakfast Recipes (Savoury)
Paneer Chilla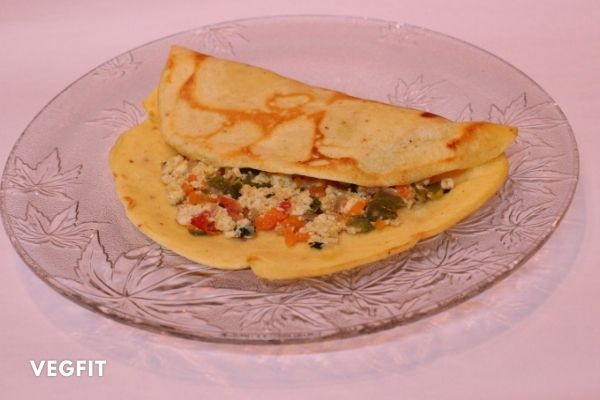 Ingredients
2 cups chickpea flour
¾ cup water
Salt per taste
½ tsp red chilly powder
½ Tsp jeera powder
1 cup grated paneer
Black pepper per taste
1 tbsp oil
Method
Take flour in a bowl, add spices and then water little by little. It should have a mealy batter consistency.
In a pan heat oil. Add the paneer. Once it starts to flutter add black pepper and salt. Add red chilli. Cook for another 2 minutes.
In a Tawa add oil. Heat it. Pour a ladle full of batter. Give it the shape of a chilla. Put the paneer filling inside.
Wrap and serve with green chutney.
Serve it with your favourite side dish. This Indian dish can gel along well with healthy side dishes like chutneys, or pickle, gravy-based dishes paneer dishes in curry form.
Stuffed Tomatoes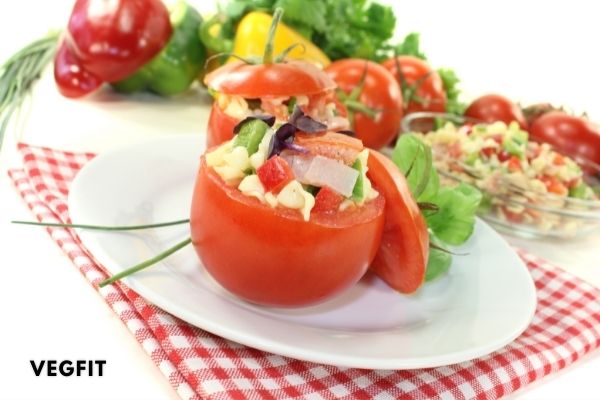 Ingredients
4 medium tomatoes
½ cup fresh cheese
¼ cup basil( Chopped)
1 tbsp olive oil
2 tsp minced garlic
Salt and Black pepper as per taste
Method
Preheat oven to 400℉.
Cup the tomatoes off from seeds and flesh.
In a mixing bowl add bread crumbs, cheese basil, olive oil, garlic, salt and pepper. Give it a mix
Stuff the tomatoes with the mix
Bake for 20 mins.
Your healthy dish to accompany breakfast( gluten-free diet)
Moong Dal Dosa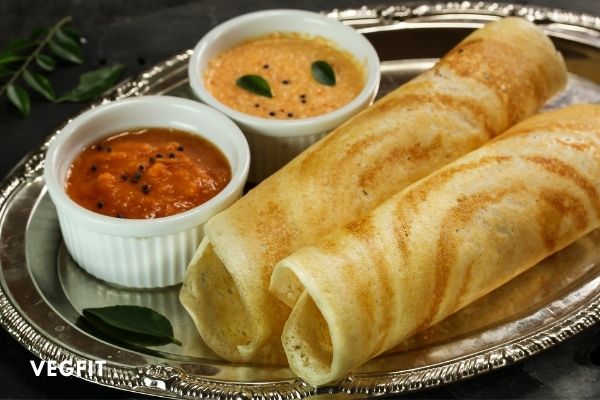 Ingredients
1 cup moong dal. Overnight soaked
1-inch ginger
1 green chilli
1 tsp cumin
Method
Soak the Moong dal for 30 minutes. Then wash it thoroughly.
Put the moong dal in a blender. Blend till everything is smooth. Add water to the moong dal batter. It should come to pouring consistency. The batter should not be thick or thin. It should maintain a pouring consistency.
Add a ladle full of lentil batter. Put it in a griddle. Give it the shape of a disc. Add filling within.
Fry it till golden brown. Now fold!
Serve with chutney!
Crispy Quinoa Dosa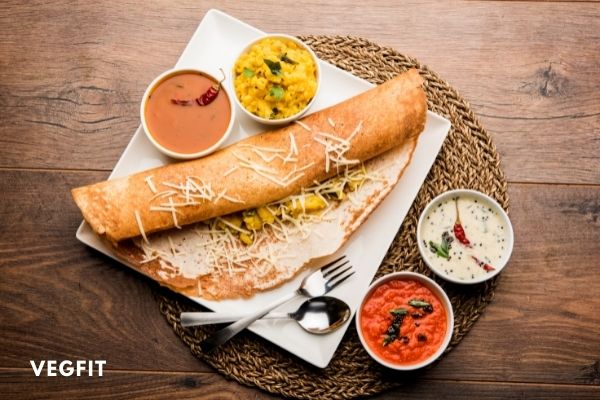 Ingredients
1 cup quinoa
½ Cup rolled oats
½ Cup Urad Dal
½ Cup Channa dal
1 inch Ginger
Salt per taste
Method
Rinse all the dals along with quinoa together. Now soak them into sufficient water for 5 hours. For any dosa recipe, you can choose overnight soaking too.
Follow all the other steps from the above recipe.
Your delicious quinoa dosa recipe is that simple!
Gluten-Free Indian Recipes For Breakfast (Sweet)
Anjeer Halwa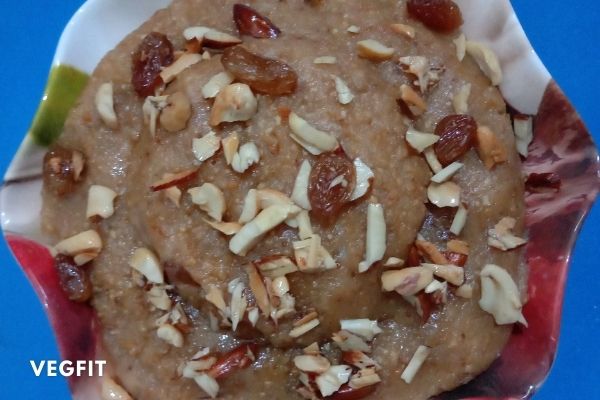 Ingredients
Anjeer ( dry figs) 100 grams
Cashew nuts chopped
Pistachio chopped
Ghee 3 tbsp
Sugar ½ cup
Salt a pinch
Almond flakes
Method
Soak dry figs in warm water for 10 to 15 minutes.
Heat 2 tbsp ghee in pan. Fry the nuts.
Now make a paste of the figs. Add it to the pan. Stir continuously
When ghee starts oozing out add the sugar and pinch of salt.
Stir adding cardamom powder.
Your Favourite Indian Dessert is done!
Carrot Halwa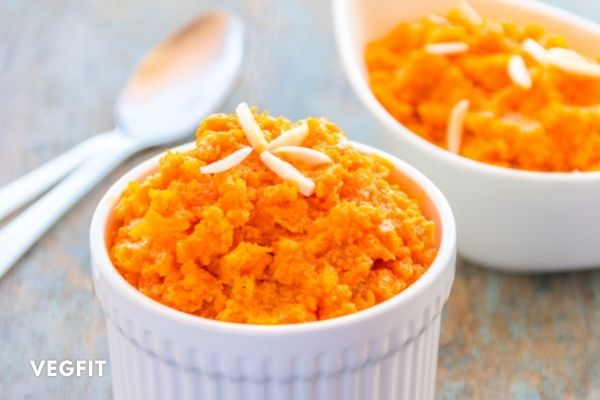 Ingredients
500 grams carrot
½ tin condensed milk
¼ tsp cardamom powder
1 tsp rose water
1 tbsp ghee
¼ tsp chopped nuts
2 tbsp raisins
Method
Wash, peel, and grate the carrot.
Add 1 tbsp ghee to the pan.
Add the chopped nuts.
Add the grated carrots, and saute for 3 minutes.
Pour half cup of condensed milk
Mix well and cook till everything thickens. Carrots will start releasing moisture.
Cover and cook till the gajar turns tender.
Add cardamom powder.
Add 1 tsp ghee for taste.
Mix and saute.
The milk will evaporate and then garnish with nuts.
You can also try paneer based desserts and moong dal halwa for gluten-free dessert cravings!
A gluten-free breakfast diet doesn't mean it will not contain flour. Just replace your regular flour with gluten-free flour.
Banana-Jowar Pancake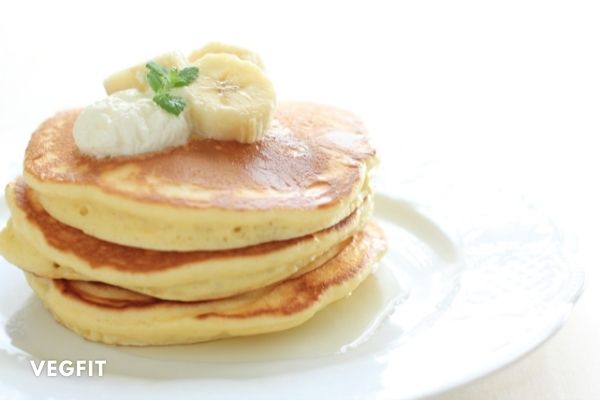 Ingredients
1 ¼ cup mashed bananas
1 tbsp coconut oil
1 tbsp lemon juice
1 tsp honey
2 eggs
1 cup jowar flour
½ tsp baking soda
½ tsp salt
½ tsp ground cinnamon
Method
In a mixing bowl stir together the bananas, coconut oil, lemon juice and honey.
Beat the eggs till fluffy. If your coconut oil goes back to solid-state just microwave the mixture for 20 more seconds.
In a medium bowl whisk together jowar flour, baking soda, salt and spices.
Form a dent in the centre of the dry ingredients and pour the wet ingredients. With a big spoon stir the mixture thoroughly, till it's lump-free.
Let the batter sit for 10 minutes. The texture of the batter should be poring but ain't watery.
Grease the top of a cast-iron skillet with coconut oil. Pour a ladle full of batter
Give it a round shape and let it fry for 3 minutes on medium flame.
Once both the sides of the pancake are golden, flip it. Put some honey on top.
It is one of your healthy breakfast food options.
Gluten-Free Waffle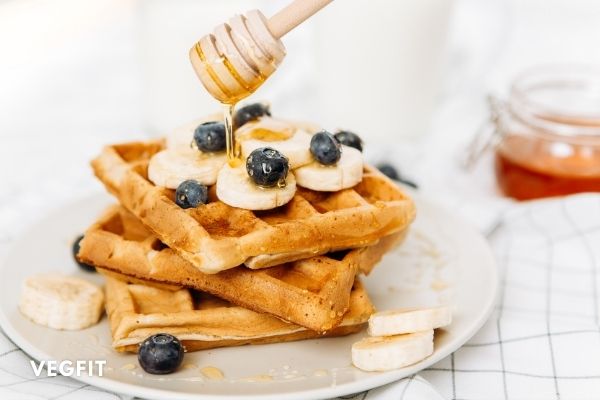 Ingredients
1 ½ cup unsweetened almond milk
1 tsp apple cider vinegar
¼ cup olive oil
¼ cup maple syrup
½ cup rolled oats
1 ½ cup gluten-free flour mix( ½ cup jowar flour+ ½ cup buckwheat flour+ ½ cup ragi flour)
1 ½ cup baking powder
1 pinch sea salt
1 tsp vanilla extract
½ tsp cinnamon
1 tbsp flax seeds
¼ cup chopped bananas
Method
Combine almond milk, and vinegar in a small mixing bowl and keep it aside for a few minutes. Let the milk curdle.
Add olive oil and maple syrup. Whisk till a little frothy.
Add dry ingredients to a large mixing bowl.
Pour in the wet ingredients. Mix them together. The two should incorporate well. It should be a batter of balanced textures. Pour milk if too thick, or add flour if too thin.
Let it sit for 5 to 10 minutes.
Heat waffle iron. If you don't have it just heat a regular sandwich maker. Grease either of them with oil.
Put in some batter. Bake the waffle.
Top it off with fresh fruits of great flavor.
The waffle can very well fit in the breakfast category.
Also, it can be eaten as a healthy snack, dessert, and not to mention it can very well fit in the breakfast category.
Recipes For Gluten-Free Baked Products
Almond Flax Seed Bread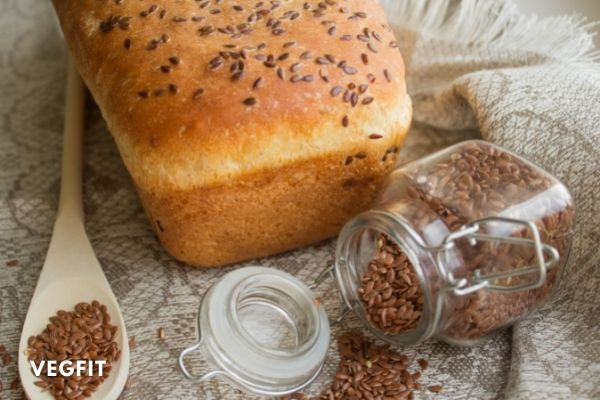 Ingredients
1 ½ cup almond flour
¼ cup ground flax seeds
1 tbsp whole flax seeds
½ tsp sea salt
½ tsp baking soda
4 large eggs beaten
½ tsp apple cider vinegar
1 tbsp butter or honey
Method
Preheat the oven to 300℉.
Mix all the ingredients except butter. Thoroughly combine to give it a nice texture.
Grease an 8-inch loaf pan.
Pour dough into a loaf pan and bake for 45 minutes in 300℉
Insert a toothpick to the centre. It should come out clean.
Cool before serving.
This bread can very well become your breakfast for weight loss.
Multi-Grain Indian Bread Sandwich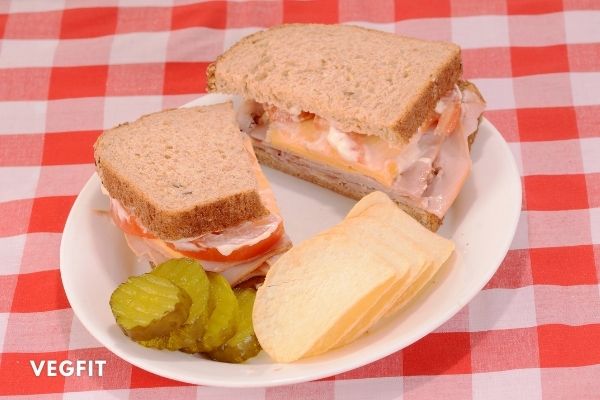 Ingredients
2 slices of Multi-grain pieces of bread
100 gm hung card
½ tsp chilli flakes
Salt as per taste
½ tsp black pepper
2 tbsp honey
2 tbsp coriander leaves
1 carrot shredded
½ capsicum diced
25 grams lettuce loose leaves
2 tsp mustard paste
Method
Take a bowl and mix curd, honey, pepper, chilli flakes, and salt.
Add the carrots, capsicum and coriander leaves.
Take the multi-grain pieces of breads. Apply little mustard paste in one slice. Place a lettuce leave. Put a spoonful of filling. And then place another slice of bread on top.
Grill and serve it with spicy green chutney.
Additionally, in the hung curd mixture, you can add shredded paneer and crushed chickpeas. It will add components of proteins to your breakfast ( Indian style).
Gluten-Free Jar Snack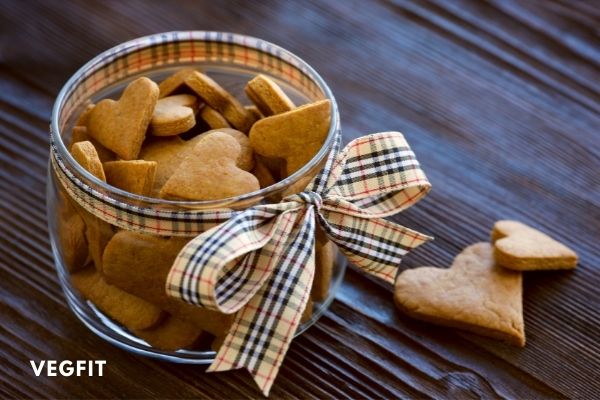 Ingredients
1 Cup Gluten-free chickpea flour
1 tsp red chilli powder
½ tsp turmeric powder
½ tsp carom seeds( ajwain)
½ tsp cumin seeds
1 tbsp oil
¼ tsp baking powder
Salt per taste
½ tsp sugar
⅓ cup water or less
Method
Add chickpea flour to a bowl. Add oil, other ingredients and water.
After you incorporate dry ingredients, add oil. Knead very well. Add water little by little. Make the dough firm. Roll it like a roti.
Cut in the shape of barfi.
Preheat the oven to 200℃. Bake it at 200℃ for 10-12 minutes or until the edges are brown and crispy. It should have a biscuit texture, after baking.
Keep all your delicious snacks in airtight jars. These comfort snacks can incorporate in their raw batter sesame seeds as well.
FAQs
What Indian food is usually gluten-free?
Citrus Fruits, Spinach, Broccoli, Certain gluten-free flours, milk, soy products are completely free from gluten. More to it, the foods enlisted in this gluten-free Indian breakfast recipe article is safe to consume for a gluten-free diet. 
What Indian flours are gluten-free?
Both are gluten-free. You can safely consume these gluten-free flours—
– Jowar flour
– Buckwheat flour
– Gluten-Free flour
– Ragi flour
– Rajgira flour
– Soya flour
– Arrowroot flour
– Bajra flour
– Barley flour
Is Poha gluten free?
Yes, Poha is gluten free.