In India, approximately 490 Million people are deficient in Vitamin D.
Vitamin D plays a crucial role in calcium absorption. Absorption of calcium is necessary for healthy bones, teeth, and muscles. Benefits of Vitamin D range from giving you stronger bones to improving immunity and aiding cardiovascular health.
If you don't want brittle bones then you must consume enough Vitamin D. Average adult needs about 400-600 IU of Vitamin D daily. Those who are working out regularly, women in their late 30s, pregnant women, old folks, and kids need vitamin D the most.
Being physically active often and working out regularly put stress on your bones. As you experience muscle growth you should also develop strong bones. For this, you need enough Vitamin D3.
Bone mineral density starts declining in women in their 30s or those nearing menopause. For the proper development of bones and joints, kids need to get enough Vitamin D in their diet. All these folks generally tend to have lower levels of Vitamin D in their diet.
Vitamin D deficiency may also result in Osteoporosis, which is highly probable in older age people. Slipped discs and joint pain may also result from having weak bones.
Lack of Vitamin D doesn't only impact bones but also immunity. Vitamin D plays an important role in immune function. Not getting enough Vitamin D means compromising your immune health. A deficiency of Vitamin D is linked to fatigue, depression, hair loss, and muscle weakness. Proper Vitamin D intake can also protect you from autoimmune diseases.
The groups mentioned above need to increase their intake of Vitamin D but it may not be easy for multiple reasons.
Why do you need Vitamin D3 Supplements?
Vitamin D deficiency is more prevalent in India than we realize. Approximately 490 Million people in India suffer from Vitamin D deficiency. An unhealthy diet and lifestyle are the most prominent reasons behind this. Moreover, a lot of people think that they can complete their vitamin D requirements only through sunlight. We ran a poll to confirm this and here are the results:
Increasing sun exposure may give you Vitamin D but it's not guaranteed to provide the daily dosage since the process of Vitamin D production in the body is complex. How much Vitamin D you can get from Sunlight exposure depends on your skin color (melanin content in the skin) how much of your body is covered, at what time of the day you are going to get sunlight, and so on. But the myth of Sunlight exposure being enough to fulfill daily Vitamin D requirements is so deep-rooted that even many people believe it. As can be seen from these replies
This above reply shows people's reluctance to test their vitamin D levels while heavily relying on sunlight exposure. Many such similar replies followed for the Vitamin D3 source questions:
These replies show that people genuinely believe that sunlight exposure is all they need to fulfill their Vitamin D requirements. Sunlight exposure is great but it should not be your only source of Vitamin D. Especially for folks who are more active (lift weights, run, play sports), as well as those who are taking a purely vegetarian diet, vitamin D supplements, become necessary.
I've tried explaining the same in this thread:
According to an estimate by 2035 about 67.5 Million Indians will live in urban areas. While urbanization has its benefits, an urban lifestyle also comes with a lot of problems. Due to time constraints people living in urban areas tend to eat more processed food rather than sticking to a nutritious diet. Because of this more than 75% of Indians complain about Vitamin D deficiency at some point in their lives.
One can also include foods like egg yolks, fatty fish, cod liver oil, and mushrooms for vitamin D but if you're a vegetarian, like me, then most of these foods are off the list and they may not be sufficient for your daily vitamin needs.
That's why you may need Vitamin D supplements to complement the vitamin D from sunlight and food sources. Introducing vitamin D supplements is the easiest you to ensure getting the minimum Vitamin D daily dosage of 400-800 IU. For athletes and those completely following a veg diet, the requirements may be slightly higher.
We have put together a comprehensive list of the Best Vitamin D supplements in India. These Vitamin D supplements should fulfill your requirement for Vitamin D and help you avoid Vitamin D deficiency. But this is not an excuse for continuing an unhealthy diet. Completing Vitamin D requirements through food is difficult because very few foods contain Vitamin D.
What is the best type of Vitamin D to take?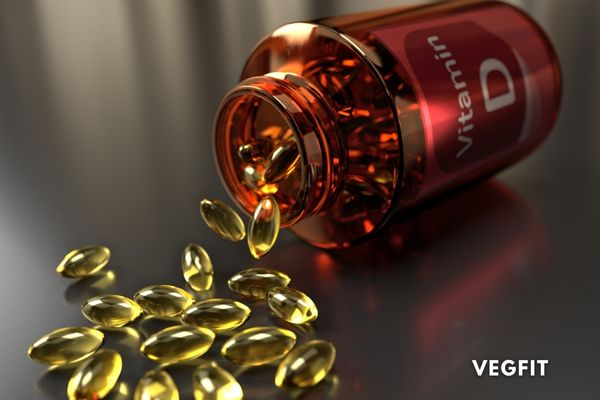 Vitamin D supplements are available in different forms and for various purposes.
Vitamin D supplements are usually available in 2 types: Vitamin D2 and Vitamin D3. Both Vitamin D2 and D3 are naturally occurring forms of Vitamin D created upon sunlight exposure. Vitamin D3 is produced in animals and D2 is produced in plants. So, which one would be better for you?
Vitamin D2 is naturally formed in plants which is why plants have the inherent mechanisms to aid the absorption of vitamin D2. But on sunlight exposure, the vitamin D produced in humans is vitamin D3. Because of this humans have the inherent mechanisms for the absorption of Vitamin D3. Unless this ability is hampered by an underlying disorder.
Vitamin D2 may be prescribed to you in certain situations. It is commonly prescribed by physicians for patients who have a health condition that prevents them from absorbing vitamin D3. Such conditions include kidney malfunction, celiac disease which affects digestive function, Crohn's disease, obesity, and liver disorder.
But unless you're specifically told by your physician to only take Vitamin D2, you should stick with Vitamin D3. Most people need Vitamin D3 and not Vitamin D2. If there is no other health condition stopping you from properly absorbing Vitamin D3 then you don't need to go with Vitamin D2.
What is the recommended healthy range of Vitamin D?
Healthy vitamin D levels can vary depending on the age and health status of an individual. Generally, the recommended levels for vitamin D are:
For adults (ages 18-70): 20-50 ng/mL (50-125 nmol/L)
For children (ages 1-17): 20-50 ng/mL (50-125 nmol/L)
For women who are pregnant or breastfeeding: 20-50 ng/mL (50-125 nmol/L)
For older adults (ages 70 and above): 30-50 ng/mL (75-125 nmol/L)
These are standard guidelines but the required level of vitamin D may change based on activity levels, current health status, diet, sun exposure, and genetics.
What is the best form of Vitamin D?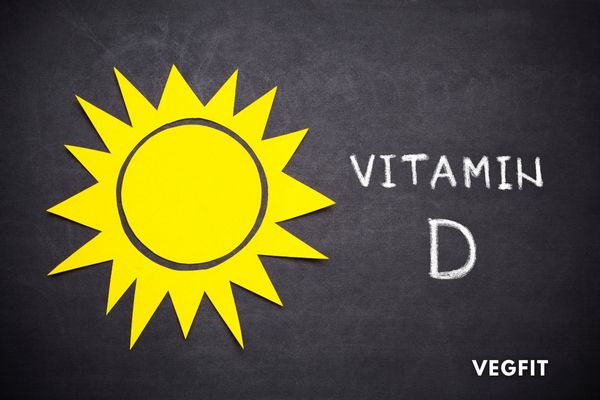 When you're deciding on the form (capsule, tablet, drops, and gummies) make sure that it is a form that you can stick to for a long time. According to research by Consumer Lab, the absorption rate of Vitamin D was increased by up to 30-50% when it was taken with a meal. So, if you're taking your Vitamin D supplements with a meal then the absorption rate should remain good regardless of the form being capsules or tablets or anything else.
But everyone's body is different. In case your body responds better to oil capsules than dry tablets, then you should stick with the former. The best way to know is to try vitamin D supplements in various forms to see what works best for you. But as long as you're noticing benefits, there's no need to worry too much about the form.
What is Vitamin K2?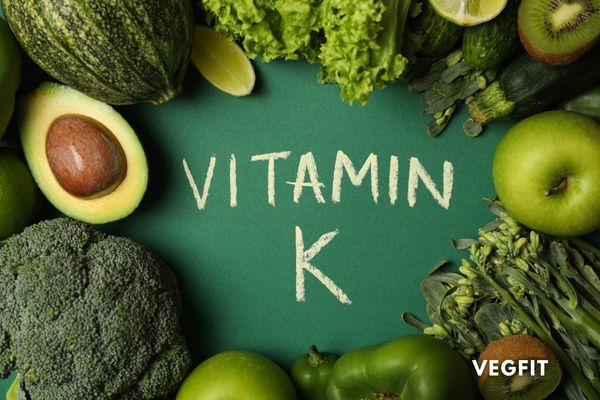 Another important element you should look for in your Vitamin D supplement is K2. Vitamin K2 activates a protein called osteocalcin, which is responsible for transporting calcium from the bloodstream to the bones and teeth. Thus K2 helps in the proper utilization of calcium and it works in sync with Vitamin D to ensure bones and teeth can properly use Vitamin D. In the latter part of this article we've included the best Vitamin D3 with K2 supplements in India
What is the daily requirement of Vitamin D3 and K2?
The Recommended Dietary Allowance for Vitamin D in adults aged 19 or above is 400 IU. RDA suggests the amount of Vitamin D or any other vitamin/mineral that you need to avoid deficiency and remain healthy. But for adults aged over 70, the RDA is 800 IU. So, the prescribed RDA varies between 400 IU and 800 IU depending on age and other factors. If you doubt the dose of Vitamin D that you should take then consult with healthcare professionals. In case you're Vitamin D deficient, your dose requirements may be higher to make up for the deficiency at the earliest.
The Vitamin D supplements listed in this article take into account the recommended RDA for an average adult. If you have no complications and are not taking any other medications simultaneously then there's no harm in going for these Vitamin D supplements.
The RDA recommended for K2 is 55mcg. All supplements included in this article provide you with the amount of vitamin K2. Make sure you don't exceed the RDA while taking these supplements. If you end up taking more Vitamin D than you need then it will lead to Vitamin D toxicity.
Best Vitamin D3 supplements in India
1. INLIFE Vitamin D3 Cholecalciferol
One serving of this supplement provides you with 5000 IU of Vitamin D3. Vitamin D is a fat-soluble vitamin. To aid its absorption, coconut oil is added to this supplement. The high vitamin D3 content of this supplement will help you a lot in dealing with Vitamin D deficiency. You should be careful not to take more than one dosage of this supplement per day unless so advised by your doctor.
This Sunbless 60k IU vitamin D3 capsule can complete your vitamin D3 requirements very easily. You can take one dosage of it per week and that should be enough. This makes it easier for you to complete your vitamin D3 dosage in one go. It is to be sold under prescription only. It would be great to have a chat with your doctor before moving forward with this. Unless you have some underlying condition that does not allow for a higher dose of vitamin D3, you should be fine with this.
D-Rise capsule provides you with 60K IU of Vitamin D3. This tablet is widely prescribed and used in the treatment of vitamin D deficiency. It uses calciferol as a Vitamin D3 source. Calcaciferol helps the body use more calcium from foods and supplements. This aids the growth of stronger bones and boosts energy levels. Because of its high vitamin D content and calciferol as the source of vitamin D, it is great to fulfill your vitamin D deficiencies.
When we asked Twitter about its favorite Vitamin D3 supplement, D-Rise also made it to the list with this reply from Viraj Khatavkar:
HealthKart is a reputed supplement brand. This D3 supplement by HealthKart provides you with 2000 IU of vitamin D3 per capsule. It uses sunflower oil as a main source of Vitamin D3. It is recommended that you take one soft gel after a meal for better absorption. This supplement can fulfill your vitamin D3 requirements and has a more easily absorbable form.
This supplement provides you with 400 IU of Vitamin D3. It uses extra virgin olive oil as the main source of its Vitamin D content. It is for adults only and in case you're pregnant or nursing, you should consult with your physician before taking this supplement. Now Foods has good ratings and a brand reputation on Amazon.
6. BBETTER Vitamin D3 400 IU supplement
BBetter Vitamin D3 400 IU supplement comes from the top brand on Amazon with 88% positive ratings from 5K+ customers. As the name suggests this supplement will give you 400 IU of Vitamin D3 per serving. It is ideal for anyone who is thinking of getting a Vitamin D supplement for the first time.
BBetter claims to follow the FSSAI guidelines of manufacturing supplements that are easier to consume. Many people have reported great results after consuming BBetter Vitamin D3 supplements.
Reviews for Terravita speak for themself. It comes with an amazing combination of vitamin D3 and B12. Teraavita claims to use the patented vegan Vitamin D3 from VitashineTM, UK. And also their vegan B12 is the most bio-active form of B12 – Methylcobalamin. The Vitamin D3 content in this supplement is 400 IU and B12 content is 1mcg. If you're a vegan or Vegetarian then this naturally sourced D3 supplement has it all to help you.
8. Uprise 2k IU
This supplement is available in 2k IU as well as Uprise 60k IU versions. Both of these made it to our list of Twitter's favorite Vitamin D3 supplements in the following answers.
Being a trusted brand and preferred even by fitness coaches like Rachit Gulati, makes it a great supplement to go with. Depending on your choice and requirement, you can choose to buy either of the versions.
Best Vitamin D3 supplement with K2 supplements in India
1. Himalayan Organics Vitamin D3 with K2
This supplement provides you with 400 IU of Vitamin D3 and 55 mcg of K2. This means for an average adult your daily RDA of Vitamin D3 and K2 can be fulfilled by a single serving of this supplement. An added benefit is that all products made by Himalayan Organics are gluten-free. If you're a Vegan and can't find a Vitamin D3 supplement in India that's completely Vegan then this should be your go-to. All Himalayan Organics supplement claim to be completely Plant-based Vitamin D3 source, toxin-free, and cruelty-free
2. Carbamide Forte Vitamin D3 K2 Veg Tablets
With 600 IU of D3 and 55mcg of K2, this supplement provides you with your RDA for both in just one serving. Vitamin D3 is derived from Lichen. It contains cholecalciferol which is the best form of D3 to get absorbed. Also, K2 comes in the form of Menaquinone which is also the easiest to absorb. This makes this supplement a great source of Vitamin D3 and K2.
3. Wellbeing Nutrition Melts Natural Vitamin D3+K2
This is an all-natural source of Vitamin D3 and K2. It claims to have 95% more bioavailability than the traditional forms of Vitamin D3 and K2. NANO Science (Melts) used in this supplement is one of the most advanced forms of Natural Vitamin D3.
It is completely plant-based which makes it a great option for Vegans and Vegetarians. The intake method is pretty simple since you just have to place 1 instant dissolve Melts Strip on your tongue after your Meal. It comes in different flavors to make the experience better. With 400 IU of D3 and 55 mcg of K2, this supplement can fulfill both of your daily requirements.
4. Boldfit Vitamin D3 Tablets for Men & Women
This supplement provides you with 600 IU of Vitamin D3 and 55mcg of K2. Endorsed by Dinesh Karthik, this brand has built a reputation for itself over the years. With 4-star reviews on Amazon, you can trust the authenticity and results promised by this supplement. Thus one serving of this tablet has adequate levels of both D3 and K2.
5. HealthyHey Nutrition Natural Vitamin K2 + Natural D3
This natural non-GMO Vitamin K2 and D3 supplement is a great option for both vegetarians and vegans. It gives you 600 IU of Vitamin D3 and 55mcg of Vitamin K2.HealthyHey claims that its supplement is non-GMO and chemical free. It is also non-synthetic and free from banned substances. If chemicals and genetically modified food sources don't suit you then this is your best Vitamin D3 supplement to go with.
6. TrueBasics Vitamin D3 with K2
This TrueBasics Vitamin D3 with K2 supplement provides you with 600 IU of Vitamin D3 with 55mcg of vitamin K2. A single dose of this supplement can fulfill your vitamin K2 requirements and more than 50% of your vitamin D3 requirements. This is what makes this supplement a great buy. TrubeBasics has been around for a long time and many people trust this brand's good reputation and good results. The claimed benefits of the supplement range from aiding bone health to improving mood and energy levels.
FAQs
Is it good to take Vitamin D supplements every day?
You can take Vitamin D supplements daily as long as you don't exceed the upper limit of RDA which is 800 IU.
What is the best form of Vitamin D to take?
This is highly subjective to which form of Vitamin D supplement suits you best and to which your body best responds. But in terms of absorption, the strips or melts have been found to have a better absorption rate.
What is vitamin D good for?
Vitamin D aids your bone health by helping the body absorb calcium and phosphorous.  Vitamin D is also useful in reducing cancer cell growth, helping control infections, and reducing inflammation.
Which tablet is best for vitamin D3
All the tablets listed in this article are good vitamin D3 sources. As long as you're consuming a supplement from a well-reputed brand that completes your RDA, there's no need to be choosey.
Are all brands of vitamin D3 the same
No! Some brands don't have enough Vitamin D3 while others are not trustworthy. When you're choosing a Vitamin D3 supplement you should only consider brands that have a decent rapport and have been in the market for some time. Always read the label before buying.
When was the best time to take vitamin D3
The best time to take Vitamin D3 is right after your meals. This aids absorption by 30-50%.
Can we take vitamin D3 without a doctor's consultation
If you're pregnant or undergoing treatment for some other disorder, there are no worries about taking a Vitamin D3 supplement. But it never harms to consult your doctor in case you're unsure about it.
Which is better vitamin D and D3
Vitamin D3 is a form of Vitamin D. The other form is D2. Both are naturally occurring. D3 is produced in Animals due to sunlight exposure and D2 is produced in plants. This means for humans Vitamin D3 is the best absorbing supplement.