In April 2022 I finally decided to board the cyborg army bandwagon and become an intelligent eater with biological insights from Ultrahuman's Constant Glucose Device.
I've used the Ultrahuman M1 CGM device for 6 weeks and it has helped me make major changes in my life, eating patterns, and daily activities.
When I was wearing the Ultrahuman CGM device, many people would walk up to me and ask, "Is this device helping you? Should we spend money our money on it? Is it worth it? Does it help pre-diabetics?" and many more questions. In this article, I am going to tell you if you need a continuous glucose monitoring device or not.
Disclaimer: This article is not sponsored by any brand and contains my unbiased views about this new technology.
Ultrahuman M1 device has given me valuable insights but it comes at a fair cost. It can be costly for most Indians because you have to replace it within 14 days and one Ultrahuman M1 chip costs anywhere between Rs.4000-6000. So, it makes all the more sense that you know what you can expect from the Ultrahuman M1 CGM device before you make the decision to buy it or not.
What I learned about food, habits, and their impact on my body after wearing Ultrahuman for 6 weeks is explained in this article.

What is a CGM device?
Before we dive into the pros and cons let's quickly see what a CGM device is and what it aims to do. CGM means continuous glucose monitoring device. As the name suggests it aims to continuously monitor your glucose levels. The way you would have seen diabetics pricking their fingers to do a blood test couple of times daily. But if you wear a CGM device you don't have to prick your finger and draw out blood to know your blood sugar levels.
A CGM device is constantly plugged into your body and keeps reading blood glucose levels, so it avoids pricking every now and then. Think of it as being able to know your blood sugar levels in real-time – like after having a meal, doing some workout, fasting, or any other activity. The downside is that one device lasts only 14 days. Being an expensive device, it becomes important to understand if you really need one.

Multiple companies like Ultrahuman, Sugarfit, and HealthifyMe (HealthifyMe Referral code: P57346U4) have launched their CGM devices but are they all really different from one another? You'll know by the end of this article.
5 Learnings from using the Ultrahuman CGM device
1. Sugar spikes after a meal are normal, but crashes are bad
Most Indian meals are heavy on carbs and if you don't know already carbs are notorious for spiking blood glucose levels. Glucose spikes after a meal are normal but if it goes too high and crashes, it's bad. If it goes high and comes down gradually, it's a good meal. When you get a crash, it's a high probability that you start craving more food since your body tries to regain the sugar high it had after the meal.
Foods that cause a steep glucose crash are bad for you since it results in more hunger pangs and leaves you feeling lethargic. The food that spikes glucose levels in your case might be different from mine but a rule of thumb is that the high-carb foods spike blood glucose levels and result in sugar crashes more than high protein or high-fat foods because these two take longer to digest than carbs. So adjust your meals accordingly.

The foods that did not affect my glucose levels were soya chunks, paneer, whey protein, eggs, and peanuts. I learned to include these foods more often in my diet and avoid the remaining ones to stay away from glucose spikes.
2. Adding protein and fats significantly drops sugar spikes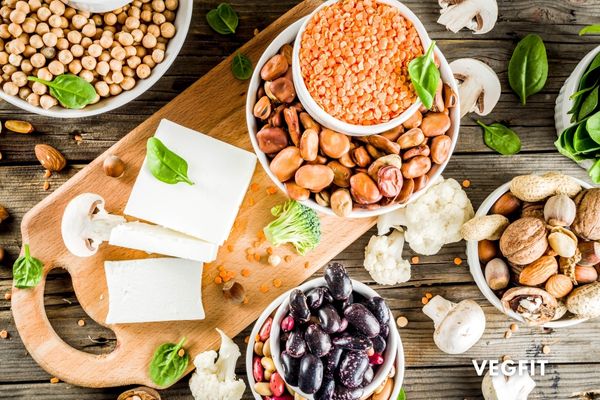 I observed that Having a normal Indian meal like dal, roti, and sabzi, spiked my blood glucose very high. Combining these with some soya chunks or paneer, really made a difference and showed a much lower peak (reduced spike). A meal high in protein and fats like eggs, peanut or peanut butter, and tofu with veggies barely showed any glucose spike. So I preferred this kind of meal during dinner since the body requires lower levels of blood glucose later in the day.

Similarly, fruits also cause sugar spike especially fruits high in sugar like bananas, litchi, mango, etc. Combining them with yogurt reduces the spike and also controls the overall intake of the fruit we take in a single meal.
3. Quality of food matters a lot
I am a bread lover and knowing that wheat bread doesn't go well with my gut, I experimented with sourdough bread as suggested by a coach on Ultrahuman. And I was amazed to see that the same quantity of sourdough bread did not affect my sugar levels. For roti, I either go to millet roti or make roti from a high protein flour mix by Lo Foods Protein Chef.
Remember the quality and overall quantity of carbs in a meal matter, so combine an adequate amount of protein and fats. If you are eating good quality foods in a proper combination then you can avoid sugar spikes to a great extent.
4. A light Activity after a high-carb meal can normalize sugar levels
This may sound like a no-brainer but a lot of people don't follow this simple advice even when they intuitively know that it can be very beneficial. Including even light or medium-intensity activity before/after meals can save you from glucose spikes. Like I had dosa after a run and the Ultrahuman device showed no spike. If i had the same dosa without activity, it showed a spike.
The glucose levels go up and down through the night to serve the needs of bodily functions like digestion, recovery, etc. So no need to worry if you see a sign wave through the night. But a little aerobic movement before you sleep can reduce the baseline of your blood glucose levels if you've had a heavy dinner.
5. Eating too close to bedtime affects sleep
During the weekend, it happened that while sitting with friends I ended up eating pizza with snacks. And then went to bed without any post-meal walks. The sugar level through the night kept spiking up. And I woke up not so fresh the next morning.
When we eat close to bedtime, the body stays busy in digesting the food instead of recovering from physical and mental stress. And that's why the next day we don't feel as fresh. If you eat early then your body gets some time to digest the food. As your body's metabolism slows down post-sunset, you should try not to go to sleep straight after a high-calorie dinner. And it's always better to take your dinner early and prioritize sleep over everything else for a healthy life.
Conclusions
To sum it up, I was anyway eating healthy before using Ultrahuman but now I am more aware of the food and the way my body reacts to certain foods. If you can invest in this device and spend time learning from data, this can be life-changing.
So, if you decide to make a purchase, do watch this video where I have explained how to insert a CGM device
Is there a difference between CGM devices of different brands?
I have used the CGM device from Ultrahuman but all the CGM devices function the same way because the hardware is built by Abbott. Yes, you heard it right, no matter whether you buy your CGM from Ultrahuman, HealthifyMe, Sugar Fit, or even the US brand named Levels, the hardware for all of these devices is made by pharma company Abbott.
So you can buy a CGM device based on your brand preference, price point, and other benefits that come with the device like diet plan, coach support, or community.
Should You buy a CGM device?
Wearing a CGM device may come across as a cool gadget. But will just wearing it make you healthy? Can anyone get healthy by wearing an Ultrahuman or any other brand's CGM device?
No. If you are eating a lot of packaged foods, snacking multiple times a day, and ordering your meals regularly from restaurants (where you have no control over what you eat), then just wearing a CGM device will not change a thing for you.
CGM device is not even the first step in your fitness journey. What I mean by that is that you first need to work on your habits.
Are you still following unhealthy habits, like these –
Eating high sugar foods like cake and desserts on a daily basis
Snacking on packaged foods like chips, bhujia, biscuits, and namkeen
Drinking packaged juices or aerated drinks every day
No exercise at all or having a sporadic exercise routine
Long seated hours with minimal activity throughout the day
If you practice any of the above habits, there is no point in spending 5k-10K on a CGM device to measure your glucose levels because you will only be seeing spikes throughout the day. You will not get any NEW insights from an expensive CGM device if you are into the behavior mentioned above.
Because the majority of the food you are eating is not good for you and you already know it. But if you are someone who likes to see the data for even the most established facts, please go ahead and buy the device purely as a fashion accessory.
Now, lets say you are someone who is already eating homemade healthy food and exercising regularly, but is still not able to lose weight. Then this device can open your eyes by showing you how the food you eat is actually affecting your body.
As I keep saying, the Indian diet is largely around carbs and overall protein intake is fairly low for the majority of us. In the first place, you need to accept that a diet change is required for you to live a sustainable healthy life.
A lot of my clients tell me that "I am eating ghar ka khana and eating protein also but not losing weight." The reason is the portion and the type of carb.
Choosing the right carbs, adequate protein, and fats in your diet is a no-brainer if you are enthusiastic about fixing your health. Protein and fats don't raise our blood glucose levels (you can verify this through CGM)
Now the key reason to wear a CGM device will be to know the types and amount of carb that is good for you. Is rice or roti good for you? In what quantity of rice the blood sugar rise is normal? Is quinoa really better than rice for you? How can you eat pizza and still not get a sugar spike?
All these questions can be better answered with data from a CGM device and the advice that an integrated app provides you like if you eat a high-carb meal and glucose levels go higher than expected, the app triggers you to go for a walk. The app also suggests ways to eat better, improving your food habits.
So far I only talked about health from a lifestyle perspective but the people who are diabetic or pre-diabetic, are the ones who really and truly need this device because the impact on their current health and future is huge. I strongly believe that by changing your habits and adopting the right types of foods, you can save yourself from diabetes forever. It's one of the most dangerous lifestyle diseases because it increases the complication of any other disease treatment manifolds.
Why I bought the Ultrahuman CGM device?
Well, I've always wondered what happens to the food we eat and how it impacts our bodies. We can see the food that we eat but we never see what happens after we eat it. If I could, I would literally like to see the food moving inside of my body through the digestive tract. I'm always curious about nutrition, fitness, and bio-hacks which the Ultrahuman CGM device gave me a great chance to learn more about.
A CGM device at least gives me some data which was never available before. And hence I had to see what this device had to offer. I wore the Ultrahuman CGM device for about 2 months and learned quite a few things about how carbs affect me.
Bottomline
Constant Glucose Monitors can greatly help diabetic and pre-diabetic patients. For the general masses, if you are not following the basic habits necessary for a healthy lifestyle then there is no point in buying a CGM device. If you are following a healthy lifestyle and would like to know more about your body's metabolism and reaction to different kinds of food at different times of the day then you can invest in a CGM device. You can expect to learn what foods spike your blood glucose levels and which foods don't. Also, you can know the combinations of food that can help you maintain healthy and stable blood glucose levels.
FAQs
What is a CGM?
CGM is a constant glucose monitoring device that tracks your blood glucose levels in real-time. It is constantly attached to your body.
How is CGM different than BGM?
CGM devices track your blood glucose levels in real-time unlike the traditional blood glucose monitors (BGM). A BGM device requires you to prick your finger and provide a blood sample to see your blood glucose levels at a particular time. But CGM devices can track your blood glucose levels all the time without you having to prick your finger.
How long does a CGM last?
A CGM device lasts anywhere between 7-14 days depending on its model and manufacturer.
How do I get a CGM?
You can buy a CGM device from the official websites of different CGM manufacturers available in your region/city.
CGM devices available in India
Who should use CGM?
Diabetics and Pre-diabetics can opt for CGM devices after consulting their physician. And common people who are following a healthy diet with a fitness routine and want to know more about their bodies can use a CGM device.