For most Indians, roti is our go-to staple for carbohydrate intake. Often when one plans his/her diet one restricts the consumption of roti. Termed evil because of having high carbohydrate content, many abstain from consuming rotis. If you are in the same shoes and thinking about how to add more protein in roti and also make it more nutritious, then this article is for you.
How Much Protein Is In 1 Roti?
A roti that is made from 100% whole wheat flour can provide between 3.4 and 4 grams of protein for an average 6-inch size. It's not the greatest source of protein for sure, but it's far from the worst.
Roti – Nutrition Facts
Roti is not just carbohydrates. It is a storehouse of several other macronutrients. It controls a considerable proportion of fibre, and protein— two favourite nutrients needed by one to lose weight successfully. For example, take into consideration a 6-inch chapati. It contains:
15 grams of carbs
3 grams of protein
0.4 grams of fibre
71 calories
How To Add More Protein Into Roti?
If we make our rotis with protein-rich attas they instantly become infused with the goodness of protein. We know how health experts emphasise starting a healthy lifestyle. Such lifestyles begin by modifying our kitchen. However, shifting our whole diet is never easy.
You need to take baby steps and maintain them consistently in order to improve your nutrition on a daily basis.
Switching from regular atta to protein atta is no uphill task when it comes to preparation. But, to adapt to the change in your lifestyle and stay committed to it matters.
In the case of making protein attas we incorporate several whole kinds of wheat. The wheat at the same time cuts down the calorie sum total of the atta, besides making it healthy. One should keep in mind no matter how healthy a diet you are following, it is always recommended to control your portion size. Thinking that because the atta is healthy one can consume as much as one wants might lead to negative results.
How To Make Protein Atta?
Protein atta can be made very easily in the comfort of your home. You need the right proportion of grains to mix. The ingredients used to make protein atta can be found very easily on Amazon or near your supermarket.
The followings are the top 3 recipes to make high protein rotis:
1. 7-Ingredients' Atta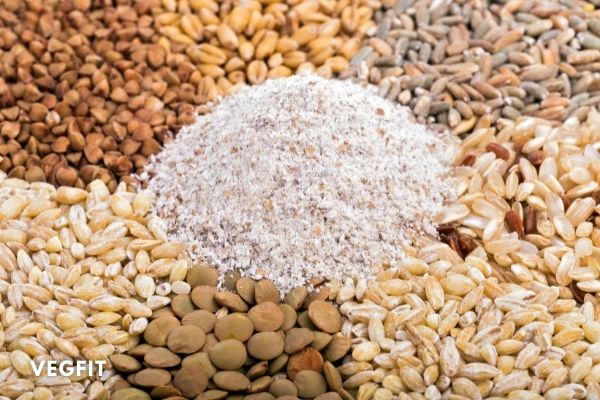 Ingredients
Ragi atta – 0.75 Cups
Wheat Atta – 1 Cup
Flax seeds – 2 Tablespoons
Oats – 1 Cup
Urad Dal – 5 Cups
Green moong Dal – 0.5 Cups
Fenugreek Seeds/Methi seeds – 1 Tsp
Jowar flour – 0.75 cups
Sattu – 0.5 Cups
Raw Brown Rice – 0.5 Cups
Directions
Dry roast Flax-Seeds, oats, brown rice, urad dal, green moong dal and methi. Try to dry roast them each separately.
Place them in a bowl and allow them to cool down completely.
Take the mixture batch by batch and grind them in fine powder. Put this into a bowl.
Add ragi, jowar, sattu and whole wheat, into this mixture.
Mix all of them together. And then store in an airtight container.
Nutrition Info Per Serving
Protein: 141 grams
Fat: 27 grams
Carbohydrates: 560 grams
Fibre: 105 grams
Health Benefits
This flour contains a greater portion of Omega-3 fatty acids than normal atta
Aids in weight loss
2. Mixed Sprouts And Bajra Roti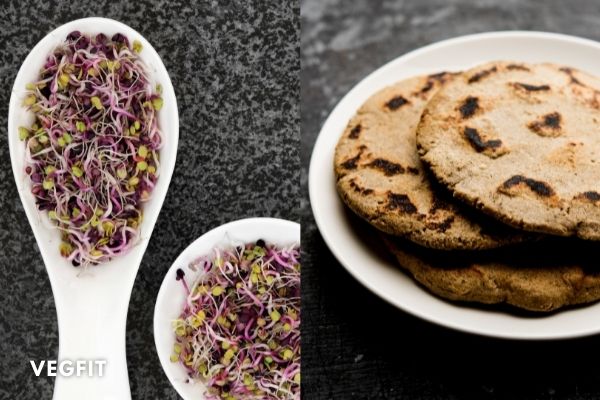 Time for preparation: 15 minutes
Time to Cook: 15 minutes
Yields: 6 Rotis
Ingredients
½ Cup Boiled and Mashed sports( I took Matki, Moong, channa etc.)
1 Cup Black millet/ Bajra
2 tbsp finely chopped coriander
1 tsp chilli Powder
¼ Tsp Turmeric Powder
1 Tsp garlic
Bajra Flour for rolling
1 ½ Tsp of il
 Direction
To make mixed sprouts and bajra roti, combine all the ingredients in a deep bowl and knead them into a soft dough using enough warm water
Divide the dough into 6 equal portions.
Roll out each dough into Rotis having 5" diameter.
Heat a non-stick griddle and cook the roti on a medium flame.
Now, fry it on ¼ th tsp of oil. Golden brown spots should appear in them
Make more rotis from it.
Nutrition Facts Per Serving
Energy: 84 Calories
Protein: 2.8 Grams
Carbohydrates: 13.2 grams
Fiber: 2.5 Grams
Fat: 2.2 Grams
Cholesterol: 0 mg
Sodium: 3.1 Mg
Health Tips
Sprouts are called the storehouse of nutrition and give your system a strong boost of vitamins, and minerals
The rotis help to improve metabolism
It helps in reducing weight
Easy to digest, doesn't cause acidity
Phosphorous, zinc and magnesium, along with zinc are the best nutrients present in the roti
3. Multigrain Roti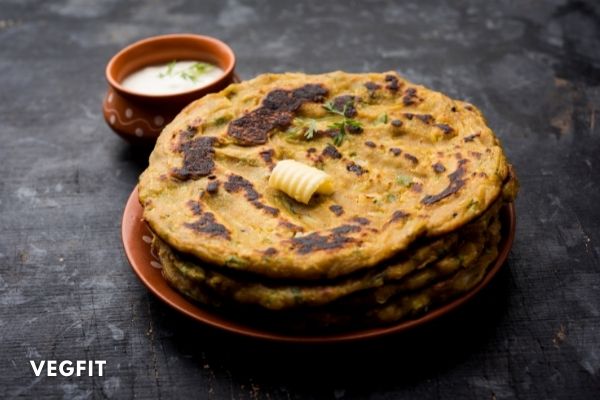 Preparation Time: 10 minutes
Cooking time: 15 minutes
Yields: 6 Rotis
Ingredients
¼ cup Jowar ( White Millet)
¼ cup Bajra Flour( Black Millet)
¼ Cup Whole wheat flour
2 tbsp Besan
¼ Cup ragi
¼ cup finely chopped onions
3 tbsp finely chopped coriander
¼ Cup finely chopped tomatoes
1 tsp chopped green chillies
1 Tsp Chilli Powder
¼ Tsp Turmeric powder
¼ Tsp Pea-nut oil for greasing
3 Tsp Peanut oil for cooking
Directions
Combine everything in a deep bowl. Knead everything in a soft dough with 5 Tbsp of water.
Divide the dough into equal portions. Keep all of them aside.
Take a plastic sheet and lightly grease it with oil.
Flatten a portion of dough on it, and cover with another plastic sheet.
Now put some pressure on the dough, and make an approx 4" diameter round.
Lift the multigrain roti with a plastic sheet. Peel the top plastic sheets, and invert the roti on a hot stick Tava. Now, remove the extra plastic sheet as well.
Cook using 1 tsp oil.
The roti should become golden brown from both sides.
Repeat with the remaining portion to make 5 more multi-Grain rotis.
Serve with Curd.
Nutritional Facts
Energy: 104 Cal
Protein: 2.7 Grams
Carbohydrates: 16.2 Grams
Fibre: 2.8 Grams
Fat: 3.3 Grams
Cholesterol: 0 mg
Sodium: 6.2 mg
Health Benefits
Jowar Flour is a complex carb that gets absorbed slowly into the blood. It helps prevent insulin spikes
Bajra is a high protein source for vegetarians
Ragi Flour is Gluten-Free
The roti is good for diabetics and heart patients
Multigrain protein atta is great because of the health benefits it offers to the body. These rotis are great to be consumed either for lunch, dinner, and breakfast. Combine them with homemade curries, and dahi raita (yoghurt) and your sumptuous meal is sorted.
I hope you will enjoy nutritious protein rotis in your meals.