What Are Millets
Millets are grains that belong to the cereal group of food. They are part of the grass (Poaceae) family which largely comprises true grains. Millets are indigenous varieties found predominantly in the Indian subcontinent.
These grains are highly drought tolerant and are thus capable of thriving in areas where either rainfall is low or there is not enough water for irrigation. These are hardy plants that grow in the nation throughout the year.
Millets are known as Nutri-cereals as they encompass the goodness of a majority of essential nutrients, especially good quality protein, vitamins, fiber, and other phytonutrients. They are easily digestible as compared to other cereals.
However, millets contribute to proteins of low biological value. They are deficient in lysine, an essential amino acid but this deficiency can be easily managed through mutually supplementing millets with either pulses or proteins of high biological value such as milk and milk products, poultry, meat, and meat products, etc.
Benefits Of Millets
The benefits of millets are immense. Starting from the first, they are local and easily available throughout the year. Apart from this, here are 8 benefits of millets that you should definitely give up a read to.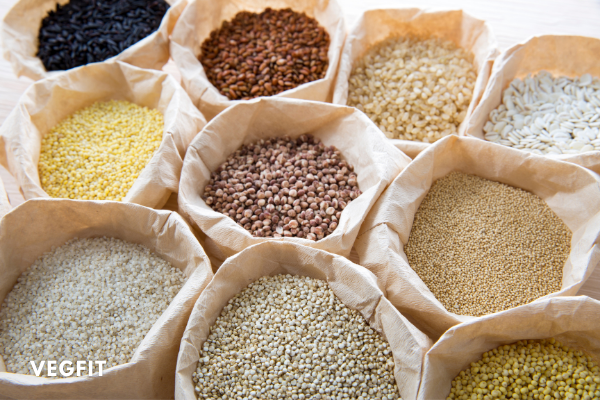 1. Rich In Antioxidants
Millets contain phenolic compounds like catechins and ferulic acid that act as antioxidants and protect the body from oxidative stress. Catechins are known to prevent metal poisoning while ferulic acid helps to speed up wound healing and reduce inflammation.
2. Prevent Risk Of Developing Heart Diseases
Millets consist of dietary fiber. During digestion, fiber traps bile in the intestine and when fiber passes out of the body, it takes bile along with it. The body synthesizes new bile and for this, cholesterol is required. So cholesterol is taken up from the blood to use for bile production. In turn, blood cholesterol levels, which is a potential risk factor for atherosclerosis and other heart ailments, decrease. Therefore, the fiber in millets leads to a dip in blood cholesterol levels, preventing you from the risk of developing heart diseases.
3. Prevents Diabetes
Millets are fiber-rich and fiber is an indigestible carbohydrate. Millets help in the reduction of blood glucose levels as they have a low glycemic index i.e. they release fewer amounts of glucose into the blood when absorbed. Studies also suggest that people who include fiber in their diet notice a reduction in fasting blood glucose levels. A low level of glucose in the blood will help in the prevention and management of diabetes.
4. Best Gluten-Free Option
Millet is a gluten-free cereal and hence this makes it the most potential go-to option for people who are gluten intolerant or are suffering from celiac disease. Consuming gluten in celiac disease triggers hormones that can cause complications like malabsorption during digestion, diarrhea, etc. If you are gluten intolerant or even if you are avoiding gluten, and if you want a cereal replacement that is devoid of gluten, millets are the wholesome option for you.
5. Reduce Risk Of Gastrointestinal Problems
The fiber in millets acts as a prebiotic as it supports the growth of good bacteria in your digestive tract by acting as a feed to the microorganisms residing in your body's ecosystem. The fiber also adds bulk to the faeces and ensures regular defecation, thereby protecting you from the risk of colon cancers. It also relieves digestive problems like gas, bloating and constipation.
6. Millets Improve Immunity
Millets contain good quality proteins and a bunch of essential micronutrients such as magnesium, calcium and Vitamin B1. These prevent nutrient deficiencies and support the immune system to make the body more strong and resistant to infections.
7. Helps In Weight Loss
Millets are composed of complex carbohydrates. Complex carbohydrates are digested slowly as compared to simple sugars. Therefore, eating millets can give you a feeling of fullness for a long time. In this manner, you will eat less as it will make your gut satiated and curb down your hunger pangs in just a small portion size of millets. When your stomach will feel full, you will not have an urge to constantly nibble, snack or hog on unhealthy food options. Thus, including millets in your diet is a great way to lose weight naturally.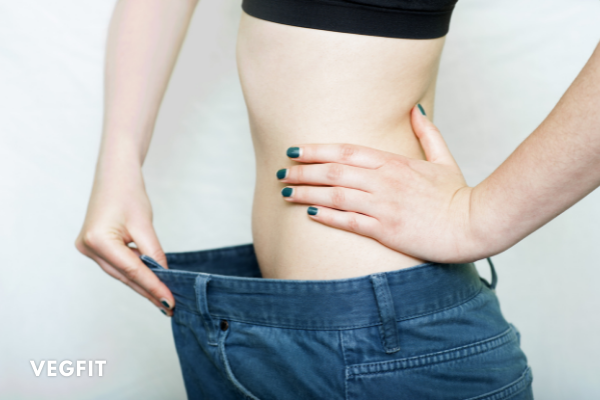 8. Role In Brain Development
Eating different types of millets can improve brain development. Ragi (finger millet) is a very good replacement for rice as it contains iron, calcium and protein. Iron will reduce the risk of anemia due to which low attention and reduced concentration, which is a symptom of the disease will be prevented. Thus, it will increase your work performance and not make it easier for you to concentrate on your desired aims and goals in life.
Types Of Millets In India
In India, Millets are broadly classified into three categories: Major millets, Minor millets and Pseudo-millets.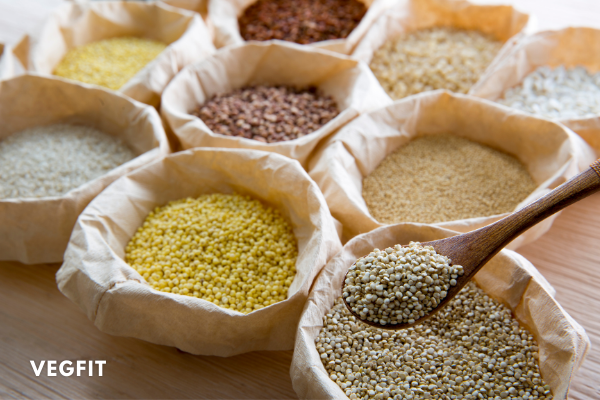 | | | |
| --- | --- | --- |
| TYPE OF MILLET | COMMON NAME | LOCAL NAME(S) |
| MAJOR MILLET | Sorghum | Jowar |
| MAJOR MILLET | Pearl Millet | Bajra |
| MAJOR MILLET | Finger Millet | Ragi |
| MINOR MILLET | Foxtail Millet | Kakum/Kangni |
| MINOR MILLET | Kodo Millets | Kodo |
| MINOR MILLET | Barnyard Millet | Sanwa |
| MINOR MILLET | Little Millet | Kutki/Shavan/Moraiyo/Sama |
| MINOR MILLET | Proso Millet | Chenna/Barri |
| PSEUDO-MILLET | Amaranth | Ramdana/Rajgira |
| PSEUDO-MILLET | Buckwheat | Kuttu |
Types Of Millets
Nutritive Value Of Millets
1. Major Millets
a) Sorghum (Jowar)
Jowar, also known as Sorghum, is grown in Maharashtra, Madhya Pradesh, Andhra Pradesh, Karnataka, Gujarat, Tamil Nadu and Uttar Pradesh. It contains good amounts of protein, fiber, vitamins such as B1, B2 and folic acid and minerals such as calcium, phosphorous. It also has decent amounts of iron, zinc and sodium. You can add the goodness of this millet in the form of puffed jowar as a munchie, dosa, khichdi, chapati, upma and a lot more. It is a good option for people with gluten intolerance.
b) Pearl Millet (Bajra)
Pearl Millet commonly known as Bajra is the most dominant crop that is grown in India. Its protein content is the same as that of wheat with additional goodness of iron, thiamine, niacin and Vit B2. The most common recipes of Bajra include Bajra roti, Bajra tikkis, Bajra Laddus, Bajra chaklis, etc. You can add bajra flour in a variety of ways and get the goodness of essential nutrients.
c) Finger Millet (Ragi)
Ragi, also known as finger millet constitutes a major portion of all the food grains that are grown in India. The millet is rich in fiber and some B vitamins and is an excellent source of calcium. It helps in the brain development of children. Ragi has got a really good flavour and is a very versatile millet that can be used in combination with a lot of ingredients to make a large number of meals. Ragi flour is used in a variety of food recipes such as ragi dosa, ragi idli, ragi appe, stuffed ragi rolls, ragi chapati in combination with wheat flour.
2. Minor Millets
a) Foxtail Millet (Kakum/Kangni)
Foxtail Millet, commonly known as Kakum/Kangni in India, is the most easily digestible grain. It is a high carbohydrate millet and gives you double the amount of protein as compared to rice. It has good amounts of vitamins such as thiamine, riboflavin and niacin, and minerals such as iron, copper and phosphorus. The iron present in Kakum helps in strengthening the immune system of the body.
b) Kodo Millets (Kodon)
Kodo Millets are high fiber, low-fat Nutricereals that contain good quality proteins. They are rich in B vitamins (niacin, pyridoxine and folic acid) and minerals like magnesium, iron and phosphorus. Kodo has high amounts of lecithin, which is known to strengthen the nervous system. Kodo is also very beneficial for post-menopausal women who are suffering from heart ailments and have high blood pressure and high cholesterol issues. They are gluten-free so serve as a good breakfast option for people with celiac disease.
c) Barnyard Millet (Sanwa)
Sanwa or Barnyard millet is fiber rich. It has good amounts of vitamins like thiamine, niacin and minerals like phosphorus and iron. There are other important functional compounds present in the grain of barnyard millet, which is GABA (Gamma Amino Butyric Acid) and beta-glucan. They act as antioxidants and also aid in reducing lipid levels in the blood.
d) Little Millet (Kutki/Shavan/Moraiyo/Sama)
Smaller than other millets, the little millet is another variety that is high in dietary fiber. It is locally called Kutki, Shavan Moraiyo or Sama. It has good amounts of vitamins like carotene and thiamine and decent amounts of phosphorus, magnesium and iron. It has an exceptionally good zinc content and thus it catalyses the important antioxidant activities in the body. It is good for weight loss and is a healthier replacement for rice. It is also traditionally used in a variety of South Indian dishes such as upma, pongal, coconut flavored pancakes, etc.
e) Proso Millet (Chenna/Barri)
The proso millet, also known as chenna/barri, consists of the highest protein among all other minor millets. It contains significant amounts of carbohydrates and fats. It has vitamins like thiamine, riboflavin and niacin and minerals like phosphorus, magnesium, copper and manganese. Manganese is also present in nuts and spices and as compared to them, the Proso millet is a cheaper source. It also lowers cholesterol and reduces the risk of cardiovascular diseases, so it's good for the heart. It has a low glycemic index, so it is good for diabetic people.
3. Pseudo-Millets
a) Amaranth (Ramdana/Rajgira)
Amaranth locally called Ramdana or Rajgira is a very common millet found in India. It is a storehouse of nutrients and contains good amounts of manganese, magnesium, phosphorus and iron. One single serving of amaranth can single-handedly meet your daily requirements of Manganese. Manganese is an important nutrient for brain function and consuming Ramdana can actually protect you from developing neurological disorders.
Ramdana is most commonly sold in the form of Laddus, especially during fasts. It can also be eaten in the form of chikkis, kheer and a lot more.
b) Buckwheat (Kuttu)
Buckwheat is also known as kuttu, is a very common millet that is used especially during Navratri, a Hindu festival that marks fasting for eight to nine days by devotees. It contains many essential nutrients including manganese, copper, iron, magnesium and phosphorus that helps in the growth, development and maintenance of body tissues, promotes heart health, protects from chronic diseases such as diabetes and increases concentration.
It is an excellent option for people with gluten intolerance or celiac disease and including buckwheat in your diets will only give you benefits. Buckwheat recipes include kuttu ki pakodi, kuttu ki poori, kuttu idli, kuttu ka paratha, etc.