Next Batch starting on 03 Oct
✅ Learn to lose & maintain weight in a healthy way
✅ Boost your immunity & metabolism
✅ Build an exercise routine
For queries regarding the Healthy Nudges Program, click here to contact me.
What people are saying
The habits that YOU will build by the end of this program:
👉🏻 Workout at least 4 days a week and stay active 🏋🏼‍♀️
👉🏻 Balancing carbs, proteins, and fats in every meal 🍱
👉🏻 Meal hacks to speed up healthy eating in a busy schedule 🥗
👉🏻 Drink min. 3 Lts of water every day 💧
👉🏻 Portion control to avoid overeating 🍽
What to expect in this program?
Through a whatsapp group, I share tips to develop the above habits.
I will answer your doubts about nutrition & diet on the Whatsapp group.
I teach you how to create a balanced diet, including carbs, proteins, and fats.
I send you reminders to keep you away from indulging in packaged snacks.
I share tips on healthy snack and meal ideas.

A habit tracker to track your daily activities (accountability is the key)

Weekly AMA (ask me anything) session on Zoom to remove any blockers in your routine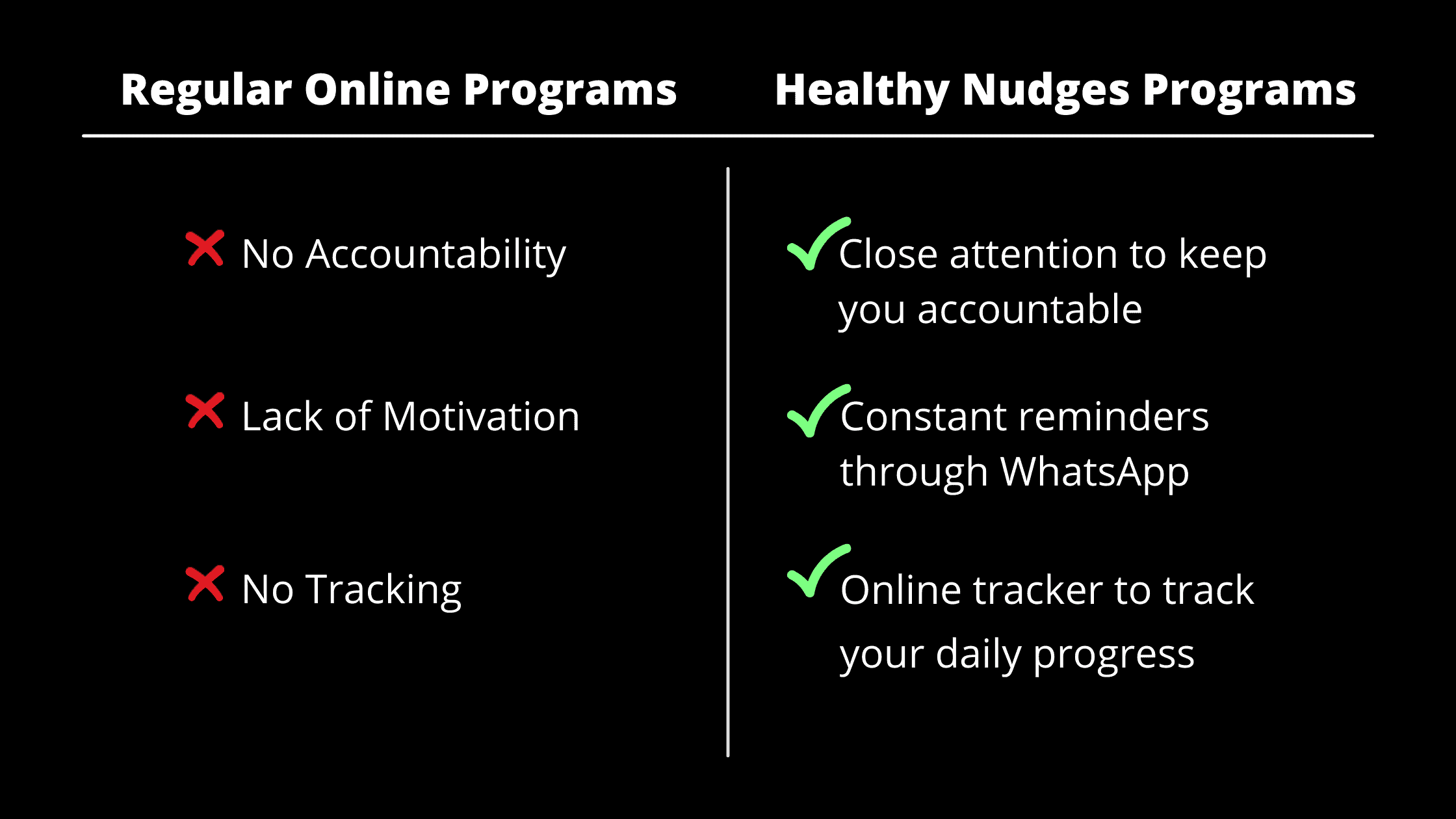 Who is this for?
This program is for you if your answer is YES for any of the 3 questions below –
You want to be healthier while enjoying all the food you love?
You find it difficult to follow diets because they leave you feeling hungry?
You have tried many diets, lost weight but gained it back after resuming a normal diet?
You don't feel the energy or motivation to exercise?
You feel tired by end of the day and find it hard to spend quality time with your family?
You look or feel older than your age?
Who am I? And Why you should trust the Healthy Nudges Program?
👉🏻 Certified Nutritionist (ISSA)
👉🏻 Certified Strength & Conditioning Coach (ISSA)
👉🏻 Fitness YouTuber at VegFit
👉🏻 Following a healthy lifestyle for 13+ years
👉🏻 Serial Entrepreneur, IIT-Kanpur Alumni

After graduating from IIT Kanpur in 2005 and in the last 15 years I have worked in various roles in companies like Intel, VMWare, Walmart, Byjus. Apart from doing corporate jobs, I have also been an entrepreneur in the past.
Be it the disciplined life in a corporate job or 24/7 hustling in a startup, one thing has been constant in my life:
Relentless focus on building healthy habits
For the past 13 years, I have been eating clean, exercising regularly, and maintaining a healthy weight. At 38 years of age, I feel extremely high energy throughout the day and I am fitter than I was in my 20s.
All this has been possible only by,
Building healthy habits: Clean Diet and Regular Exercise.
As a Nutrition and Strength & Conditioning expert (ISSA Certified), I believe in making the habit changes easier for you with the technique of 'Habit Stacking'. And I want to teach you this through my program, 'Healthy Nudges'.
I have designed this program after gaining knowledge and experimenting with building habits that are sustainable.
The focus of this program is to :
Develop a healthy lifestyle effortless for you
Frequently Asked Question (FAQ)
How does the program work?
The program helps you develop and instil healthy habits through daily reminders, diet tips through whatsapp. I track your progress and share a weekly report to keep you accountable to build these habits.
What exactly do you get in this program?
– Diet & exercise reminders through WhatsApp, 4-5 times during the day
– Ask me questions regarding diet, exercise, staying healthy
– Access to a like-minded community – Progress tracker and weekly report
– 4 AMA sessions with me
Will I lose weight during this program?
The program focuses on building healthy habits of eating healthy and exercising regularly. Weight loss may happen when you start practising these habits, though weight loss is not the focus of this program.
Do we get a personalised diet or workout plan?
No, but I share diet and exercise tips with the group. I will also help you learn the basics of eating a balanced diet. I will be responding to any doubts/questions through the group.
How will you monitor the progress?
Through an online tracker, you will be sending your progress every day. I will share a weekly report and a scoreboard after every week.
Who will be coaching in the program?
I personally send messages and responses to queries through the Whatsapp group.
Are you ready to commit 28 days to turn your life around???
✅ Learn to lose and maintain weight in a healthy way
✅ Boost your immunity & metabolism
✅ Build an exercise routine
For queries regarding the Healthy Nudges Program, click here to contact me.
Subscribe to VegFit YouTube Channel & Follow me